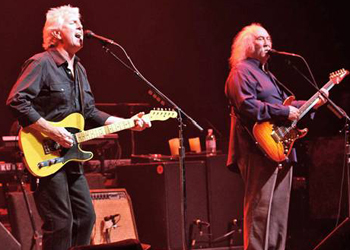 The Occupy movement has already crossed into the music world, with both the good (artists playing at Wall St for free) and the bad (artists profiting off it) rearing their faces. Now we can welcome some more news to the spectrum of "good". Many big names, most of them from the past, have signed on to create an album that will benefit the Occupy movement, entitled Occupy This Album.
Producers say the album will "provide an anthem and rallying cry for the protesters involved in the uprising." Participating artists include David Crosby, Graham Nash, Jackson Brown, Devo, Ladytron, Lucinda Williams, Yo La Tengo, Lloyd Cole, and Third Eye Blind. Oh, and for humorous purposes, Michael Moore plans to sing on the album. Don't worry though, he isn't embarrassing himself simply to cash out; 100% of the album's profits will go to the movement. 50% will go to the Occupy Wall Street General Fund, with the other half being distributed evenly among the various movements across the country.
Crosby and Nash played at a central location of the movement's history, Zuccotti Park, last month to bring awareness to the movement. "The Occupation movement is really the voice of the people, it's an idea that's been a long time coming" Nash said. "I fully support their non-violent protests against a system that is carefully crafted in favor of the rich one percent." Many songwriters involved, including Crosby and Nash, believe that artists are necessary catalysts for change in social movements like these.
Download Obscure Sound's Occupy movement MP3 compilation here.
Crosb, Stills, Nash and Young – See the Changes

Crosby Stills Nash and Young – Helplessly Hoping

Devo – Mongoloid (Jolie Rouge remix)

Ladytron – Destroy Everything You Touch