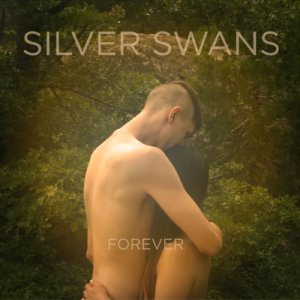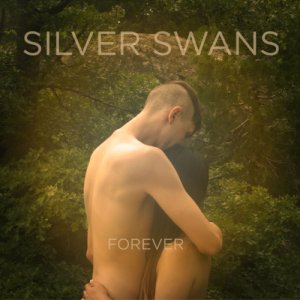 Silver Swans are a duo from San Fran that excel in tightly constructed, electro-leaning pop gems. Despite the West Coast leanings, they sound like natives of the Swedish electro-pop scene, a highly versatile breeding ground for both brooding atmospheric builders (The Radio Dept.) and punchy pop magic (Lo-Fi-Fnk). Yet there are also those that tread the in-between. Comparatively, at least in the case of Silver Swans' gentle female vocals, The Knife and Sally Shapiro are also suitable. Electronic-pop and dream-pop are two familiar forces, the instrumental arsenal reflecting the former and the overall production encompassing the latter. The use of synth in this hybrid can resemble a series of icicles falling like dominoes along a glacier, and seamless transitioning from bare repetition into majestic quasi-anthems is to be expected.
Ann Yu and Jon Waters describe their songs as the result of late-night bedroom recordings, though the production on their new album Forever doesn't suggest any constraints. While the percussion is often simple enough and electronically engineered via Waters, there are rarely moments where the staleness lasts. It's very much akin to vintage electro-pop acts like Erasure and Scritti Politti, where technical skill is passed over in favor of consistency and tightness. Take the mobile "Arrows", for instance. It travels from barren synth pads into an exotic blast of Afro-pop, as if a hazy desert turned into a colorful jungle.
"Arrows" is more in line with the vintage synths of Scritti Politti, allowing for the ever-expanding structure that transitions from awkward synth stabs into a complex Afro-beat concoction. Yet unlike many tracks in this vein that wander astray too long, "Arrows" promptly recovers. The shift is exceptional in how it goes from sounding stale and colorless in its initial verses to an infectious grandiosity of clashing Afro-beat and synth-pop nods. Several other efforts, like "Diary Land" and fellow Afro-pop influence "House of Blood", require a similar amount of patience before reaching the meat of the track, but there are no tracks on Forever lacking hooks. Some verses and build-ups need work to capture the listeners' attentions, but nothing's overly grating or contrived.
Silver Swans are at their best when incorporating exotic synth sounds, like the twinkling quivers on "Let It Happen" or Afro-pop influenced "Arrows", but they also excel at straightforward synth-pop with few frills. The best track on Forever is the chirpily infectious "Around You", which contains as much Swedish electro-pop influence as anything on here. "Let It Happen" is a great single, but I wouldn't be surprised if this is the next one – and it does even better. Despite a great bass-led melody with apt synth placements, much of the melody rides on Yu's exceptional vocals. She really turns this track into a tour-de-force performance; her movement from whimsically suave verses into angelic cooing during the chorus is planned wisely, and serves as an essential component of the album's best effort.
Many independent electro-pop artists with dub-heavy bass and twinkling synths also tend to employ funk bass lines, if only for the fact it sounds so fitting. Like how Memory Tapes' Dayve Hawk experimented with this mix-and-match with previous project Hail Social, a Silver Swans effort like "Karen" makes efficient use of this padding. Others opt for a poppier rhythmic structure, like the sugary and irresistible "Around You" or anthemic "Let It Happen", but efforts like "Karen" do just as well. They're all fairly anthemic in a relative sense; Silver Swans never release obnoxious synths or percussive clamoring simply to make them heard, but one can always expect something more grandiose to come in the chorus, whether it's an uptick in tempo or a tonal shift.
Sounds reminiscent of Cults and St. Vincent are found on "Diary Land", where a doo-wop percussive beat evolves into a futuristic marching procession of lush synth pads and piano twinkles. Melodic whispers are laced under a chirping piano progression, with Sally Shapiro comparisons arising both here and the lush "Around You", also one of the album's best tracks. "And every time I look at you, you're only acting," Yu sings here; she eludes to heartbreak over secrecy on the album more than once. On another epically constructed effort, the barren landscapes envisioned in "Actual Pain" are wonderfully constructed with guitar stabs jabbing at a sitar-like resonance. Twangy effects are heard in the distance, but only occasionally. It hints at more ambitious territory for Silver Swans, more along the lines of Portishead.
Two other efforts take the simplicity of "Around You", but with more forceful dancefloor-ready tone. "On the Quit" could be another Röyksopp-Robyn collaboration, with futuristic sci-fi twinkles and club-ready synth-bass propulsions. It's one of those tracks you'd expect to hear in a club, circa 2300. Similarly, "Mother of Pearl" begins with a heavy dub bass and fluttering synth tremolo, complete with reflective guitar strums (high reverb on) typical of dream-pop. "You hide it so well, I can't tell," Yu sings. It might as well be about robotic rejection.
Forever is a very satisfying release that shows why the collaboration of vocalist Yu and DJ/producer Waters has a chance for great longevity. As it stands, Silver Swans are as good as any of the Swedish electro-pop groups they sound eerily similar to. Still, their music is not entirely reflective of anyone's but their own, regardless of how much they sound like Sally Shapiro, The Knife, or Lo-Fi-Fnk at times. This is a fun record with tons of replay value, making it one of the best electro-pop albums of the year so far.
Key Tracks: "Around You", "Let It Happen", "Arrows"
Facebook / Soundcloud / MySpace / BUY