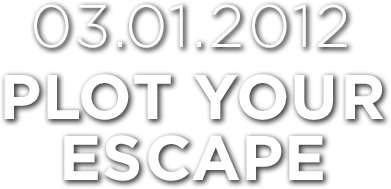 The locations of the four "Plot Your Escape" shows have been revealed. NYC, Chicago, New Orleans, and LA will each be treated to an intimate show on Thursday, March 1st. The artist list is still secret for now, but they'll be announced in the coming days. Plus, I have some clues below.
Only 50 tickets are available to this high-profile show, which will air on Jimmy Kimmel Live. But I'm giving you and two of your friends an opportunity…
I'm giving out THREE GENERAL ADMISSION TICKETS to the NYC show, taking place 8PM ET at Gotham Hall. There are two star-studded headliners. And when I say these acts are big, I mean BIG. Grammy-type big. Want some clues? One is supposedly Grimes' biggest influence. She's a household name with one of the best voices on this planet. The other is a true musical entrepreneur who loves changing his alias. He's easy to recognize, in everything from music to film.
Entering is simple. Login to Twitter and post: @ObscureSound I want to attend #PlotYourEscape in NYC on 3/1!
Also please remember to follow @ObscureSound — so I can direct message you if you win.
Feel free to add anything after that (like guessing who the artists are), but make sure the first 61 characters above are the exact same. The winner will be chosen at random and notified ASAP. They can pick up their tickets at will call. Tickets are available only to those 21 and older.
This is sure to be a great event. I'm looking forward to it as well.