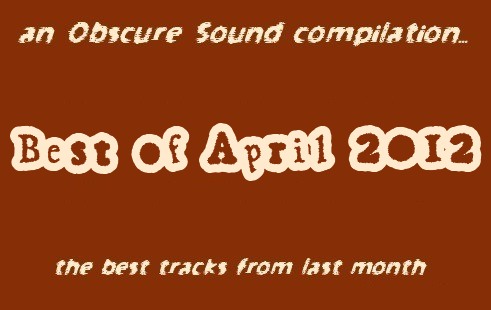 While not as lengthy as the March compilation, April packs a unique punch catering to quality acts that have yet to break out. There wasn't much time for reputable names; Hot Chip, Lotus Plaza, and jj are all you get there. Death Grips too, considering the acclaim their new album The Money Store is receiving. The rest are either unsigned, recently signed, or in some way unknown enough where I'd be surprised if you've heard about them before now.
As such, the styles are all over the place — there's more psych-leaning material from the ambitious Merchandise and New Beard, to blues-infused garage-rock from Jump the Shark. Also take note of the furious soul-infused hip-hop beats courtesy of Flamingosis, or the seductively smoky rock of Candy Empire. There's something in here for everyone. The opener, Tigermilk's "Talátur", is quite special; there's nothing like opening an album, or compilation, with a scenic track that transports the listener to another world.
If you're looking to expand your stylistic horizon a bit via relatively unknown artists, take this compilation for a spin. Also check out the free albums from the past month: Merchandise, Death Grips, and The Widest Smiling Faces.
01. Tigermilk – Talátur (post)
02. Merchandise – Satellite (post)
03. New Beard – Doom (post)
04. Candy Empire – Langour (post)
05. The Underground Man – Knows Me Better (post)
06. Hot Chip – Night & Day (post)
07. Jump the Shark – Under the Gun (post)
08. Flamingosis – Midnight Romance (post)
09. JjANICE+ – Aleas (post)
10. Lotus Plaza – Monoliths (post)
11. Amanda Jo Williams – The Bear Eats Me (post)
12. The Sons – Scientists (post)
13. Death Grips – Get Got (post)
14. jj – Beautiful Life (post)
15. The Widest Smiling Faces – Lazy Boy (post)
16. Walrus – Growing Pains (post)
DOWNLOAD ENTIRE COMPILATION>>> (82.8 MB, .RAR)