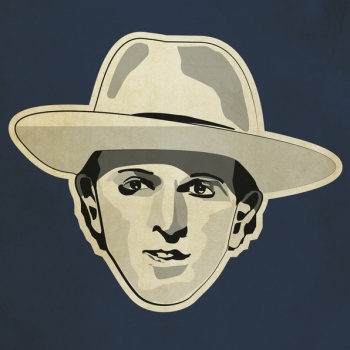 UPDATE: As hinted in the article below, a new Prefab Sprout album is indeed on the way. It is entitled Crimson/Red, and will be released on October 7th. It will be released on Icebreaker Records, and distributed by Warner ADA. We have the tracklist too:
1. The Best Jewel Thief In The World
2. The List of Impossible Things
3. Adolescence
4. Grief Built The Taj Mahal
5. Devil Came A Calling
6. Billy
7. The Dreamer
8. The Songs Of Danny Galway
9. The Old Magician
10. Mysterious
——————————
Prefab Sprout are of the most under-appreciated pop groups of all-time. Any self-knowing music fan should acknowledge Two Wheels Good, From Langley Park to Memphis, and Jordan: The Comeback as absolutely essential albums, ones containing extraordinarily witty lyrics and lushly infectious chord changes — trademarks of idiosyncratic frontman Paddy McAloon. McAloon has been selective with the band's releases as of late, averaging an album or two per decade — most recently with 2009's Lets Change the World with Music.  McAloon's health issues have led to impaired vision and decreased hearing, which has left some to wonder how ably the talented songwriter can currently create new music.
Regardless of McAloon's current works, an excellent new Prefab Sprout album surfaced over the past week. The ten brand new tracks were uploaded by an anonymous user back in March, with the album titled as The Devil Came A-Calling. The Prefab Sprout fanbase just recently realized the album's existence online a few days ago, so they're still in the process of digesting what many consider to be McAloon's best work of the decade. The glitzy siren-aided infectiousness of "The Best Jewel Thief in the World" compares to McAloon's greatest pop epics, while the somber jazz-inspired guitar stylings of "Grief Built the Taj Mahal" show his penchant for metaphorical whimsy and engrossing historical narratives. Overall, The Devil Came A-Calling sounds like one of the year's best — and probably the best Prefab Sprout album since Jordan: The Comeback.
As of right now, there are several theories as to what The Devil Came A-Calling actually is:
-A brand new Prefab Sprout planned to be released this year or next. Perhaps the band was swapping rough cuts of the album's tracks on online with the producer (Tony Visconti?), but a middle-man obtained the tracks somehow?
-These tracks are from 2004-2005 recording sessions that Paddy abandoned. He is reputed for apparently having dozens of unreleased songs, and this just may be the surface of them. Some details on what this album could potentially be:
Devil Came A-Calling (2005) – A dark, melancholic album, of which very little is known.
"I struggle with melancholy, though I try to keep it out of my songs. I've written a lot of moaning songs these last few years; I've had to stop myself. But I do have one or two unreleased LPs with dark things there." (Mojo #191, October 2009)
"I have an LP called… the song that I think of as being the centre of it is called Devil Came A-Calling, which takes a completely different view of the world to this one [LCTWWM]. It's almost like the mirror-image of it. Devil Came A-Calling… and it's darker, and it's the other side of this. So you could say, well where do I stand in that? I don't know where I stand in it. I'm just looking for subjects that have power for the listener. So that I did just before my hearing problem. That was 2005. Devil Came A-Calling – so there's another one for you [laughter]. Maybe I should do that next. Maybe I should do that next – then they could make a kind of double CD at some future point [laughter]." (Arnd Zeigler interview September 2009)
Some allege this is all from a very talented Prefab Sprout imitator. To that I say nonsense. No one is replicating Paddy's sound this convincingly. Just listen to the quality of these tracks and one thing is clear: These are brand new Prefab Sprout tracks. And they're great as hell.