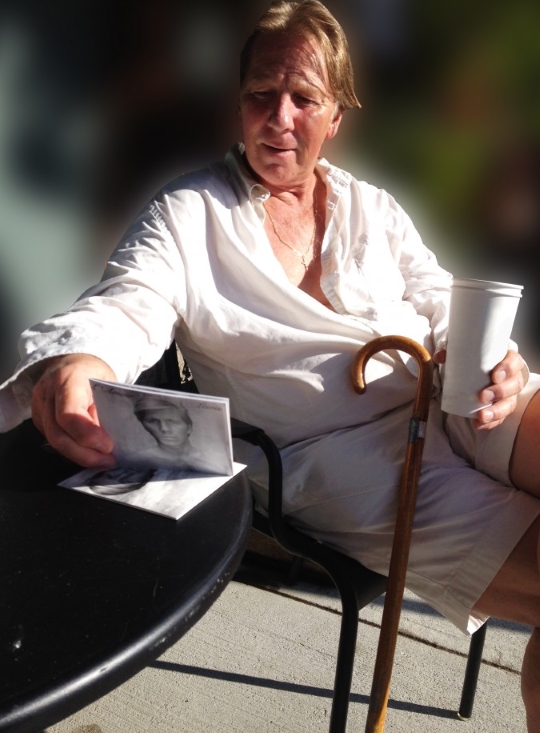 The Lewis saga has been a wonderful one — one of the most engaging and rewarding music-related stories I've followed. I first posted about the mysterious artist's album L'Amour back in 2011, around the time it surfaced online to the majority (apart from vinyl collectors who had allegedly been spinning it since 2009). Lewis' sound – a warmly sensual voice accompanied by washes of nocturnal synths and acoustic trickles (like Springsteen's Nebraska crossed with Angelo Badalamenti's Twin Peaks score and Serge Gainsbourg's idiosyncratic looseness) – is immediately striking.
Since my L'Amour post in 2011, numerous labels – some huge, others small – have contacted me, asking if I knew where this Lewis character was. I didn't know, and no one else knew… until now.
It's apt that discovering Lewis – particularly that he's alive and well – comes just several weeks after another one of his albums, Romantic Times, surfaced out of nowhere, after a coincidental pick-up in huge record store Recordland, located in downtown Calgary. With a more atmospheric, symphonic touch than the wistfully gorgeous L'Amour, the mere existence of Romantic Times suggested that Lewis could have several more albums stashed away somewhere. After all, it would be difficult to imagine that someone with Lewis' distinctive croon and melodic ability would just stop producing music in 1985, the year Romantic Times was released. His passion alone suggested someone with a deeper discography, even if it was under various pseudonyms.
Just a few weeks ago came the revelation from Len Osanic's "Fiasco Bros. Recording Studios" that Lewis had recorded under the name "Randy Duke", producing an assortment of spiritual songs (and other albums in Europe) with Lewis' signature atmospheric touch and silky-smooth vocals. Go to 0:48 to check him out:
Up until now, those few seconds of video footage – taken sometime in the early 2000s – was the only somewhat recent footage of Lewis. As a result, many presumed he was missing or possibly dead. Fortunately, Lewis is alive and well, and he's now aware that his music is beloved by many.
A recent post by Light in the Attic, who re-released both L'Amour and Romantic Times, showed they have discovered a very at-peace Lewis in Canada, whose actual name is Randall Wulff. Their blog post reads:
Randall Wulff is alive. Living and breathing and content, simply playing his music in the comfort of his own home, with a girlfriend and some kittens by his side.

For two and a half years, we searched and searched, and all signs led to Lewis as being a man no longer with us. Then last week, out of the blue, an old friend from Randall's past got in touch, mentioning that he saw Randy in Canada last year. Hours later, Jack Fleischer and I booked two plane tickets and headed to Canada on the hunt.

Feeling deflated after 48 hours of tirelessly searching, we suddenly spotted him in plain sight. We found him looking calm, cool and collected, sitting outside a little neighborhood coffee shop drinking a large hot coffee. He looked great just sitting there basking in the summer sun with his classic blond hair, white shorts, white, billowy dress shirt (confidently unbuttoned to the navel), shiny white tennis shoes, and a wooden cane, which he cited was from a recent accident, but he seemed to walk fine. He had that undeniable charm of some golden-era Hollywood actor.

Randy had no idea about the recent interest in his old records and didn't seem to care in the slightest. We had a check for him but he wasn't interested. We brought him CDs and LPs of L'Amour. He took a look, impressed ("nice"), and smiled, recalling a number of positive stories from back in the day. Then handed back the CD, saying it was for us and kindly declined keeping it. Randy simply wanted to look forward with both his life and music and had no interest in any celebrity or financial gain having to do with the albums. He told us over and over again, "That was a long time ago" and that we should "have a ball" with the reissues. When we mentioned that we'd been looking for him for years, he was surprised, responding that he's been right there all along and shops for groceries at his neighborhood store.

After a half hour chatting about his musical past, he signed a couple copies of L'Amour (as "Lewis") and said, "I wish you guys all the best. I'm not looking back. I'm doing stuff now that's taken me forty, fifty years to write. I'm not looking into coin. I'm not looking into anything. I'm just strumming my guitar. I just wish you guys all the best in the world."

In respect to Randall, we've decided that once our CD/LP stock runs out, we won't be repressing L'Amouror Romantic Times–until he tells us differently. It doesn't feel right collecting money from his art and him not sharing in it regardless of how incredibly positive he was about the entire thing. The royalties will continue to be set aside into an escrow in case he ever wants them.

In 2014, with the instant gratification of information at our fingertips and every mystery solved within seconds, this is a rare and beautiful thing. The man seems to be at peace, so respecting his privacy is most important. And in closing, we are aware of the small percentage of people that believe this whole thing to be a hoax. Looking at the twelve-year history of our label, anyone would see that we would never do such a thing to betray people's trust. We, like many of you, find so many parts of this story to be beyond belief, but after this meeting with Randall, we can say that sometimes truth truly is stranger than fiction.
UPDATE: Here's the most recent Lewis track you'll find, "Heartache" recorded under the name Randy Duke:
So, in addition to the photo above, there you have it. Lewis is found. Hopefully more of his music emerges, but for now it's good to know that Lewis is aware of his music's recent cult following. Although Lewis is no longer musically active, it's possible his other recordings will pop up eventually; Osanic claims he has various Lewis recordings stored on his computer. I know I'd love to hear some of Lewis' alleged spiritual music, at least. Either way, this is a great addition to a wonderful story that has been a pleasure to follow. If you haven't already, seek out L'Amour and Romantic Times ASAP. Some Lewis highlights are below:
Romantic Times clips: "Bon Voyage", "So Be In Love with Me"