#01-10   ///   #11-20   ///   #21-30   ///   #31-40   ///   #41-50
————————————————————————————————————————-
30. Empress Of – Me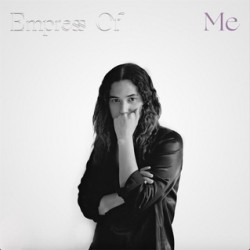 One of the most impressive debuts all year, Me is a wonderful electro-pop showcase from NYC-based singer/producer Lorely Rodriguez, who has molded her sound into a precisely confident vision since debuting the project in 2012 via one-minute color-coded YouTube tracks. Me was created mostly in isolation, over five weeks in Mexico; Rodriguez did the writing, mixing, producing, etc. on her own, which seems apt considering the album's recurrent theme of a relationship's span throughout. "Need Myself" is at the fed-up stage, where one would rather be alone than with their supposed beloved; "I think I'm the one I need," she croons over tribal-pop percussive rhythms and exotic synth arpeggios. It's one of several highlights throughout this glistening sophisticated electro-pop album, which incorporates both hooks and a well-executed/thoughtful theme into Rodriguez' brilliant pop world.
————————————————————————————————————————-
29. Jeremih – Late Nights: The Album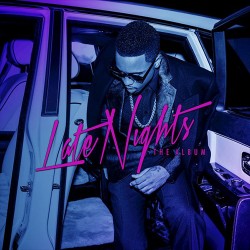 Late Nights is easily one of the smoothest, most immediately contagious albums of the year, with improved vision, production, and vocal rhythmic control from Jeremih's previous release, 2010's All About You. That one was polished, but nowhere near Late Nights in terms of atmospheric control or ingenuity. Unlike some modern R&B artists, Jeremih isn't trying to force his vocals into the mix; his relatively subdued approach throughout works well, so when he ticks up the emotion – like in the gleefully catchy chorus of the irresistible "oui", one of this year's best pop songs – it's a pleasant treat, rather than an overly familiar expectation. From pop efforts like "oui" and seductive crooner "Actin' Up" to rap-centric successes like merry-go-round beat "Feel Like Phil" and the colorfully upbeat "Pass Dat", Late Nights is an addictive and enthralling release from a newly confident artist.
————————————————————————————————————————-
28. Earl Sweatshirt – I Don't Like Shit, I Don't Go Outside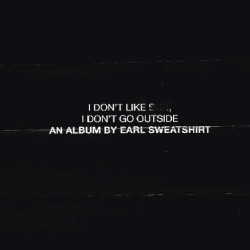 This might be the most aptly titled name of the year; the grimy beats combine with Earl's husky and fed-up delivery to produce a feeling of genuine detachment, the darkly claustrophobic style resulting in a gripping sense of ominousness that drips all over tracks like the stellar "Inside", where a flimsy synth pad and buzzing bass complement rhythmically precise rants against major-label conventions – "Now you in the industry ocean / And missing out on your boat / I been figuring out my own fish." The demon grumbles of "Grief" or warbly funk-rap nostalgia of "AM // Radio" show two different stylistic turns, but remain entrenched in the same grimy and dissatisfied realm throughout I Don't Like Shit, I Don't Go Outside, where Earl is unparalleled in his crafting of infectious discomfort.
————————————————————————————————————————-
27. Younghusband – Dissolver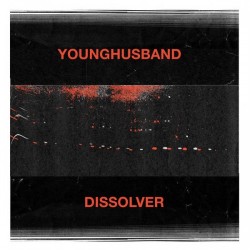 Jangle-pop sounds easy enough to make, as it emits a certain sense of nonchalance and peacefulness that seems to flow ever-so naturally. In reality, it's an arduous task for many modern jangle-pop acts to flesh out ideas, as the guitar-based intricacies in the style can make well-executed melodic transitions somewhat daunting to establish. Good repetition can be nicely hypnotic, but over-repetition can be a detriment. Younghusband's Dissolver is impressive largely because of how naturally the songs flow – like good jangle-pop – but in a way that's strikingly consistent and fully thought-out. Opener "Waverly Street" shows this immediately, with a melodically soaring initial riff that gives way to a jubilant chorus. On the more understated side, "Broken Girls" works around a blissful arpeggio played reflectively by guitars, keys, and bass, showing an eclectic appreciation that – in addition to the tendency for fully fleshed-out material – makes Dissolver a supremely successful slice of thoughtful jangle-pop.
————————————————————————————————————————-
26. FKA twigs – M3LL155X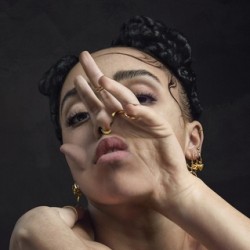 FKA twigs' third EP – pronounced "Mellissa" – provides otherworly electronica much in the bizarrely beautiful vein of her previous EP, with some new twists and turns. "In Time" shows off some hints of trap music with the pitch fluctuations and hi-hat build-up, easily the most accessible track for an artist that mostly needs full attention to completely appreciate. In that sense, there's a lot to appreciate with M3LL155X, beyond the sparkling and infectious "In Time". "Glass & Patron" is particularly awesome, a near-parody of conventional pop (with lyrical cut-outs) with eerie outer-space beat construction that alternates between deep percussion build-ups and solo vocal alien pitch alterations, before settling back into twigs' warm unfiltered vocals. FKA twigs continues to establish herself as an otherworldly surveyor of electronic music, one that seems enjoyably intent on stretching her stylistic and creative wings with each release.
————————————————————————————————————————-
25. Gibberish – Winter Coat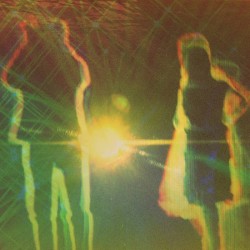 Based out of Fayetteville, Arkansas, Gibberish is the project of Derek and Lorie Bromley. The duo creates an otherworldy vein of psych-pop that features swirling textures and mysteriously infectious melodies. Their new album Winter Coat is strong start-to-finish, displaying a warm psych-rock sound with plenty of highlights. Specifically, "Colonies" is led by soulful vocals reminiscent of Cass McCombs, which intertwine with a ghostly assortment of booming bass, a faint synth pad, and clacking minimalist percussion; it creates an immediately engaging appeal that is dripping with quality atmospherics. The colorfully unpredictable video adds nicely to this allure. The percussive additions around 02:25 signal an oncoming transition, and what occurs – the beautiful effervescent sun-lit guitars – is fantastic. Winter Coat is a stellar release from a duo with significant promise.
————————————————————————————————————————-
24. ultraviolet – ultraviolet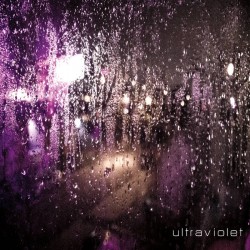 Austin's ultraviolet are a duo with a beautifully developmental vein of dream-pop, one steeped heavily in shoegaze influence. Their sound features Caitlin Craighead's wistfully ethereal vocals overlapping carefully over longing guitar stretches, which range from the delicate strums on the verses of "Fool's Gold" to the more shimmering guitar-pop feel of "Lock & Key", which also manages to weave in a dose of dark post-punk that would have groups like Siouxsie and the Banshees grinning ear-to-ear. "Hearts in the Sand" also does well in its consistent transitioning from full-bodied gauziness to sparsely beautiful bridges. These are two of five tracks on the duo's eponymous EP, written over the band's first two years. It's a very solid release from the duo of Craighead and James Grantham, whose sound seems poised to capture plenty of fans in the upcoming year.
————————————————————————————————————————-
23. Miguel – Wildheart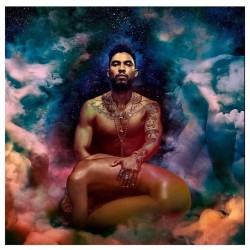 Miguel's third full-length continues to show an artist in love with a variety of styles. From past endeavors ranging from hip-hop cameos to Elton John covers, Miguel appears creatively restless and genuinely enthused in the creation process throughout Wildheart, shown immediately in the effervescent guitar twang-pop of "a beautiful exit". Of course, most people know Miguel for "Adorn" – which won him a Grammy – but he has wisely decided to subtly transition to a more comprehensive sound, with the hypnotic and reverb-friendly Wildheart. He's already mastered the pitch-perfect polished R&B song, so this release's tendency to retain his super-smooth R&B vocals against grittier beats, with expanded instrumentation – like the guitar twangs and Phil Collins-esque percussion on "coffee" or suavely upbeat alt-rocker "waves" – proves to be a very strong creative choice. Wildheart is fun and colorful, a purely pleasant release from an artist flexing his creative muscles.
————————————————————————————————————————-
22. Jim O'Rourke – Simple Songs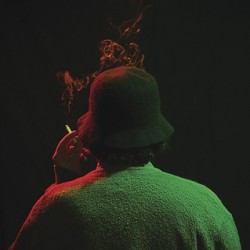 Jim O'Rourke's contributions to music the past few decades is substantial, though difficult to pinpoint – mainly because the songwriter/producer has dabbled everywhere from electro-acoustic and ambient works to rock and jazz, and a lot of places in-between. Whether via his contribution to acts like Sonic Youth or Wilco, or O'Rourke's own extensive discography since the early '90s, become acquainted with O'Rourke can seem understandably daunting. Simple Songs actually isn't a bad place to start, as one of his more rock-oriented albums in some time. Conventional song structures and easily identifiable hooks – even on the first listen – provide somewhat of a contrast to other experimental work, but O'Rourke's orchestral additions and and grimly direct delivery maintain his lovable uniqueness even in the most standard moments. Starting the album in melodically curmudgeon form – "Nice to see you once again/ Been a long time my friends/ Since you crossed my mind at all" – simply adds to his enduring charm.
————————————————————————————————————————-
21. King Gizzard and the Lizard Wizard – Paper Mâché Dream Balloon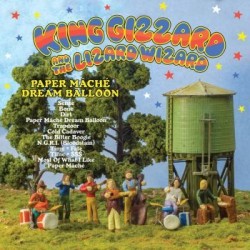 Paper Mâché Dream Balloon is as fun as the title implies, a nostalgic psych-rock romp with various stylistic additions (probably why The Guardian dubbed their sound as "psych-soul-surf-fuzz-garage-space rick-jazz-DIY-shamans"). The Australian collective has amassed a major cult following since forming in 2010, though with Paper Mâché Dream Balloon serving as the first proper stateside release (and a new "never-ending" album, Nonagon Infinity, on the way in 2016) it's safe to say that King Gizzard & the Lizard Wizard have been launched from the depths of obscurity. Deservedly so, as their colorful and energetic sound is too blissful to keep confined to one fan base. Highlights are abound; "Bone" has the playful woodwind-accompanied carefree-ness of a great Kinks track (an enjoyable occurrence throughout), while the brilliantly upbeat "Trapdoor" infuses some playful key-laden pop anxiety for a series of purely flawless pop hooks. Paper Mâché Dream Balloon is a breathlessly creative psychedelic success that will appeal to fans of modern and classic psychedelia alike; King Gizzard and the Lizard Wizard have found a beautiful middle ground.
————————————————————————————————————————-