#01-10   ///   #11-20   ///   #21-30   ///   #31-40   ///   #41-50
————————————————————————————————————————-
10. Julia Holter – Have You In My Wildernesss
Ekstasis was my first exposure to the talented Julia Holter, whose 2012 album captured a lush vein of bedroom dream-pop with a very impressive atmospheric reach, especially considering her fairly minimalist approach at the time. Not to say that her songs are now stuffed to the gills, but subsequent releases in 2013's superb Loud City Song (2013: #11) and now Have You In My Wilderness have shown enjoyable expansion; Holter's magical songcraft remains intact, with an expanded instrumental arsenal resulting in a wider emotional reach. Have You In My Wilderness is often propelled by stunning string arrangements that bring chills on their own. When accompanied by Holter's otherworldly vocals, the sensation is heavenly. The tonal changes on both the fluttering "Feel You" and darkly melancholic "How Long?" are guided by the concurrent bliss of the strings and vocals. "Feel You" and "Sea Calls Me Home" show Holter's sound in perhaps their most pop-friendly form to date, serving as pleasant additions to an album more intricate and atmospheric than those would give off, from the orchestral choral-laden dramatic illumination of "Lucette Stranded on the Island" to successfully jazzy experiment "Vasquez". Have You In My Wilderness is a meticulously crafted success and Holter's best release to date.
————————————————————————————————————————-
9. Father John Misty – I Love You, Honeybear.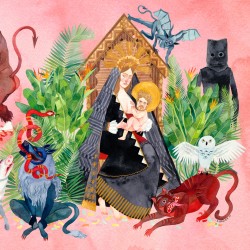 I noted back in 2012 when Father John Misty released Fear Fun that it sounded like frontman Josh Tillman was audibly loosening up after releasing seven full-lengths under the J. Tillman alias, which presented a solid form of sincere Americana with its plain-spoken tragedies and tales of the barren open road; it showed a very black-and-white sound that was pleasant enough but far from groundbreaking. As opposed to the graveness previously apparent, Tillman engages the listener in a more charismatic and humorous form with Father John Misty. Tillman presents an album steeped in a looser variety of folk that recalls '70s Appalachia along with the extended protest rock jams that often coincided. Now that Tillman's focus seems to be majorly on his Father John Misty output, it's not much surprise that I Love You, Honeybear represents his clearest vision to date, which reinforces that clarity even in the midst of enjoyable stylistic adventuring. The good moments are countless; the twangy longing croon of the devastating self-titled opener, the rollicking country-pop and brass-laden nostalgic spirit of "Chateau Lobby #4", the hypnotic Electric Light Orchestra-like chamber-pop of "Strange Encounter" — I Love You, Honeybear is a brilliant collection of deeply harmonious and melodic tracks whose plentiful hooks will remain entrenched in your memory. It literally sounds timeless.
————————————————————————————————————————-
8. James Ferraro – Skid Row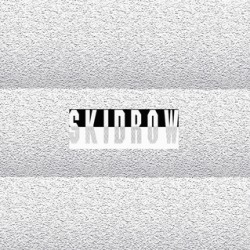 The intended soundscape of Skid Row is noticeably specific, not a surprise considering the past work of James Ferraro, an experimenter whose work includes 2013's NYC, HELL 3:00 am, a nocturnal audible journey through Bloomberg-era NYC. For Skid Row Ferraro explores his native Los Angeles instead. Spoiler alert: the world he creates on the album is in dark contrast to the sun-filled glamour commonly depicted. Instead, this is more the world you're likely to find in the darkest possible episode of Law & Order: LA (on VHS for good measure). Ferraro's lonesome guitar twangs, police siren sampling, cheesy '80s brass infusions, and reverbed vocal cooing concoct such a soundscape, one that breathes most convincingly on stunners like the self-titled effort and "Street Freaks", both merging nostalgic L.A. funk-laden swagger with the ominousness brought upon by decades of highly-publicized injustices. Like any of the world's most bustling cities, L.A. has its dark and bright corners; Ferraro seems more intent on exploring the darker crevices in the most engaging ways possible, all while exuding the sort of cool retro nonchalance that L.A. funk and pop stereotypes exude. Skid Row is an atmospheric masterwork and has gone overlooked this year.
————————————————————————————————————————-
7. Grimes – Art Angels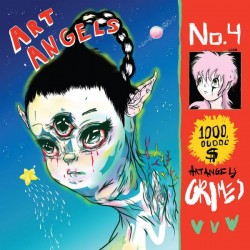 Grimes' career evolution has been wonderful to watch, and a testament that any user submission could be the next big thing; Claire Boucher submitted her debut full-length, Geidi Primes, to Obscure Sound in 2010, and it was predictably right up my alley. She emailed a few months later, having just finished Halfaxa as well, and noted that it was the beginning of a transformation period for her sound. Apparently right after the Halfaxa release, Boucher more thoroughly learned how to record through an interface, "Crystal Ball" being the first released track under that method. When she sent the (then unreleased) track over to me, the potential was obvious; her first two albums showed unconventional brilliance in songwriting and melody, though it was also clear that becoming more well acquainted with the production aspect had elevated Boucher's sound to another level.
Now about six years later, Grimes is a well-deserved star. Her new album Art Angels hit #1 on Billboard's Top Alternative Albums chart and her material is known well beyond the indie blogosphere. Even Boucher's early material showed a long eclectic reach, so the variety of Art Angels isn't a surprise itself; she pulls off the raucous J-Rock-inspired "SCREAM" with ease, just as she does with the smooth bubblegum-pop track "Artangels", which touts a universally recognizable pop sleekness. "Kill V. Maim" is my favorite of the bunch – a wonderful mash-up of excitable alternative, pop with attitude, and pulsating dance. Art Angels is the byproduct of not simply a talented songwriter and singer – it's from someone whose evolution through the stages of self-production and the eclectic indie soundscape has resulted in one of the most innovative and successfully idiosyncratic sounds around.
————————————————————————————————————————-
6. Sufjan Stevens – Carrie & Lowell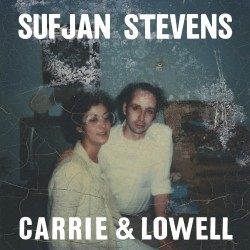 Acoustic guitars, barely-there synth pads, and ghostly vocals comprise much of the instrumentation on Carrie & Lowell, Sufjan Stevens' most stripped-down and personal release to date. Sufjan's mother, Carrie, passed away in 2012 and it inspired a very touching creation in this, an ode to his mother and stepfather Lowell (who works with his stepson on music occasionally and helps him run their label Asthmatic Kitty). An auto-biographical tone of sorts is not the norm for Sufjan, whose more accustomed to musing about historical things and peoples throughout his 50-state project. The Age of Adz was thematically personal – tackling feelings of "love, sex, death, disease, illness, anxiety, and suicide" – but these are very broad themes. Plus, the bustling use of electronics did not propel the lyrics to the forefront, like the effective yet barren instrumental focus here.
In contrast to Adz, Carrie & Lowell feels like the genuine byproduct of a real-life emotional event, rather than an artist simply writing good songs and tackling universal aspects of human nature as a thematic focus. This album breathes love, regret, and longing in ways that everyone can relate – but also in ways unique to the artist's personal grief. "Fourth of July" is perhaps the most tear-tugging track of the year, a haunting melody accompanying Sufjan's memories about his mother's love for him, even in the midst of her personal struggles. Ingraining existentialist dread with pure heartfelt emotion for ones you love, "Fourth of July" is one masterpiece from a very, very human album that defines how beautiful an emotional release can be.
————————————————————————————————————————-
5. Joanna Newsom – Divers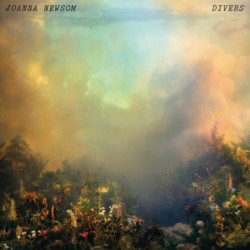 Joanna Newsom releases are always full of substance – richly intricate arrangements, Newsom's stirring vocals, and lyrical content that seems to always teach something new – whether it involves the worship methods of an extinct culture or something as universal as love's power. I never know what I'm going to learn before I go into a new Newsom release — but it's always something interesting from the talented and well-read singer/songwriter, whose sprawling lyrical and poetic nature has resulted in a very active Genius page that provides some insight to the many historical references in her music. When her tracks tend to start with lines like "The cause is Ozymandian / The map of Sapokanikan" then there's no shame in looking stuff up. That track in question is the stunning "Sapokanikan", a tale of antiquated tributes and ceremonies, where Newsom's vocals glide feverishly over prickly keys that rise in pitch initially before giving way to more orchestral additions, preceded by a sparsely beautiful hook that starts at the three-minute mark, essentially lasting the track's remainder with the additions of various brass, woodwinds, and climactic percussion over Newsom's alternating vocals; she alternates from narrative driver to operatic talent with seamless ease, showing herself continually as an eclectic powerhouse with incredible narrative power throughout the entirety of Divers, one of the most artistically fulfilling albums of 2015 that somehow manages to be hook-y while also orchestrally sweeping and narratively rich.
————————————————————————————————————————-
4. Tame Impala – Currents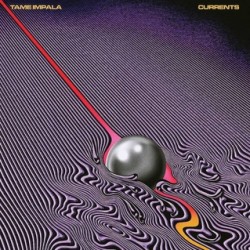 Tame Impala had ample expectations to live up to in following up 2012's Lonerism, the release that cemented the group's ascent from semi-obscurity and into Grammy nomination territory. Currents is a very worthy follow-up, offering an assortment of songs in the group's past psych-rock vein – particularly "The Less I Know, The Better" and the too-short "Disciples" – alongside lusher, more electronic-minded efforts (at least in contrast to the first two albums). Some of these efforts chug along more suavely than anything from them to date, thanks to the tinge of R&B via reverbed vocals, soft twinkling keys, and tamed percussion. Apart from the somewhat monotonous "'Cause I'm a Man" and "Past Life", attempts in this stylistic mode are largely very successful, exemplified well by "Reality in Motion" and "Love/Paranoia". Parker's vocals find the perfect balance between lush psychedelic complement and driving force, navigating through gentle synth warbles as he centers around the irresistible chorus. "Love/Paranoia" is much in the same stylistic vein, opening with a gorgeous assortment of multi-layered backing vocals and soft keys, before Parker and a series of hand-claps lead into a wonderfully effective series of psych-pop hooks. These pleasant, more developmentally friendly efforts are in addition to typical Tame Impala greatness, shown well by the guitar/bass-led energy of "The Less I Know, The Better" or "Eventually", an apt central force of the album; it alternates between both of the album's primary styles beautifully, as bursts of guitar-led rock and gentle keyboard caresses alternate and combine. Currents may not be the most cohesive Tame Impala album to date, but it contains the brilliant songwriting and command of various styles you'd expect from one of the best bands currently going.
————————————————————————————————————————-
3. Neon Indian – VEGA INTL. Night School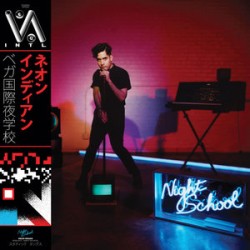 Psychic Chasms and Era Extraña provided substantial evidence that Alan Palomo was a songwriter to follow; his obvious love for electronic music and production shows through with each release, from his debut's more chillwave-laden sound to further exploration with guitar-based genres like new wave and shoegaeze on Era Extraña. I didn't quite know what to expect stylistically with VEGA INTL. Night School, and even after listening to it countless times I'm not sure what I would call it – hook-y electro-funk, I guess – but the album as a whole provides such a melodic and stimulating listen that it doesn't do justice. A track like "Annie" stands with any pop hit of recent memory in terms of instant accessibility, and is generally a good place to get started with the album's sound, as it provides the easiest-to-digest form. Other tracks to follow are diverse in their brilliance; they range from brilliant psychedelic synth-pop instrumentals ("Slumlord" -> "Slumlord's Re-Lease") that would make A Wizard, a True Star-era Rungdren smile, to brilliant funky synth-driven concoctions like "Smut!", where Palomo's flawless melodic development and successful near-falsetto chorus hook helped make it one of my favorite tracks this year. With other gems that include "Dear Skorpio Magazine" (which sounds awesomely like the Clapton cover of Yellow Magic Orchestra's "Behind the Mask" – a period/style I would peg nicely as a loose comparison for this album's world) and the trippy psych-rock epic "Baby's Eyes", VEGA INTL. Night School is firmly one of this year's finest albums and is tied with the album below as my favorite rock/pop record of 2015.
————————————————————————————————————————-
2. Deerhunter – Fading Frontier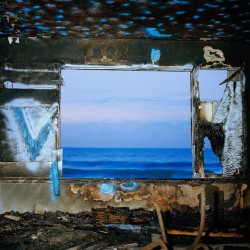 My other favorite of the year in the rock/pop category was Deerhunter's Fading Frontier, a strikingly strong release from one of rock's most consistent groups. This is the most relaxed and bright-sounding I've heard them, and while it may lack a devastating slow-churning emotional beauty like a "Agoraphobia" or "Nitebike", there's enough depth to warrant it. The melodies themselves are often fluttering and upbeat, and always consuming. In the more rock-geared phases – like the rollicking "Snakeskin" and jangly opener "All the Same" – terms like "fluttering" don't necessarily apply, but Bradford Cox' vocals and Lockett Pundt's trademark guitar jangle unveil the beauty in brilliant form, per usual. Other tracks have a more understated effectiveness. Dancing tropical keys and a lush guitar jangle lead "Breaker", one of this year's finest, into a perfect pop chorus filled with effervescent wonder. Similarly, "Take Care" finds a wistful synth pad, bouncy bass line, and handclaps guiding a memorable melodic gem with a sorta '60s pop vibe. "It's the last thing you'll see, the last game you'll play," Cox sings over these exuberant melodies, not the first or last time more morose lyrical content finds itself alongside graceful melodies. It's the type of interesting contrast perhaps conveyed in the album cover, a beautiful reprieve from a larger bleak picture. Fading Frontier shows Deerhunter as still kings of indie-rock, continuously intertwining light and dark with some of the melodically blissful rock you'll hear today.
————————————————————————————————————————-
1. Kendrick Lamar – To Pimp a Butterfly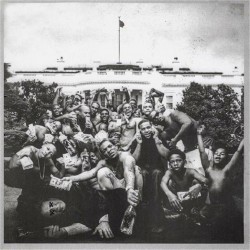 To Pimp a Butterfly is chock-full of great material, more so than any other album this year. It's a logical follow-up to the masterful good kid, M.A.A.D City, which meshed autobiographical grittiness with societal reality for one of the most triumphant and emotionally affecting releases in hip-hop history. To Pimp a Butterfly finds contemplation in the shadow of success, where personal success has been attained but greater issues loom – and have loomed for some time. Starting with the end: the album concludes with a fictional conversation between Kendrick Lamar and Tupac Shakur, where they touch on how class separation and greed has eroded the goodness of humanity. To Pimp a Butterfly explores various themes using the example of the caterpillar and butterfly, with the former destroying his habitat ("its only job is to eat or consume everything around it") and the butterfly representing "the talent, the thoughtfulness, and the beauty within the caterpillar."
But he goes on: "Having a harsh outlook on life the caterpillar sees the butterfly as weak and figures out a way to pimp it to his own benefits." It's a tragic reality that conveyed throughout the album, in the ways you'd expect already from Kendrick – with a technically unbeatable flow, dazzling production, and a unified theme. Standout "These Walls" attempts to tackle the many walls in the human psyche, built around a slick funk-tinged chorus with guitar twangs and a haunting synth pad complementing Anna Wise's vocal backing. More musically intense, the perspective on self-hatred through "The Blacker, the Berry" finds Kendrick vocally authoritative, blasting the criticize-one tendency and taking on society as a whole instead; his analysis of various stereotypes – ranging from African-American stereotypes to the financial 1% – always resounds in lyrical quality alone, so the forcefully empowering production and onslaught of hooks merely adds to the engagement factor. To Pimp a Butterfly is another masterpiece from Kendrick.
————————————————————————————————————————-