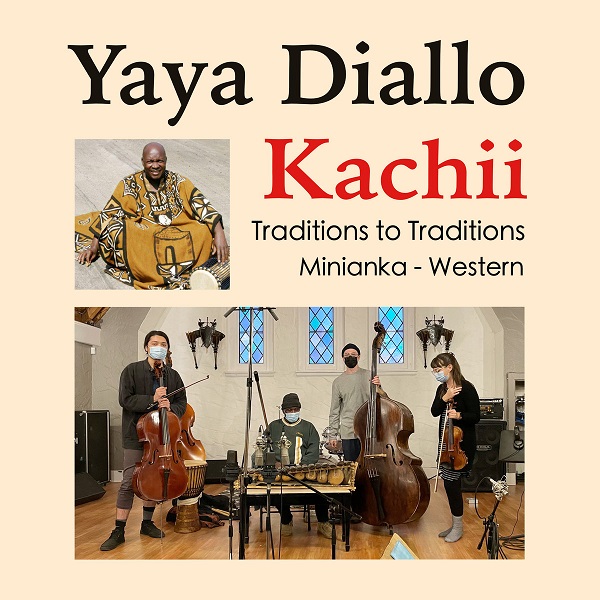 The new album from author and musician Yaya Diallo, Kachii: Traditions to Traditions fuses traditional and experimental elements within the artist's aim to "play Minianka balafon music with traditional Western instruments." More familiar instrumentation — cello, double-bass, flute, and violin — meld with African instruments like djembe and dounou to produce a sound that will be unfamiliar and riveting for many listeners.
"This album honors the traditional role of coredjouga in Minianka culture, whose music is featured on the album," Diallo says. "A coredjouga is a person who has shed everything, who has no need for material possessions and can educate others through irony. The symbol of the coredjouga is the vulture, who can live on scraps that others have left behind. That is what I have done in this new album, I have taken instruments that are old and left behind and transformed that into a new energy. We should stop wasting things and recycle them."
Among the notable highlights, "Tien" impresses with its cohesion of string-laden theatrics and hypnotic African percussion. A reflective, subtle backing vocal presence adds a warming effect throughout. In the livelier spectrum, "Mato" leads with vibrant vocal outpouring and evolves into a symphonic fury of strings and resonating vocal power. The natural, spirited vocal presence glides with contagious emotion amidst the striding strings, sending chills at the conclusion when various vocal layers converge.
Kachii: Traditions to Traditions is a stellar release from Yaya Diallo and his collective of musicians, bridging a classic, cultural emphasis with modern charm heavy on cinematic atmosphere.
The album presents a range of dynamic sounds.
Stream Kachii: Traditions to Traditions below:
—
"Tien" and other tracks featured this month can be streamed on the updating Obscure Sound's 'Best of September 2022' Soundcloud playlist.