Posted
April 12, 2006 by Mike Mineo
in Features
MUSIC DOWNLOADS: Gnarls Barkley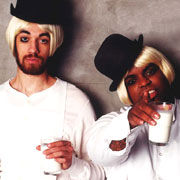 Before you jump to any conclusions about us posting a rap track, I suggest you listen to Gnarls Barkley first. The collaborative effort from Danger Mouse and Cee-Lo incorporates pop and soul more than any other hip-hop effort that I have heard lately. What these two distinguished hip-hop stars have done is create an incredibly catchy album with excellent beats and outstandingly fitting vocals. Danger Mouse is a very diverse artist, dealing in samples from The Beatles to Jay-Z. Cee-Lo tends to be more eccentric, as his solo music often has a distinct southern feel to it. Imagine a Marvin Gaye and James Brown sound mixed with Outkast, and somewhere in that rough vision, Gnarls Barkley can be heard. Their first album, St. Elsewhere, will be released later this month. It will definitely be one of the more exciting debuts of the year.
I believe 'Smiley Faces' will be overshadowed by huge hits such as 'Crazy', which has already recieved very significant radio play. Both are deserving of attention, and with Danger Mouse's and Cee-Lo's status in the hip-hop industry, do not be surprised if it receives that attention. 'Storm Coming' is one of their songs that won't garner as much attention, but it provides diversity from the other songs. The fun fast-paced chorus is a nice change and fits perfectly into the song. If you enjoy these three songs, I recommend St. Elsewhere for more of the same.
————————–
tracks removed…
————————–
Mike Mineo
I'm the founder/editor of Obscure Sound. I used to write for PopMatters and Stylus Magazine. Send your music to
[email protected]
.