Posted
February 22, 2007 by Mike Mineo
in Features
Julius Airwave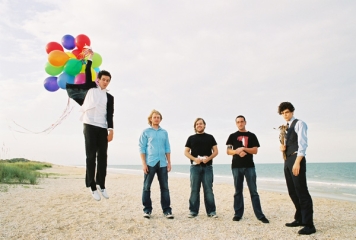 There are certain demographics that believe robots will take over within the next few centuries. As absurd as those scientologists and other controversial groups see fit, Julius Airwave is intent on mocking them. On the stage of every one of their lively shows sits a green robot sparkling with LCD lights, tube arms, and two light bulbs as ears. The robot has been considered a staple for the band since the robot first appeared last September. Created by band friend Curtis Lyles, audiences have hailed the cleverly designed robot as a rhythmic good luck charm and devoted companion. Even while their green friend has bought in some fans, it is the music of Julius Airwave that is making audiences stop in their tracks with a glisten of interest in their eyes. Originating from Jacksonville, Florida, Julius Airwave is led by songwriter and multi-instrumentalist Rick Colado, with guitarist Jeff Mehlhoff, guitarist Jeremiah Johnson, bassist Chris Gibson, and drummer Mark Hubbard at his side. All five musicians clearly have a very capable grasp on their music and enjoyable delivery. As far as their style goes, it's as contemporary as a band can get. In about twenty years, one will most likely glance back at the music scene of this particular decade and recollect names such as The Strokes, Interpol, and Franz Ferdinand. Whether you prefer to call it a garage or post-punk revival or nothing at all is up to you, though several things are clear. One is the fact that most bands are certainly not shy to incorporate synths into their guitar-led punk deliveries. Another would be that catchiness reigns over artistic complexity, even though that has been the case for the past twenty years. Though this obviously does not apply to all artists of this particular decade, sales and universal popularity express a similar theme. I suppose you could classify Julius Airwave in both areas of the spectrum, both crafting insanely catchy pop songs and innovative odes of complexity and somehow managing to wrap it all together to create an extremely engaging sound.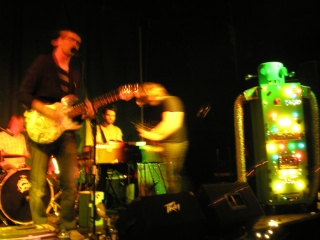 The City, The Forest marks the band's second album. While the cover art details a description of complex longitudinal maps, there is no doubt that Julius Airwave has found their way. Their debut album in 2004, Dragons Are the New Pink, was a fun listen but it did nothing to separate the band from the masses who sounded very similar. The City, The Forest displays a remarkable transition from sloppy art-rock to a clean and concise variety of songs that boast some of the catchiest melodies I have heard so far this year. The opener "In the City" works to intentionally throw the listener off with it's lo-fi acoustic production. While the song is the first example of Colado's impeccable talent for melody, many listeners may assume the rest of the album would be in a similar fashion. That is not the case, as The City, The Forest holds a remarkable amount of effort and complementary production, with the majority of the songs being electric in nature. The second track "Glory Glory" is more typical of the band's sound. Colado sings with plenty of additional reverb, causing his breezy vocals to sound even lighter than usual over a fantastic chorus of frantic percussion, distorted guitar, and light keys. "No, we don't need her" is the phrase that Colado assures himself of throughout this highly enjoyable song, nearly defining what a quality three-minute pop song should sound like. As close to perfection that "Glory Glory" comes, the band finds natural ability in the brilliant "Appley". I suppose I couldn't get away with writing about this song without comparing it to The Strokes. Indeed, Colado sounds just like Julian Casablancas during the astonishing chorus, where the aforementioned mixture of ceaseless synths and guitars prove to be a defining and memorable sound. Sure, the structure is predictable and the lyrics are hardly defiant, but the song is arguably the catchiest I have heard this year. I was extremely impressed. The following song, "Shipwreck", just adds to the band's catalog of diversity. Where "Appley" was an upbeat song of catchy proportions, "Shipwreck" is a haunting ballad with it's introduction being led by a solemn synth, eventually cascading into a momentous build of several guitar and synth incorporations. "Broken Bells" is another impressive song off of The City, The Forest, involving a bit more folk and straightforward alternative rock as Colado's confident vocals carry the song yet again over a clearly orchestrated musical arrangement, led primarily by the tight rhythm section of Chris Gibson and Mark Hubbard. Small touches such as Chris Gibson's use of a toy xylophone add for even more enjoyment, as the band builds on yet another unstoppable chorus. These songs, along with others such as the brooding "Fur" and the piano-led epic "Nannerl", create for an outstanding album. The City, The Forest should give Julius Airwave plenty of a well-deserved attention this year. Though this is most likely one of the first places you've heard about them, it won't be long before their music spreads like wildfire. The City, The Forest will be released on May 8th. Mark it on your calender.
——————————————————————————————
[audio:http://obscuresound.com/mp3/julius-app.mp3]
——————————————————————————————
[audio:http://obscuresound.com/mp3/julius-glo.mp3]
——————————————————————————————
[audio:http://obscuresound.com/mp3/julius-bro.mp3]
——————————————————————————————
Mike Mineo
I'm the founder/editor of Obscure Sound. I used to write for PopMatters and Stylus Magazine. Send your music to mike@obscuresound.com.