Posted
September 1, 2008 by Mike Mineo
in Features
Obscure Sound: Best of August 2008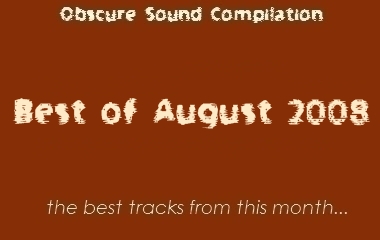 As you can clearly see, August's compilation appears to be a bit condensed when compared to the previous months. I said earlier that the transition to college has made the site's content a bit more sporadic than usual and that remains the case, though it has come to a point where I have finally familiarized myself with my schedule and way of life. That being said, I have enjoyed it immensely thus far and look forward to treating both readers and myself to several exciting new opportunities that are already definitively on the horizon. Starting this month, updates should resume normally with new features (more interviews, live reviews, etc.) that should add to the site's content in supplemental form. The month of August featured about 3 or 4 less artists than I would have liked to due to time constraints, but it certainly coincides with the ideology of "quantity over quality", as the 11 artists presented here are certainly worth the time. I hope you enjoy this month and can look forward to the weeks, months, and year ahead.
01. Department of Eagles – No One Does It Like You (post)
02. Ra Ra Riot – Dying is Fine (post)
03. Arms – Kids Aflame (post)
04. Firekites – Autumn Story (post)
05. Loquat – Sit Sideways (post)
06. The Tunics – Paris, France (post)
07. Black Gold – Detroit (post)
08. The Hush Sound – Honey (post)
09. Acorn Project – Crystal Myth (post)
10. The New Up – Broken Machine (post)
11. Alt-Ctrl-Sleep – Take Care (post)
Mike Mineo
I'm the founder/editor of Obscure Sound. I used to write for PopMatters and Stylus Magazine. Send your music to
[email protected]
.