Obscure Sound: Best of Dec./Jan. '11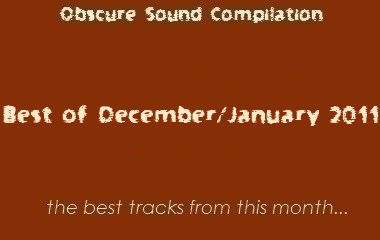 December's features were cut short by the 'Best Albums' feature, so I decided to cram two months into one for this compilation. I think it makes this one twice as good as the average one on here, headlined by the first big successes of 2011. Destroyer, Smith Westerns, British Sea Power, and Cut Copy are the first big names to release an album in 2011, all doing so with critical acclaim. Three of the four are featured in this month's compilation with some of the highlights from those releases. Add to that some new efforts by other familiar faces like Memory Tapes, Akron/Family, and Times New Viking and there is little to complain about thus far. If 2011 continues in a positive direction like this, we could all be in for a great year.
Even aside from the popular names, other names like Woodsman, Grass Widow, and Tennis are generating buzz as well. There is yet to be a breakout new star in 2011, but a couple of these artists produced exceptional debuts and sophomore releases that should provide them with some well-deserved recognition. I'm just hoping that February comes and goes quickly… in my opinion, it's easily the worst month of the year. The weather absolutely sucks, the only sport on TV is basketball, and illnesses are flying around with malicious intent. I was unlucky enough to catch one early last week and am still battling it. The last time I was sick before this? Last February. There's just something about the month that makes my body weak. Good thing music is not affected by the miserable qualities of a given month. It's one of the only things that acts as an enjoyable compass in times like these.
01. Destroyer – Chinatown (post)
02. Smith Westerns – All Die Young (post)
03. British Sea Power – Mongk II (post)
04. Akron/Family – So It Goes (post)
05. Bullion – I Just Wasn't Made For These Times (Beach Boys) (post)
06. Memory Tapes – Today Is Our Life (post)
07. Times New Viking – No Room to Live (post)
08. Woodsman – I Can't Move (post)
09. Soft Landing – Pendleton Woolen (post)
10. Young Prisms – I Don't Get Much (post)
11. Grass Widow – Fried Egg (post)
12. The Mountain Goats – Damn These Vampires (post)
13. Tennis – Pigeon (post)
14. Young Galaxy – We Have Everything (post)
DOWNLOAD ENTIRE COMPILATION>>> (91.2 MB, .RAR)