Posted
March 14, 2006 by Mike Mineo
in Features
MUSIC DOWNLOADS – #17 – MATMOS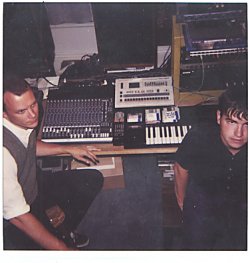 I have never posted anything like Matmos on this site yet, and it's mainly so unique that I won't do this kind of music often. It sounds better in small amounts. Anyways, Matmos, much like The Fiery Furnaces, seems to be on a love-hate basis with most people. Matmos is mainly instrumental experimental electronica. That may be a mouthful, but you'll see what I mean when you listen to them. Matmos is fronted by Andrew Daniel and Martin Schmidt, who formed the project in 1995 in San Francisco. They are releasing their seventh album, The Rose Has Teeth In The Mouth Of A Beast. The album is ten tracks of 'sound portraits', which chronicles figures in history that they admire. There is a person's name in every single track title. From James Bidgood to William S. Burroughs, each song has a distinct atmosphere which relates to the person. The very interesting tracklisting can be found here.
The two song samples below are off of the new album, and they sound very cool. 'Solo Buttons for Joe Meek' is a tribute to pioneering British record producer Joe Meek. Matmos describes the song as "surf twang" and whatever it may be, it results in a very well done song. You'll notice a big pickup about one and a half minutes in that will be sure to catch your ear. The strings and synths combine for a deadly duo here. 'Banquet for King Ludwig II of Bavaria' is undoubtly one of the more interesting songs of the year. Starting off with a royal horn, with a small jingle and sci-fi twang following shortly after, the song really exposes its ingenuity with vocals (rare for Matmos) making all sorts of odd sounds; whether it be a haunted sort of sound, a screaming, a crying, or whatever it may be. It combines with the background of clattering and a continuing loop. The song is very interesting and fun to listen to when you get used to it, which is the same for the whole album. As of now, I strongly recommend The Rose Has Teeth In the Mouth of the Beast.
————————–
Matmos – Solo Buttons for Joe Meek
[audio:https://obscuresound.com/mp3/matmos-solo_buttons_for_joe_meek.mp3]
————————–
Matmos – Banquet for King Ludwig II of Bavaria
[audio:https://obscuresound.com/mp3/matmos-banquet_for_king_ludwig_ii_of_bavaria.mp3]
————————–
Matmos – Roses and Teeth for Ludwig Wittgenstein
————————–
Mike Mineo
I'm the founder/editor of Obscure Sound, which was formed in 2006. Previously, I wrote for PopMatters and Stylus Magazine. Send your music to
[email protected]
.