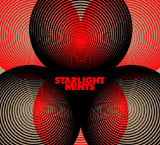 I take a look at The Starlight Mint's third album as they craft their finest album on their Barsuk debut.
Artist: Starlight Mints
Album: Drowaton
Label: Barsuk
Year: 2006
BUY
One thing about The Starlight Mints that you will notice off-hand, is all the instruments they utilize in their music. It's all here: strings of all kinds, keyboards, trumpets, trombones, and an assorted number of others, and even with all these instruments been played, The Starlight Mints sound surprisingly simple. This is a good thing though, as the accessibility of their third album, Drowaton, is one of the things that make it a great accomplishment. While The Starlight Mints are constantly compared to an early version of The Flaming Lips, I only see a strong resemblance in both their hometowns (both originate from Norman, Oklahoma). The Starlight Mints actually have a clearer vision in their influences than The Flaming Lips had at this point in their career. When they released their debut album, The Dream That Stuff Was Made Of, in 2000, it showed their extreme potential with very listenable pop songs with very noticeable hooks. Things were only improved in 2003's Built On Squares.
Drowaton kicks off with a traditional sounding pop song in 'Pumpkin'. 'Pumpkin' easily resembles Blur's Parklife-era, with the background "woo's" and trumpet chirping in the background. It's an upbeat sounding song, though the lyrics ply an interesting trade in contrast to the happy melody. "Because I feel alone," vocalist Allan Vest sings during the surprisingly upbeat chorus, "because my heart is cold, and the words, they burn on my soul." The odd combination is a winner though in its sarcastic offering. The following song, 'Torts' follows Blur with an obvious Tom Waits influence, in the intro anyways. The song eventually opens up originally with keys slowly building up to a halt, and then a chorus. Keyboardist Marian Love Nunez provides a nice flavor with her surprising backing vocal appearance, and her phrase directly before the chorus.
The most easily accessible songs on Drowaton are naturally 'Seventeen Devils' and 'What's Inside Of Me?'. 'Seventeen Devils' has a beautifully arranged string piece that kicks off the song and continues throughout, with a screeching guitar accompanying it. Vest's vocals shine particularly well in 'Seventeen Devils'. "A heart so slippery, love slides away," Vest sings over an electric and acoustic guitar, shortly before the strings kick in to resume the verses. 'What's Inside Of Me?' will most likely be their first single for Drowaton, well, it should be. It's undeniably catchy from start to finish. It's only complementary that Vest starts off with a witty line of some: "Well, I don't need your sympathy, but I could use your company; crawl into a mystery that I call you, so come inside of me." If Jarvis Cocker or Morrissey wrote the song, we could probably analyze some sexual innuendo, but The Starlight Mints retain innocence and straightforwardness.
It should come as no surprise that The Starlight Mints have the capability to create songs of an epic nature as well. The song 'Drowaton' comes mid-way through the album it is named after, and it's simply phenomenal. The song best displays their wide use of instruments and their talented writing of arrangements. One moment it sounds like a slow-tempo acoustic song, while shortly and successfully transitioning into a guitar and string romp, while then shifting back again. It remains the most rewarding song on the album.
I mentioned a Tom Waits influence earlier, and this is heard throughout the album; mainly on several creatively titled and odd sounding songs. The brilliantly titled instrumental 'Rhino Stomp' is a fun trade of brass and strings with a few surprising retro keys along the way. The album does not have any point of drop off, as even the later songs of 'Rosemarie' and 'Sidewalk' are full of life and energy. 'Sidewalk' appropriately ends the album with another brilliant string arrangement in key with Vest singing, "And if the stars collide, well it ain't love until it's over." The Starlight Mint's musical prowess is at their strongest, resulting in their best album yet. If you're looking for some irresistible pop music, The Starlight Mint's newest is the way to go.
Rating: 8.6/10
———————
Starlight Mints – What's Inside Of Me?
[audio:http://barsukmusic.blaireau.net/StarlightMints_InsideOfMe.mp3]
———————
01. Pumpkin
02. Torts
03. What's Inside Of Me?


04. Pearls (Submarine #2)
05. Seventeen Devils


06. Rhino Stomp
07. The Killer
08. Eyes Of The Night
09. Drowaton


10. The Bee
11. Rosemarie
12. Sidewalk


= Track Recommendation