Posted
May 16, 2006 by Mike Mineo
in Features
MUSIC DOWNLOADS: The Auteurs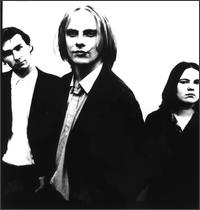 The Auteurs, along with Suede, were two of the essential bands of the British glam revival in the early 1990s. Though Suede seems to be more well known in American shores at this point, The Auteurs actually may have been more consistant, not releasing one bad or mediocre album during their six year run after four albums. Led by pianist, guitarist, and vocalist Luke Haines, The Auteurs earlier material contains catchy glam-like hooks with fascinating vocal takes, while their later material dwells more on psychedelic pop with haunting keyboards and tormented vocals. Haines, a cult figure now, was also involved in Black Box Recorder and has a distinguished solo career.
How I Learned To Love The Bootboys was the last Auteurs album, releasing in 1999. Two songs on the album was the catchy hit 'The Rubettes' and psychedelic 'School'. 'The first talks about a subject matter that British music in the 90s was all too familiar, as everyone enjoys music about sex. 'School' is my favorite track off the album, with fantastic keyboard and ambience work. Haines' vocals fit the style of music particulary well. As for my favorite Auteurs album, that would be Now I'm A Cowboy, their sophomore album releasing in 1994. While some critics will complain that it is not as innovative and complex as their later material, the album is just incredibly fun from start to finish. 'Underground Movies' is a great combination of acoustics and strings, and had a different but a very innovative than the rest of the album. 'Life Classes / Life Model' is just an example of what the rest of the album sounds like, as with the rest of their earlier material with its easily recognizable glam hooks over a screaming guitar and thumping bass. If you haven't gotten into The Auteurs yet, I highly suggest you do now.
————————
[audio:https://obscuresound.com/mp3/aut-rube.mp3]
———————–
[audio:https://obscuresound.com/mp3/aut-school.mp3]
———————-
The Auteurs – Underground Movies
[audio:https://obscuresound.com/mp3/aut-movies.mp3]
———————
The Auteurs – Life Classes / Life Model
[audio:https://obscuresound.com/mp3/aut-life.mp3]
——————–
Mike Mineo
I'm the founder/editor of Obscure Sound, which was formed in 2006. Previously, I wrote for PopMatters and Stylus Magazine. Send your music to
[email protected]
.