Posted
May 8, 2006 by Mike Mineo
in Features
TEN SONGS: Unrequited Love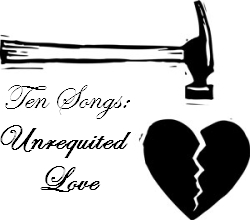 I take a look at ten great songs that concern themselves with the popular lyrical topic of unrequited love. I figured the feature would fit best on a Monday.
The word 'unrequited' is defined as: unanswered: not returned in kind; "unrequited (unanswered) love". It has been a feeling experienced by many people, particularly many famous artists of all art forms. Some bands, such as The Smiths, have a majority of their songs concerning the topic, whether they are being sarcastic or not. When some casual music fans think of songs about unrequited love, many refer to generic emo music, thinking that it is the only genre that deals with the topic. As most of us know, that is a horrible misconception; some of the best and most influential artists of all time have dwelled on the subject in many of their greatest songs. Music about unrequited love often prove effective when even a touch of somberness is desired, which is why I enjoy these ten songs below.
———————-
The Smiths – I Don't Owe You Anything
The Smiths essentially defined unrequited love in almost all of their songs. Their debut album is one of the most sentimental albums to me, and this underrated song was one of the first showcases of Morrissey's brilliant lyrics and Marr's perfectly atmospheric guitar riffs. "Did I really walk all this way just to hear you say: "Oh, I don't want to go out tonight"?

———————-

XTC – I Can't Own Her
While Colin Moulding always had the flair for happy pop songs, Andy Partridge's genius often shows in darker and more melancholic songs such as "I Can't Own Her". A beautiful string section compliments the basic but heartfelt lyrics. "And I may as well wish for the moon in hand, as there's more chance of that coming true."
———————-
The Divine Comedy – Commuter Love
Yes, I have posted about ten Divine Comedy songs within the past month but I could not miss the chance to post this great song. Neil Hannon continues to show his talents with a song about falling for an unordinary girl in an ordinary world. "She doesn't know I exist. I'm gonna keep it like this. I'm not gonna take any risks, this time."
———————-
The Stills – Love And Death
Despite their mediocre sophomore album, The Stills' debut album was still one of the more memorable debuts in the past few years. "Love And Death", along with such gems as "Changes Are No Good" were really great. This song generally deals about wasting time and opportunities on someone who does not care either way. "And I'm just so sick of wasting my time. Love and death are always on my mind."
———————-
Antony and the Johnsons – Hitler In My Heart
Any song by Antony Hegarty sounds depressing, an odd compliment thanks to Hegarty's outstanding vocals. He has one of those voices that, even if it were not accompanied by music, would be a treat to any ears. A rapid piano is in control as this interestingly titled and themed song takes off during Hegarty's vocal solo. "Don't punish me, for wanting your love inside of me."
———————-
Frand Ferdinand – Auf Achse
One of my personal favorites from Franz's debut. One of the most blatant songs about unrequited love in recent memory, the music fits the theme appropriately as well. The simple lyrics actually work well, as "Auf Achse", translated to 'on the road', about deprivation, is a good one. "You see her, you can't touch her. You hear her, you can't hold her. You want her, you can't have her. You want to, but she won't let you."
———————-
Elliott Smith – Alameda
Another songwriter known for songs about unrequited love, the late great Elliott Smith takes "Alameda" is one of the many highlights off the classic Either/Or. While the topic about this song in particular is debatable, it is easy to see why it could fall into the category. "Nobody broke your heart. You broke your own because you can't finish what you start."
———————-
Weezer – El Scorcho
Back when Weezer was more respectable, Rivers Cuomo and co. released Pinkerton, an album that highly dealt with a Japanese fan who Rivers had fallen for, only later to find out that she was a lesbian. Hey, a pretty good example of unrequited love, eh? "El Scorcho" directs that head-on ideology with one of the catchier Weezer songs to date. "How stupid is it? I can't talk about it. I gotta sing about it and make a record of my heart. How stupid is it? Won't you give me a minute, just come up to me and say hello."
———————-
The Fall – Ride Away
Easily one of the most entertaining bands of all time, The Fall opened up their most recent album with a great song relying on bass and drums as Smith muses about unrequited love and a superficial girl who enjoys looking in the mirror more than anything else. Witty lyrics and a catchy all-around song really sum up The Fall quite well. "You think you're a ten, you know you're a nothing… HEY! Nothing to do with me!"
———————-
Jens Lekman – Past, Present and Future (live)
Jens Lekman covered The Shangri-Las' classic song with not much more than a violin and an acoustic guitar. What resulted was a live display of Lekman's great talent. The song is considered by many to be one of the most depressing songs of all time, as you can even hear a few audience members sniffle a bit at the end. Now, that is what I call touching music. "Maybe someday, I'll have somebody's hand. Maybe somewhere, someone will understand."
Mike Mineo
I'm the founder/editor of Obscure Sound, which was formed in 2006. Previously, I wrote for PopMatters and Stylus Magazine. Send your music to
[email protected]
.