Happy Thursday. Summer is (sadly) almost over, but at least football season is nearing. So, here are some tracks of the electronic/synth element to cheer you up. They're fun.
—————————————————————————————-
Electronic – Getting Away With It (music video)
[audio:https://obscuresound.com/mp3/ele-get.mp3]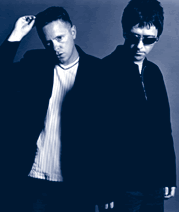 A literal mixture of New Order and The Smiths, Electronic was one of the first synth "supergroups" to come into play. Consisting of New Order's Bernard Sumner and The Smiths' Johnny Marr. This track in particular features Neil Tennant from Pet Shop Boys, notably in the very Pet Shop Boys-esque chorus. The outro boasts a particulary impressive string section. The duo was on-and-off for a few years, but eventually released three albums, about one every five years. Their 1991 debut album, Electronic, contains this great song and many others. 'Getting Away With It' is a perfect example of how a supposed supergroup should sound.
—————————————————————————————-
Erasure – Ship Of Fools (music video)
[audio:https://obscuresound.com/mp3/era-shi.mp3]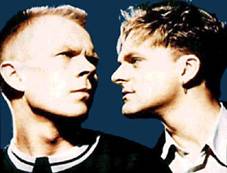 Another enigmatic duo, I wrote about Erasure's solo album here. They are easily one of the catchiest and straightforward pop acts of the 80s, writing dozens of hits that continuously appear in movies, commercials, and any other forms of media. However, they are still not recognized as a brand name in the United States, with success but not much fame. 'The Circus' is one of the most underrated songs, off of the album with the same name. The album chronicles general British working class, as vocalist Andy Bell sounds determined to convince you of the faults of societal classes. "Father worked in industry, now the workers moved on, and the factory's gone," are one of the several lyrics depicting such elements as strikes and unemployment. 'S Oh yeah, both songs is also catchy as hell, like most of the songs that Vince Clarke has touched.
—————————————————————————————-
I know, I know. The Knife have been talked about too much by now, right? The Swedish brother and sister duo have certainly been making some noise, from their large MySpace feature to their glowing reviews. It was somewhat amusing that Pitchfork gave the exact same score that I gave to Silent Shout, about two months after mine. It's just another example of how the album is very well recieved throughout. 'One Hit' is one of my favorites off of the album, with their innovative use of vocal effects shining brightly. They're actually so odd that it would not be surprising to see the odd creature on the album cover (above) singing the vocals. Though Olof Dreijer is no creature, his vocals combined with his catchy synths are certainly as amusing as one. His sister, Karin Dreijer Andersson, takes over in the quiet political thump of 'Forest Families', revolving around the topic of politically forced solitude, which reminds me of Ayn Rand's Anthem. Check out some of their very interesting videos on The Knife's official site.

—————————————————————————————-
Gary Numan – Cars (music video)
[audio:https://obscuresound.com/mp3/gar-car.mp3]
I wouldn't dare post Gary Numan without 'Cars', one of the most successful singles of all time. It would get requested about twenty times regardless. While 'Cars' is indeed great fun, it overshadows many great songs on The Pleasure Principle, such as my personal favorite, 'Metal', where the rhythm gets locked in your head without much room for escape. A fun live video is here. The song effectively proves to be one of most Numan's brilliant tracks. Though all of his releases after The Pleasure Principle were mediocre at best, his early material should not be missed.