Posted
September 16, 2006 by Mike Mineo
in Features
Dirty On Purpose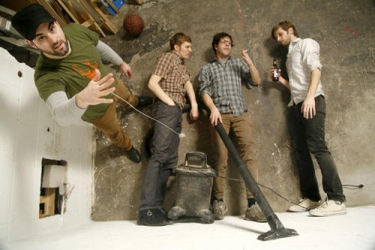 Though all four members of Dirty On Purpose grew up in four differing states on the East Coast, I guess you could call it fate when they all formed in Brooklyn in 2002. It would be the most traditional to compare them to Yo La Tengo, with their eccentric mixture of shoegaze and early 90s alternative being very evident in the majority of their tracks. The band has trimmed down from five members to four in their sophomore album, Hallelujah Sirens. Despite the departure of keyboardist Erika Forster, Dirty On Purpose sounds significantly fresher and more confident of their abilities in their new album. Guitarist Joseph Jurewicz and drummer Doug Marvin share vocal duties, with a few random female vocal accompaniments peeking through, making the comparison to Yo La Tengo all the easier.
I am very impressed with 'Lake Effect', a dramatic acoustic take with subtle strings and very pleasing lead keys, which get higher and higher in tone as the strings get more noticeable. The song is a bit of a refreshment from their usual course of alternative shoegaze, such as 'Marfa Lights', which evolves from a simplistic eerie distortion to a Sonic Youth-like explosion, especially seen in the slight female coos. 'No Radio' is a suitable opener to the album, stretching the highly sung vocals over a various amount of guitar sections and solos over some typical but effectively intentional grainy production. Hallelujah Sirens is a pleasing follow-up from a band with a clear vision and respect for their various influences.
——————————————————————————————-
Dirty On Purpose – Lake Effect
[audio:https://obscuresound.com/mp3/dir-lak.mp3]
——————————————————————————————-
Dirty On Purpose – Marfa Lights
[audio:https://obscuresound.com/mp3/dir-mar.mp3]
——————————————————————————————-
[audio:https://obscuresound.com/mp3/dir-nor.mp3]
——————————————————————————————-
Mike Mineo
I'm the founder/editor of Obscure Sound, which was formed in 2006. Previously, I wrote for PopMatters and Stylus Magazine. Send your music to
[email protected]
.