Posted
October 26, 2006 by Mike Mineo
in Features
The Slip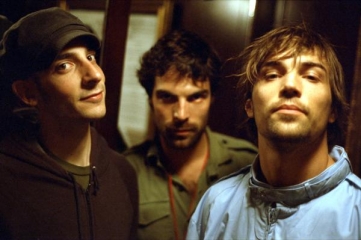 As a diehard Yankees fan (yeah, shoot me), some of my friends have the assumption that I despise bands from Boston. That's rubbish. While it is true I am no fan of their beloved Red Sox, the music scene in Boston has always sounded fresh and engaging to me. Also, how can you not love bands such as The Cars, The Lemonheads, and Pixies? Boston's own The Slip was formed in 1995 with the simple aspirations of being a classic rock cover band, originally consisting of Jon Myers, with brothers Brad and Andrew Barr. Their original songwriting started to take form after acclaimed bassist Marc Friedman joined the group. After Myers departed, the trio went on to record six albums over the following ten years. Their seventh album, Eisenhower, will be released on November 7th. Though they have been relatively successful (touring the USA and Canada regulary, with a few shows in Japan), The Slip may have finally caught their big break signing to Bar/None Records, a New Jersey-based label that includes Yo La Tengo, Of Montreal, and The Divine Comedy. They have had their unique encounters with fame as well, recording their album Does in Phish's barn during the summer of 2000 after grabbing the attention of Butch Trucks (drummer for the Allman Brothers Band).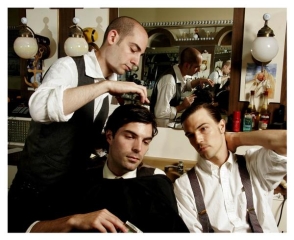 Calling The Slip a "jam band" is not doing them enough justice. Sure, they have some great guitar epics such as 'Airplane / Primitive', but they also mix it up with emotionally catchy pop, such as sullen piano-driven 'If One of Us Should Fall'. 'Even Rats' is in a similar but more upbeat formula with a tactful vocal harmonization conclusion. 'Even Rats' even made an appearance on the PS2 video game cult hit, Guitar Hero. Though Eisenhower is fairly straightforward, their improvisation shines during their legendary live performances. My Morning Jacket's Jim James saw the trio live, telling the NY Times afterwards, "Seeing them live was amazing… I instantly felt a bond with these three guys. You see so many tired, boring rock acts doing the same thing over and over, but these guys are reaching out… They're taking what we know of music and trying to twist it to a different place." They have released several live albums, the most notable being Live Is My Jumby. Eisenhower is a tasteful display of the band's maturity, with their general musical display being in top form. The album flows considerably well from track to track, with enough diversity to keep The Slip from sounding tiresome. They are currently touring with My Morning Jacket and The Lovely Feathers throughout the USA, so check out the dates here. With those three bands, it sounds like it will be a fantastic show.
——————————————————————————————-
The Slip – Airplane / Primitive
[audio:https://obscuresound.com/mp3/sli-air.mp3]
——————————————————————————————-
The Slip – If One of Us Should Fall
[audio:https://obscuresound.com/mp3/sli-ifo.mp3]
——————————————————————————————-
[audio:https://obscuresound.com/mp3/sli-eve.mp3]
——————————————————————————————-
Mike Mineo
I'm the founder/editor of Obscure Sound, which was formed in 2006. Previously, I wrote for PopMatters and Stylus Magazine. Send your music to
[email protected]
.