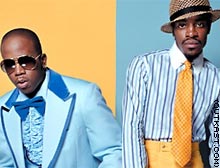 Many hardcore rap fans would say that 2006 has been a horrible year for Hip-Hop. In terms of classic, cohesive Hip-Hop albums, fans have gotten so desperate as to call any Rap album that drops a "classic". Despite all of the accusations of shortcomings and unoriginality, Outkast stays true to their fans and rise to the top with their latest offering, Idlewild.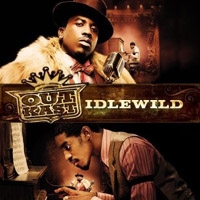 .
While many wouldn't consider this an actual album, Outkast performs double duty and provides fans with not only a very fitting soundtrack for their movie by the same name, but an album full of new material. This comes out quite well, considering some of the themes contained on the album and in the movie. Various lines are meshed into the songs and help convey the themes presented throughout the movie, but not so much as to confuse who aren't familiar with it.
This album does draw quite a few comparisons from its predecessor Speakerboxxx/The Love Below. It somewhat takes a similar route by splitting up many of the tracks to each respective member. Big Boi shines on tracks like "Morris Brown" and "The Train", while André 3000 does the same on tracks such as "Idlewild Blues" and "Chronomentrophobia". But this album does differ from the last in the fact that Big Boi and André share more than one song on this album. It may even shock fans to find André rapping on some of the tracks. It's refreshing to hear Dré and Big Boi collaborating to make some very memorable tracks that won't age any time soon.
As much as it pains me to say it, the older fans of Outkast may be turned off by this album simply because it may seem "commercial". They don't do anything to greatly compromise their fan base, but they do reach out and attempt to cater to a wider audience, which is clearly shown in two of the three singles, "Idlewild Blues" and "Morris Brown". The later tracks on the CD are really for the people who have seen the movie to appreciate, but they aren't so left field that everyone can't enjoy them.
You have to be a true fan of Outkast to fully appreciate the diversity on this CD, but Outkast somewhat compromises their classic sound by conforming with some of the more commercial tracks on this CD. Never the less, it's refreshing to hear one of Hip-Hop's best duos out with some new material. 4/5
——————————————————————————————-