Posted
November 11, 2006 by Mike Mineo
in
Rusty Santos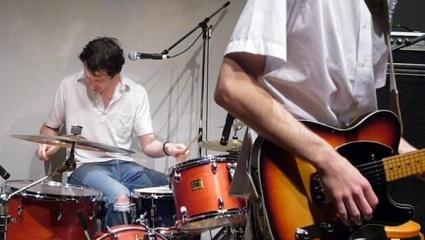 Rusty Santos' name is most commonly associated with the tag of 'producer', his acclamation as a talented songwriter is long overdue. Santos' musical career has been very diverse with an array of accomplishments, from being one of the primary producers on Animal Collective's Sung Tongs to touring with and producing the likes of Ariel Pink and Vashti Bunyan, Santos has been involved with a handful of successful musical creations. His solo career consists of himself and friend Jesse Lee, who takes care of the rhythm section and backing vocals. The New York-based duo has crafted another successful musical creation themselves, with the release of their second album, Eternity Spans, which was released this month. Their debut album, The Heavens, was entirely acoustic, while Eternity Spans focuses on several musical styles using an assorted mixture of synths, reverb effects, guitars, and ambient experimentation.
Some may believe that the increase in variability is based off of the artists Santos produced, but it would be more believable that the artists borrowed many of their songwriting ideas from Santos himself. The synth-driven chorus construction in 'We Got It So Good' is reminiscent of good friend Ariel Pink, even while the lyrics conventionally tell the tale of a tortured lover who can't help falling in love with emotionless human beings. 'Nervous Ills' takes from a clear-cut punk influence, with Santos' rough vocals colliding well with the lead solo and few chords that echo over it. Though 'We Got It So Good' and 'Nervous Ills' are a good display of mainstream variability, Santos' most unique presentation comes in risky experiments such as 'TV Ocean', '1929', and 'Solo Pact', all which rely on general mood and atmosphere. This is where the Animal Collective production work comes in, showing why the band put their trust in Santos to produce their breakthrough Sung Tongs. Sure, some of these atmospheric songs fail, but admirers of risktaking will find Santos' efforts rewarding. Bowie fans will recognize the mixture of catchy pop songs and ambient effects as being comparative to Bowie's Low, which Santos has cited as a major influence. Those who are fond of the bands Santos has worked with will certainly find Eternity Spans to be enjoyable. In addition to his production and songwriting, Santos is also the founder of Uunited Acoustic Recordings.
——————————————————————————————-
Rusty Santos – We Got It So Good
[audio:https://obscuresound.com/mp3/rus-weg.mp3]
——————————————————————————————-
[audio:https://obscuresound.com/mp3/rus-ner.mp3]
——————————————————————————————-
[audio:https://obscuresound.com/mp3/rus-tvo.mp3]
——————————————————————————————-
Mike Mineo
I'm the founder/editor of Obscure Sound, which was formed in 2006. Previously, I wrote for PopMatters and Stylus Magazine. Send your music to
[email protected]
.