Posted
November 15, 2006 by Mike Mineo
in Features
Silversun Pickups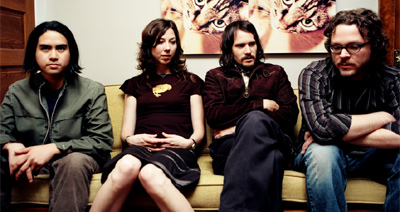 While Silversun Pickups have been one of the most blogged about rookie bands in 2006, I saw and heard them for the first time on a local television show on Saturday night. The first thing that struck me was the band's involvement in 90s influences, from The Smashing Pumpkins to My Bloody Valentine, the layers of sounds that Silversun Pickups demonstrate is quite unique for a band who formed only a year ago. After releasing their debut EP Pikul on an indie label in Hollywood (Dangerbird), there was a demand from critics for a more diverse and concentrated sound. Whether they heard the pleas or decided for themselves, the foursome from Los Angeles lived up to expectations on their debut full-length, Carnavas. Released this past July, it recieved a consistent range of solid reviews from most major publications, thrusting the band into the spotlight. Vocalist/guitarist Brian Aubert is a main component of the band's sound, with rough-edged vocals the rival the likes of Sleater-Kinney or Placebo, in combination with his aggressive play on guitar that is often dependant on distorted effects. Aubert's vocals are angelic and would even be mistakened for a female's or backup vocalist Nikki Monninger, adding to the originality that is even more dramatic than the fellow influences of Brian Molko and Billy Corgan. However, no band member shines over one another. The rhythm section of Nikki Monninger and Christopher Guanlao is very close-knit, while the keyboards of Joe Lester are sparse, but when they appear it is always appreciable with nice execution.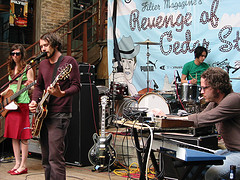 The atmospheric effects on Carnavas often consist of heavenly synth pads and ambient distortion, taking a cue from the psychedelic shoegaze of My Bloody Valentine and Low. If I tried to pinpoint Silversun Pickups' general sound, I would come away with most cult alternative bands of the 90s. The structure of most songs is muddy, though they gain a certain fixture in your mind after repeated listens. 'Little Lover's So Polite' begins steadily with a distorted guitar and a steady rhythm section, as Aubert's thin vocals wear themselves in nicely as a repeated guitar lick is complemented into the song. The chorus is propelled by a a light bridge that features Monninger and Aubert on vocals, with the second section of the song being accelerated by a somewhat lengthy guitar solo after the bridge. Songs such as 'Future Foe Scenarios' and 'Waste It On' are good examples of the group's use of rhythm and atmospheric pads, with guitar actually becoming a second standard to Aubert, who uses his general emotion well to construct the band's overall feel. The chorus of 'Waste It On' eventually borders on an anthem, resulting in one of the most concise and catchy tracks on the album. I'm likely not the first one to tell you Carnavas is one of the best debuts of the year, but if you're a fan of 90s alternative and you haven't heard this one yet, you're missing out.
——————————————————————————————-
Silversun Pickups – Little Lover's So Polite
[audio:https://obscuresound.com/mp3/silver-little.mp3]
——————————————————————————————-
Silversun Pickups – Future Foe Scenarios
[audio:https://obscuresound.com/mp3/silver-future.mp3]
——————————————————————————————-
Silversun Pickups – Waste It On

[audio:https://obscuresound.com/mp3/silver-waste.mp3]
——————————————————————————————-
Mike Mineo
I'm the founder/editor of Obscure Sound, which was formed in 2006. Previously, I wrote for PopMatters and Stylus Magazine. Send your music to
[email protected]
.