Posted
December 12, 2006 by Mike Mineo
in Features
Goran Ivanovic treasures his Balkan roots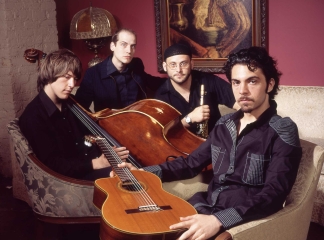 I noticed lately that much of the material I've been posting over the past week has been somewhat similar in relation to its genre. You know, the typical indie rock that we all know and love. While there is certainly nothing wrong with that type of music, I recently found an artist that really is quite unlike the music that I usually feature. A breath of fresh air, so to say. The Goran Ivanovic Group brings a bit of exotic spices to the table, showing the world what an undiscovered treat Balkan music is. Though his backing band is entirely Western, ringleader Goran Ivanovic is a native of Croatia, which is a Balkan country for all those not too keen on geography. Ivanovic was born into a musical family, with his Serbian father being an established musician. Goran cites his first musical memory back to the age of six, when his father and Bosnian Croat mother were amazed at his ability to play a song based on memory alone after he heard a traditional song on the guitar and played it with ease after only a couple listens. Clearly recognizing his talent, he was encouraged to pursue musical endeavors. At the age of eleven, he began to treat music like an adult: practicing every day at his own will with aspirations of becoming a reputable musician. Ivanovic moved to Illinois with his family at the age of 17, where he continued his musical studies and eventually formed the Goran Ivanovic Group with several other respectable musicians. Now, at the age of 28, Ivanovic is one of the most impressive classical guitarists I've heard in some time. The group also usually consists of Doug Rosenberg on saxophone and flute, Matthew Ulery on bass, and Michael Caskey on drums. All four artists have contributed to the songwriting and are well-informed composers of classical, jazz, blues, and exotic varieties.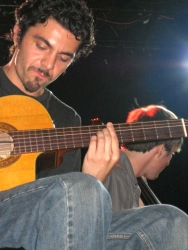 Ivanovic has already released three solo albums and Balkan Song Recordings is his most recent with the group. Out of the thirteen tracks, five are traditional, seven were written by Ivanovic, and 'Episodes From a Village Dance' was written by Rosenberg. The lovely 'Macedonian Girl' is a traditional Balkan song usually played at weddings and other events. With all the tracks being instrumental, you'll be surprised at how quick they fly by. Ivanovic and Rosenberg have impressive musical chemistry on 'Macedonian Girl', seemingly reading one another's next motion accurately with finesse. Caskey's unique percussion makes a great appearance around 02:35, enhancing an already lively and vaguely beautiful song. It's great how four musicians of their caliber manage to work so well together. Rosenberg's 'Episodes From a Village Dance' is a mixture of modern jazz and traditional Balkan musicianship. Rosenberg's rapid use of saxophone and Ulery's crawling bass line conveys a feeling of pure pride in Balkan relations. 'Blacksmith's Dagger' is a very impressive piece, particulary on guitar. This, again, uses several musical elements that Ivanovic includes as flamenco vibes, Plena, and an 11/8 section. The only reason that the track is one of the shortest on the album is its furious pace, as it contains as much written music as the other six-minute epics. Balkan Song Recordings is a fresh look at a side of music that is often and foolishly given the cold shoulder in America, with all the kids forgetting what actual orchestration is. Ivanovic is quite a talent in songwriting and musical play, with the thirteen tracks on Balkan Song Recordings being a definitive example.
——————————————————————————————-
Goran Ivanovic Group – Macedonian Girl
[audio:https://obscuresound.com/mp3/goran-mac.mp3]
——————————————————————————————-
Goran Ivanovic Group – Episodes From a Village Dance

[audio:https://obscuresound.com/mp3/goran-epi.mp3]
——————————————————————————————-
Goran Ivanovic Group – Blacksmith's Dagger

[audio:https://obscuresound.com/mp3/goran-bla.mp3]
——————————————————————————————-
Mike Mineo
I'm the founder/editor of Obscure Sound, which was formed in 2006. Previously, I wrote for PopMatters and Stylus Magazine. Send your music to
[email protected]
.