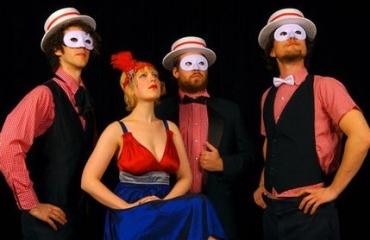 As they themselves put it, The Lisps are a "cute" foursome out of the Bronx, NY. They are filled with confidence, wit, and exuberance as they present "loud and fun" music with their "extremely attractive" personas. Hey, there is no doubt that confidence is an attractive quality (if at the right degree) and confidence is certainly one of the aspects that The Lisps have. While they can all be understood, it is known that two of the band's members have a slight lisp. Oh, I'll also share that two of the members in the band are lovers. I'll let you guess who, though it should be rather obvious upon listening to most of their songs, such as the slick 'Pepper Spray', which is almost a conversation of sorts. "You don't want me to be the one you love," Sammy Tunis and César Alvarez sing with an anticipated grin, "you don't want me to see the people you fuck". Damn, I just gave it away, didn't I? Oh well. The song is a very bright spot in their early catalog using a steady mixture of rhythm, a constant keyboard, and a dashing assortment of guitar variations. The track is a bit daring for a band just starting to break out, but the harmonization is nothing short of enjoyable, resulting in a resounding success. It's funny seeing that 'The Winter That I Miss' offers the complete opposite of emotion. As 'Pepper Spray' just showed us the sexually charged backstabbing that love offers, 'The Winter That I Miss' conveys a romantic and lush feel that gives vibes of the band's deepest emotions. From the absurd to the romantic, The Lisps have a viewable grasp on several aspects of love. 'Chaos' is an energetic acoustic take that shows Tunis' vocal longevity, as she compares snowflakes to chaotic events in life, with both always appearing similar but never "exactly the same". This seems like it would be quite a fun song live, with the excitement and chemistry that Tunis and Alvarez demonstrate. All three songs are off of their debut, The Vain, The Modest, and The Dead. Check out their MySpace for an enjoyable live version of the priceless 'Documents'. Their description of their music as something "that make you laugh and ponder and want to have sex and punch someone in the face, and be quiet sometimes" seems to be oddly accurate.
The Lisps – The Winter That I Miss
[audio:https://obscuresound.com/mp3/lisps-win.mp3]
——————————————————————————————-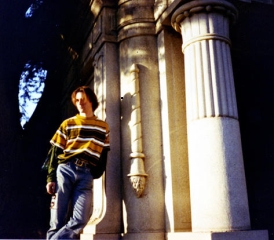 Sometimes there's nothing wrong with being stuck in the past. Vaughn Trapp is a solo project based out of Long Beach, California, with an undying love for the sound of The Beatles, The Zombies, and various other staples of British Invasion during the 1960s. The modern touch that Vaughn Trapp adds is a lyrical political mindset, with one of the aspects being the title of his debut solo album, Amerika. For those who think that Vaughn's vocals sound somewhat familiar, you may have known him as the frontman for the alternative trio Suncatcher, who found local Californian success in the mid-1990s. They released two albums to critical success but found little commercial revenue and disbanded sometime after 1998. While Suncatcher was more in the mold of college and jangle rock, Vaughn Trapp is focused primarily on 60s psychedelia and structural pop. 'Almost Gone' brings back some perfect nostalgia, with Vaughn's wavy vocals relishing influences such as Ray Davies and George Harrison. One of Vaughn's most blatant mockeries on Bush in 'Almost Gone' is humorously exaggerated but still effective: "The antichrist is a man so nice, is a man so nice you elected him twice". The enjoyable and laid back melody in 'Doin' the 911′ shows a nice songwriting display during the synchronized guitar solo. While Vaughn Trapp's political content may seem a bit controversial to some, I find it to be beneficial when an artist shares his straightforward views strongly in the form of music, especially when the songs are actually enjoyable.
Vaughn Trapp – BabySat Amerika
[audio:https://obscuresound.com/mp3/vaughn-bab.mp3]
Do you want to learn about Movie soundtrack Trivia?  If you are a music buff, there are plenty of amazing soundtracks out there.  Impress your friends with your Music knowledge Trivia.  You can even learn about 70's music Trivia online!