Posted
January 5, 2007 by Mike Mineo
in Features
Arab Strap x 0.5 = Malcolm Middleton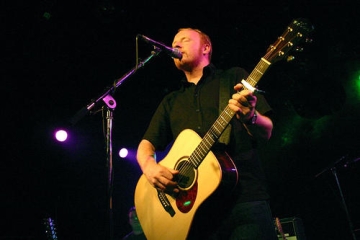 Scotland's own Arab Strap certainly had a great run. Last September, the likable duo of Aidan Moffat and Malcolm Middleton announced that they would be going their separate ways. They played their final show at the ABC Glasgow last month. Throughout their folk-influenced career, Arab Strap released six albums over eleven years, with their final album and the appropriately titled The Last Romance being released last February. Notably known for songs concerning selfless topics of sexuality (note their name), loneliness, and passion, Arab Strap incorporated several musical styles that often bordered on slow but steadily moving rhythms. Though they mainly focused on folk styles such as acoustic fingerpicking and notable harmonics, the duo occasionally used keyboards and even synth to generate a slight tone of dance and electronic pop. While Aidan Moffat usually handled most of the vocals, Middleton was known as the man behind the music. With Middleton being a multi-instrumentalist, his musical chemistry with local drinking buddy and good friend Moffat was quite memorable. As shown by the three Arab Strap tracks below, the atmosphere in the songs tend to be similar to a barren wasteland, expressing melancholy and emptiness all while remaining vaguely beautiful. Now that the Scottish duo has split, both are pursuing their solo careers with full initiative. Aidan Moffat goes under the solo alias of Lucky Pierre while Middleton has kept his natively recognizable name. They both released their solo debuts years before Arab Strap split, with Lucky Pierre's Hypnogogia releasing in 2002 and Malcolm Middleton's 5:14 Fluoxytine Seagull Alcohol John Nicotine releasing in 2003. Both tend to remain in the mold of Arab Strap, constructing typically downbeat songs that are played with sharp emotion and admiration. Moffat's Lucky Pierre released three more albums following the promising debut, with another album rumored to be on the way this year. Hypnogogia was actually recorded while Moffat had quite a severe case of insomnia and he considered the album a vital component that helped him with his struggles. On the other side of things, Middleton's solo career has arguably been more prominently productive and reputable. Various songs on Middleton's two albums could easily pass for Arab Strap to the average listener, though Middleton's sound on his solo albums often tend to involve even more instruments than he would risk in Arab Strap.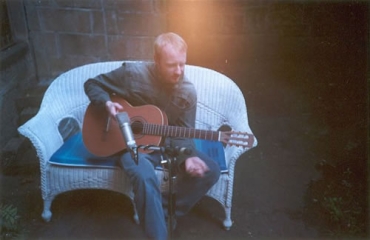 Middleton is releasing his third album, A Brighter Beat, on January 22nd through Full Time Hobby. This is Middleton's first solo label departure from Chemikal Underground, who signed Arab Strap back in their originating year of 1995. I was never the biggest Arab Strap fan, but I'm finding A Brighter Beat to be considerably enjoyable. I'm finding that Middleton can actually compose great songs that are in an upbeat nature, abandoning his usual dark themes for several tracks. The delectable 'Fuck It, I Love You' works around twinkling keys, a rapid electric guitar, and backing female vocals during the chorus to construct one of the catchiest songs that Middleton has ever written. While the lyrics are certainly downtrodden, the general melody is upbeat and knowingly pleasant. The song also contains an effective bridge at the half-way point, mixing synth and guitar for a rare but successfully crucial moment of the song. 'Fight Like The Night' is one of the most animated tracks on the album, again using an additional female cast member to add a very nice touch on a catchy chorus, much like in 'Fuck It, I Love You'. 'Four Cigarettes' is a very nice example of Middleton's sympathetic musical touch, being the primary sound he capitalized on in Arab Strap. That mysterious female voice yet again makes an appearance in the string-led chorus, which is a trend that may become repetitious for some. The piano is the main instrument used here, with Middleton's seemingly frail vocals detailing the struggles of a broken relationship and a broken heart. Nothing new on the subject matter there, as Middleton bleakly describes his songs as "love songs for depressed people who find it hard leaving the house sometimes and worry too much about dying and the consequences of their daily actions and thoughts to be able to enjoy life fully". Cheer up Malcolm. Even if some horrible jokes such as "Malcolm in the Middleton" come your way and you think your fans are limited to depressed people with social fears, your third album is arguably the best thing you have ever written.
——————————————————————————————-
Malcolm Middleton – Fuck It, I Love You
[audio:https://obscuresound.com/mp3/malc-fuc.mp3]
Malcolm Middleton – Fight Like The Night

[audio:https://obscuresound.com/mp3/malc-fig.mp3]
Malcolm Middleton – Four Cigarettes
[audio:https://obscuresound.com/mp3/malc-fou.mp3]
——————————————————————————————-
[audio:https://obscuresound.com/mp3/arab-dre.mp3]
[audio:https://obscuresound.com/mp3/arab-lov.mp3]
Arab Strap – Where We've Left Our Love
[audio:https://obscuresound.com/mp3/arab-whe.mp3]
Mike Mineo
I'm the founder/editor of Obscure Sound, which was formed in 2006. Previously, I wrote for PopMatters and Stylus Magazine. Send your music to
[email protected]
.