Posted
January 10, 2007 by Mike Mineo
in Features
David Vandervelde and The Moonstation House Band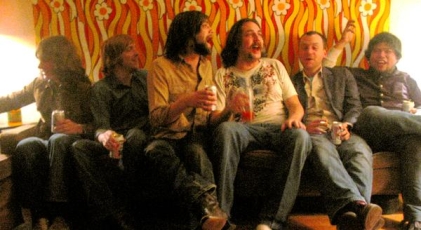 It is impossible for most artists to avoid comparisons to their past influences. After all, complete innovation is not something to be taken lightly. So, if one compared David Vandervelde to Marc Bolan, Scott Walker, and John Lennon, it would be no surprise to see the majority of listeners give Vandervelde a listen based on the mere association alone. After all, songwriters like those three come along once in a blue moon and are a few of the vital inspirations to the majority of accomplished artists today. What struck me immediately about David Vandervelde was his vocal star power, calling back on the days when frontmen like Robert Plant, David Bowie, and Bolan all set the atmosphere alone using their powerful vocals and boisterous stage presence. But even Vandervelde's vocals are not the aspect that makes his debut album The Moonstation House Band one of the greatest albums I have heard so far this year. No, it's his talented songcrafting abilities and knack for a great melody that keeps pulling me back for more. At the ripe young age of 22, this young songwriter from Chicago seems to be destined for the spotlight. For another display of his talent, keep in mind he plays almost all the instruments on The Moonstation House Band, besides a few bass lines done by Wilco's Jay Bennett, who also lended a hand in the production. His work seems to mostly echo the energetic pop of 'Can't See Your Face No More'. Also, the beautiful strings done in such tracks as 'Corduroy Blues' and 'Wisdom From A Tree' were done by Beck's father, the legendary Canadian composer David Campbell, who has worked with the likes of Leonard Cohen, Elton John, and Rod Stewart. Much like Joanna Newsom and Van Dyke Parks, the duo of Vadervelde and Campbell work flawlessly together. Campbell's involved work most reminds me of Scott Walker's early career, particulary the Walker Brothers and his early solo albums. Vandervelde signed to Secretly Canadian last year, releasing the 7″ single 'Jacket' in November. The Moonstation House Band releases on January 23rd and, as I said before, it is the best album that I have heard so far in 2007.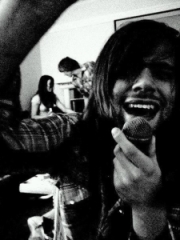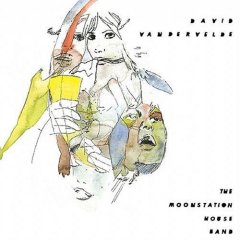 While the album is indeed short (eight tracks including an instrumental), the time involved in extremely memorable. The opener 'Nothin' No' is a dirty rock 'n' roll backlash, arguably being the best example of Vandervelde's distinct vocal presence. Vandervelde comes off as a pleading young man, who while enjoys pleasures such as "getting high out on the front porch", begins to recognize that life is not all fun and games, particulary when it involves relationships. Despite the vague morals involved, the song remains as an anthem of troubled youth, in one case being parental abuse after getting caught drunk while attempting to "put the drinks under the deck". Towards the conclusion, Vandervelde recognizes that love is often clouded by uncontrollable forces and hidden emotions, repeating the undeniably catchy chorus with, "I'm tired of countin' all the tears that you hide, you know I'm dyin' just to lay by your side". This exciting opener serves as representation of a child becoming a man, doing so decidedly. 'Jacket' and 'Feet Of A Liar' both send haunting echoes of Marc Bolan and T. Rex. You'll likely see a T. Rex reference in every article you read about Vandervelde this year, so get used to it. The similarities are particulary the case in 'Feet Of A Liar', where Vandervelde masks his voice over a soaked reverb, just like Bolan did in 'Ballrooms of Mars'. The track lifts a quick change during the chorus when Vandevelde is matched well with an assortment of sparkling keys. Concerning the the string compositions of David Campbell, they also account for my favorite two tracks on the album, 'Corduroy Blues' and 'Wisdom From A Tree'. 'Corduroy Blues' is magical, playing like even the best McCartney ballad. "And nothing in this world can change the way I feel about you," is examplatory of the emotion displayed in the song, with brilliant songwriting and musicianship on each side you look at it. While serving as a pure definition of melancholy and regret, it is also a good showing of Vandervelde's musical and emotional range. The string work is simply extraordinary as Campbell adds another impressive song to his already impressive résumé. 'Wisdom From A Tree' is another definitive highlight, displaying a more frantic style of cellos and violins as they continue to be effective. The repetitious manner in which the strings operate proves to eventually be effective, as the sudden change in the second chorus works for great dramatic closure. Honestly, The Moonstation House Band is the first album of the year that I can listen to thoroughly without feeling the urge to skip a track. You can catch Vandervelde on tour starting in February, with a large live band consisting of three guitarists, a bassist, a keyboardist, a drummer, and possibly a violinist. They are apparently a great live band of seemingly accomplished musicians, so I would recommend looking into that as well.
——————————————————————————————-
David Vandervelde – Nothin' No
[audio:https://obscuresound.com/mp3/vand-not.mp3]
——————————————————————————————-
[audio:https://obscuresound.com/mp3/vand-jac.mp3]
——————————————————————————————-
Official Web Site
Mike Mineo
I'm the founder/editor of Obscure Sound, which was formed in 2006. Previously, I wrote for PopMatters and Stylus Magazine. Send your music to
[email protected]
.