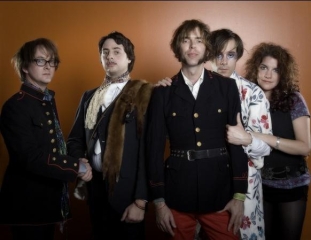 When I reviewed Of Montreal's Hissing Fauna, Are You the Destroyer? about four months ago, I was completely obsessed with the record. In a sense, it was the perfect example of how Of Montreal are one of the most consistent bands currently active, releasing an album about a once year, each fueled by the creative output of frontman Kevin Barnes. As you can see by the review, I was convinced that it was one of the most enjoyable Of Montreal albums of their career. So, now that the release date is two days away, how does it hold up? To my ears, it still sounds like one of the best albums of the year. Yeah, I know it's still incredibly early but I don't see how many bands could match it. If they do, well, it will be one hell of a year. As noted, one of my favorite tracks on the album was the insanely catchy 'Heimdalsgate Like a Promethean Curse'. To no surprise, Of Montreal selected it to be the first single from Hissing Fauna, Are You the Destroyer?. As per usual, they created an extremely original music video for the song. Just released yesterday, you can view it here. It appears that Barnes may be imitating his glam rock alter-ego, Georgie Fruit, with his sparkling glitter and flamboyant stage motions. Anyone who calls this music video boring must be lifeless. I could not imagine something more originally suitable for the song. From the patriotic rock stars to the pencil pad drawing of Barnes' odd character, I have never seen anything quite like it. Of Montreal's clever cue for quirkiness achieves success yet again. My favorites of this particular aspect would be the oval-faced dancers and the dancing bear, each one somehow in sync with the music. I'm sure there are a numerous amount of vague artistically sentimental expressions, though I'll leave that up to you to reveal.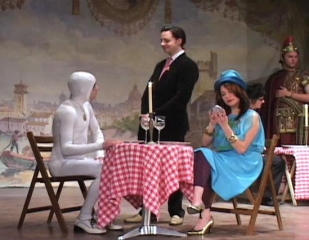 In related news, the constantly busy group from Georgia recently released a tour EP. This one, entitled Icons, Abstract Thee, is their fourth EP. It is only available through mail order as a bonus to customers on their label Polyvinyl Records' online store. If you're at a show of theirs, you can pick one up there as well. Keeping in touch with Of Montreal's consistency, the EP is a very enjoyable collection of b-sides. Actually, most bands these days envy the fact that Of Montreal can actually call songs of this quality "b-sides". Many songs on the EP give a strong impression of how music can incorporate itself in a romantic relationship. 'Du Og Meg' is a short tale à  la Madame Butterfly, exposing a foreign love affair and transforming it into a contemporary music-oriented version. In a few words, it goes like this: formerly emotionless girl falls in love with boy, they break up due to the boy moving away, girl turns to music as an alternative to love, becomes famous, finds boy again while touring overseas. In a not so Of Montreal touch, the ending is actually quite happy. They fall in love again and get married in the summer. How lovely. Sure, you can twist the meaning around a bit but that's how I see it. 'Voltaic Crusher/Undrum To Muted Da' is more traditional for Of Montreal, relating with relationship difficulties. Barnes named the band after a failed relationship he had with a woman from Montreal. Though he is now married to a brighter girl, perhaps this song reflects back on those years, as he muses about how he finds writing songs to be an escape from the rejection and torment, making it clear that the first two songs on the EP share a common theme. Another witty trait would be the satirical religious references, something that Of Montreal has made more common with their recent releases. "If there's a God, please send him an angel," Barnes remarks after pleading God not to be a "bastard" for granting him undeserved rejection. I also wonder who controls love: a supernatural force of an individual? I don't think it's either and it appears Barnes is perplexed as well. Both songs are complemented by their trademark mixture of guitar and synth, all wrapped in a catchy melody that is hard to resist. Perhaps one of the ending lines wraps up this song the best: "You gave your hand, I gave you a fist; please don't lose any sleep over me baby, I hardly exist".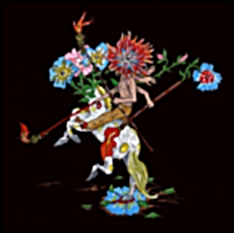 'Derailments In A Place Of Our Own' and 'Miss Blonde, Your Papa Is Failing' are both softer at heart, with acoustic elements being vital components of each. 'Miss Blonde, Your Papa Is Failing' is an original conception on parental importance, regarding blame and jealousy as severe weaknesses. The song is a nice display of Barnes' vocal harmonizations, whether it's the vibrated verses or the emotionally drawn piano-led chorus, the song turns into a beautiful rendition. I'm assured that the only reason this is considered a b-side is its bare production. The epic 'No Conclusion' is a bit ironic in its name, being nearly ten minutes in length. In a risky attempt, the song has Barnes breathless. There are very few points during the ten minutes where Barnes is not singing and relaying his thoughts on romantically inclined suicide. A series of metaphorical remarks, such as "there's someone calling my name but there's no one to respond" and "I'm killing myself but it's not suicide". The song is split into three sections with the first seven minutes consisting of the traditional Of Montreal pop format. The final two minutes is an instrumental recap with the involvement of strings and keys. Though it strays on the longer side, this may end up being one of my favorite Of Montreal songs. If you are able to spend a half-hour listening to it a few times, the varying aspects of the song become more visible and endearing. Plus, the constant excitement in the song causes it to feel significantly shorter than ten minutes. With about three different choruses, six changing verses, and an instrumental break, it is perhaps one of the most epic songs that Of Montreal has written in their career. The EP is certainly worth $6, so I would suggest ordering Hissing Fauna, Are You the Destroyer? and Icons, Abstract Thee as a pair for $18. They are both certainly worth your time and money.
——————————————————————————————-
——————————————————————————————-
Of Montreal – Voltaic Crusher/Undrum To Muted Da
[audio:https://obscuresound.com/mp3/ofm-vol.mp3]
——————————————————————————————-
Of Montreal – Miss Blonde, Your Papa Is Failing
[audio:https://obscuresound.com/mp3/ofm-mis.mp3]
——————————————————————————————-
VIDEO: Heimdalsgate Like a Promethean Curse