Posted
January 13, 2007 by Mike Mineo
in Features
The High Llamas quietly carry on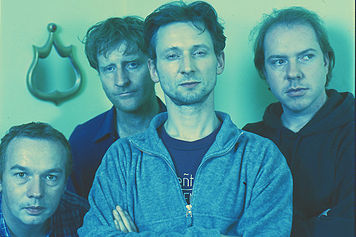 In the world of underrated British artists, one of my many favorites include The High Llamas, a band formed in 1991 by talented songwriter Sean O'Hagan after the demise of his duo with Cathal Coughlan, Microdisney. Though all six of The High Llamas' studio albums were greeted with warm reviews, they have only seen a minimal commercial success in their native England while they are seemingly nonexistent to the general American audience. I consider that to be surprising consideing the United States' longtime obsession with the Beach Boys. O'Hagan's three decades of songwriting has been long compared to that of Brian Wilson's, with warm harmonies layered over a variety of masterfully schemed orchestration, with that being the constant theme throughout The High Llamas' discography. Their second album Gideon Gaye is undoubtly their most recognizable, as it truly defined their pleasant sound influenced by the likes of Van Dyke Parks and Wilson, with O'Hagan's smooth vocals always flowing cohesively with the light melody at hand. Despite the change of British musical trends, O'Hagan has kept his style largely the same despite the lack of astounding international success. Truly, he is a low-key musician who crafts highly enjoyable songs for a fanbase, that while small, is plenty mighty and dedicated. I have always compared O'Hagan to a more upbeat version of Neil Hannon, with both being talented multi-instrumentalists who combine British humor with irresistible melodies encompassing a very respectable discography that continues to this day. The explanation for Hannon's larger achievement of fame is largely due to his own diversity and range. His handful of moderately successful singles didn't hurt either. The High Llamas have never quite had a breakthrough single, though all six of their albums are very respectable in their own right. O'Hagan is also reputably known for his collaboration with Stereolab, a band who often shows up for guest appearances in several of The High Llamas' albums. The collaboration project between O'Hagan and the members of Stereolab is titled Turn-On, though their only release has been a self-titled 12″ EP in 1997. O'Hagan was once a guitarist for Stereolab and he continues to share his songwriting talents with them, supplying collections of string and orchestral arrangements. Since the band was dropped from V2 Records in 1999, they have stated that their albums do not financially support them like they used to. The ironic thing is that O'Hagan is still writing his strongest material after years of experience. The only explanation would be that the label got tired from the lack of international sales. Regardless, they continue to release albums, though less often than their earlier years.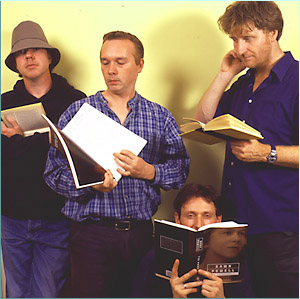 Can Cladders is their first new album in about four years, since 2003's Beet, Maize & Corn. O'Hagan has deliberately delivered more of the same, though many of the arrangements are more laid back than a few of his previous albums, providing for a very lush touch. It will be released next month on Chicago's reputable label, Drag City. Can Cladders seems particularly focused on a variety of keyboard effects and stunning string arrangements. O'Hagan once called Burt Bacharach a major influence and several songs on Can Cladders support the statement, surprisingly being in an enjoyable tone. The opener 'The Old Spring Town' combines a mixture of keys, acoustic guitar strums, harps, and a steady automated percussion complemented by a beautiful string arrangement in the introduction, middle, and conclusion of the song. O'Hagan could most likely make a career out of providing orchestral arrangements alone, much like David Campbell. Also involved are beautiful female backing vocals, a feature that is supplied successfully throughout the album. O'Hagan's emphasis on musical beauty is something that is rare in the industry today and it is quite encouraging to see an artist of his nature continue to do so in a consistent manner. 'Sailing Bells' is smooth sailing indeed, as the gentle strum of an acoustic guitar collides softly with the usual combination of strings and orchestration. Though both of these tracks are very nicely written, my favorite track on the album happens to be 'Bacaroo', with its beautiful vocal organization and harmonics resulting in one of the strongest tracks O'Hagan has written in his career. It's a shame that Can Cladders is going to be considered another near imitation of Brian Wilson, as many individuals are simply taking O'Hagan's abilities for granted. While his influences do express themselves clearly, the fact that O'Hagan incorporates beautiful melodies and arrangements should not give off the assumption that he is some imitation. He has actually crafted a very respectable musical catalog over the past thirty years, with Can Cladders being one of the strongest albums he has released.
——————————————————————————————-
[audio:https://obscuresound.com/mp3/llamas-bac.mp3]
——————————————————————————————-
The High Llamas – The Old Spring Town

[audio:https://obscuresound.com/mp3/llamas-the.mp3]
——————————————————————————————-
The High Llamas – Sailing Bells

[audio:https://obscuresound.com/mp3/llamas-sai.mp3]
——————————————————————————————-
Mike Mineo
I'm the founder/editor of Obscure Sound, which was formed in 2006. Previously, I wrote for PopMatters and Stylus Magazine. Send your music to
[email protected]
.