Posted
February 8, 2007 by Mike Mineo
in Features
00 The Rabbit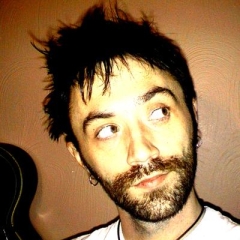 The oddly titled 00 The Rabbit (Double Zero: The Rabbit) is the musical project of Russell Brooks, a native of Morgantown, Kentucky who was formerly the guitarist and singer for Cheap Fireworks. Even in the sense that his musical style is typically alternative pop, his variation in song structures and DIY production style provides for a fresh and innovative sound. While Brooks wrote all the songs on his debut album Boom Ching on his own, he enlisted the help of a few friends. On several tracks, Brad Annis plays drums, Ryan Doughty plays trombone and trumpet, and Cole Porter, Shawn Coots, and Adam Williams lend their guitar playing. Brooks is a skilled multi-instrumentalist himself but the collaborative efforts from the five additional musicians provide for a sound that feels more well-rounded and less effortless. The production, as I said, is done with DIY in mind. All songs were recorded in a lo-fi studio on a computer, though the presentation in most songs stand to be very presentable. Brooks admits that the production is far from perfect due to the use of several inexpensive microphones and studio equipment, though the sound quality is certainly generous enough to provide a great sense of enjoyment. Talented and original artists in the vain of Brooks usually only need mediocre sound quality at best to gain a receptive fanbase anyways. Usually, debut albums struggle with repetition in mind, as many tracks repeat themselves in form of structure, production, and general feel. Boom Ching avoids that generalization completely, offering twelve tracks that vary dramatically from each other, with each demonstrating a whole new sense of enjoyment.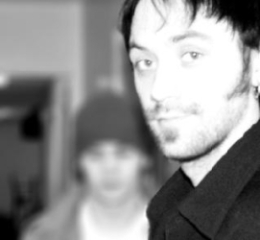 This variation is most recognizable in "Headphones On", a track with an electronic edge that borders the tastes of Junior Boys. Working around various samples (mainly grunts adding to the rhythm) and Brad Annis' reverbed percussion, Brooks creates another world with this very dark track that relays it's own purpose off of Brooks' fitting vocals, fitting somewhere between Justin Timberlake (eh?) and Jeremy Greenspan. Don't be thrown off by the Timberlake comparison, it's just an example of a certain voice that sounds well over the dark ambient effects of electronica. "Filling in the Blanks" is one of the most expansive tracks on the album, with percussion work by Brad Annis complemented by Ryan Doughty on trombone and trumpet, truly giving the track a feeling of constructive isolation from the rest of the album, for which the majority is a one-man band consisting of Brooks (besides the explosive opener "Monster (Boom Ching)", which uses the same collaborators). Brooks' repetitious guitar riffs are noticeable under the midst of his own collaborators in "Filling in the Blanks", though his quivering vocals tend to have the right touch in mind. Doughty's trumpet additions after each chorus is certainly memorable, as are the backing vocals supplied by Brooks and his friends during each bridge. The song appears to be a different version than the one on his site, so it may be that this is an early version. It could be final as well. After some straightforwardly enjoyable acoustic songs, Brooks surprised me with the creative "6 Feet Under". The gritty track is a dramatic shift from his usual alternative sound, this time dwelling on gritty blues, funk, and hip-hop. If anything, the production is surprisingly enjoyable. With his limited resources, he created a song that is both catchy and creatively tactful during it's short but memorable two minutes. These three tracks offer something different in each of them, whether it's dark electronica, straightforward alternative pop with touches of brass, or gritty funk. Such is the case with Boom Ching, a debut album whose cleverness and ambition exceeds it's own flaws. Though Boom Ching was released last year, Brooks is already planning to release his sophomore album later this year, an album that he describes as "much cleaner". You can purchase Boom Ching on iTunes.
——————————————————————————————
[audio:https://obscuresound.com/mp3/rabbit-hea.mp3]
——————————————————————————————
00 The Rabbit – Filling in the Blanks

[audio:https://obscuresound.com/mp3/rabbit-fil.mp3]
——————————————————————————————
[audio:https://obscuresound.com/mp3/rabbit-6fe.mp3]
——————————————————————————————
Mike Mineo
I'm the founder/editor of Obscure Sound, which was formed in 2006. Previously, I wrote for PopMatters and Stylus Magazine. Send your music to
[email protected]
.