Posted
March 25, 2007 by Mike Mineo
in Features
Dappled Cities Fly Tweak Their Name and Sound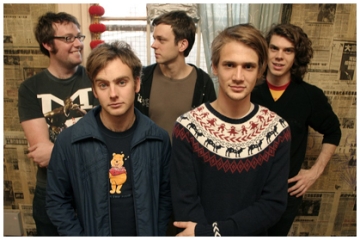 The five members of Dappled Cities comfortably define themselves as a band who creates "oddball pop". Oddball pop? Well, the particular specification seems to be getting more common by the day with bands like Danielson, Sunset Rubdown, and Islands all making popular entries into the contemporary music setting. With non-traditional song structures accompanied by instruments originally only found in the closets of gypsies and priests, such artists are rapidly finding new and creative ways to express themselves. Ten years ago, one would have probably looked at you quite strangely if you told them that adding accordions, xylophones, musettes, rhaitas, and high-pictched squeals to a musical composition would equate to a large success. But as usual, innovation always strikes to those first who dare to disprove stereotypes. The five boys from Dappled Cities have a similar goal with their philosophy, being to create music that is both catchy and innovative, utilizing radical production techniques and vocal presentations in order to provide dramatic differentiation and atmospheric reliability between songs. They come to us from Sydney, Australia, in a country that has seen originating artists such as Melbourne's The Temper Trap, Julian Nation, and Gotye, names that have all been featured on this web site, in addition to many others, due to their sheer creativity and factor of enjoyment. Those who were familiar with Dappled Cities prior to this article may have previously known them as Dappled Cities Fly, though they recent underwent a name change, omitting the "Fly". Originally called Periwinkle when fifteen-year-olds Dave Rennick and Hugh Boyce met Alex Moore and Tim Derricourt (of English descent) in 1997 after discovering they all lived near each other, went to the same high school, and had a similar taste in music. They had musical originality even in the beginning, taking great pride in it as well. "We were surrounded by a pararecieveddoxical 'west coast punk' environment," co-vocalist Dave Rennick went on to say, "[so] we weren't too well received at bands competitions and the like." Realizing that the close-minded suburbs weren't the place for them, the band set their sights on the large city of Melbourne after graduation. After keyboardist Mark Bradshaw joined the band, the name of Dappled Cities Fly was settled. Following several lengthy tours of Australia, New Zealand, Europe, and the United States (most recently SXSW), in addition to the release of their debut, A Smile, Ned Cooke replaced Bradshaw as the keyboardist, in addition to the dropping of "Fly" from the band name.
For those wondering where the second name of Dappled Cities Fly derived from, co-vocalist Dave Rennick has the odd answer. "It's hard to spell, hard to pronounce, even harder to remember, and has inevitably been coined on several occasions as the 'worst band name ever'". Such characteristics apparently brought a bit of satisfaction to the band, seeing the name as entirely original, just like their musical approach. According to guitarist and vocalist Tim Derricourt, the word "Fly" was dropped from the name for "artistic reasons", mainly being that it looked better without it on the cover of their newest and second album, Granddance. Rennick also went on to clarify the situation, stating it's merely an abbreviation. "We are just trying to make it easier so when we are in pubs trying to talk to people, we can just say it as Dappled Cities. It's also that the label in the US [Dangerbird] wanted us to drop the 'Fly' entirely, which we weren't keen to do at all," Rennick continued to to say, "so we are just trying to get the best of both worlds, but in doing so we've actually just made it more confusing for everyone, which I guess is one of our traits as a band: confusing people. It's part of keeping ourselves interesting and interested, but for the record we have not changed our name." Granddance follows their first LP, A Smile, a the critically acclaimed debut that introduced the band's creative sound to international ears. In addition to bands like Youth Group, The City Lights, and Red Riders, Dappled Cities are known as one of the distinctive bands in causing awareness for Australia's growing music scene, a setting that prior to this decade was only recognizable for names like AC/DC, Olivia Newton-John, The Go-Betweens, and Silverchair. Now, we have a contemporary presentation of Australian artists like Kylie Minogue, Architecture in Helsinki, and The Avalanches in addition to my aforementioned newcomers.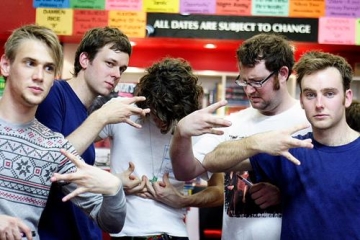 Even though A Smile was a very well-recieved debut that introduced the band's creative sound to international ears, the band was harsh in criticism of their own work, calling it a linear alternative rock album that consisted of stereotypical "noodly Pavement guitar rock". After Smile was recorded in Australia, the five-piece decided made their trip out West to soak up the sights and sounds. Of course, they chose the city that represents Western pop culture in the brightest spotlight: Hollywood, California, which is the new destination for the recording of Granddance. Speaking of the new album, Rennick says, "it's a lot grander, more bigger sounds – along the lines of the Beach Boys, late Flaming Lips and so on. Lots of synths and organized sounds, as opposed to noodly Pavement guitar rock." Listening to the eleven tracks on the album, I certainly have to agree with Mr. Rennick, as the band's sound has progressed significantly with a mature approach sounding off in most tracks under the watchful supervision of producers Jim Fairchild (ex-guitarist of Grandaddy) and Peter Walker (Dangerbird). Dave Rennick was quite fond of the producers' contributions, saying "They were great. They're both musicians so they've had a lot of experience in the studio and whatnot. It was like hanging out with chums and all of us making combined decisions." That experience certainly showed, as it created an admirable sound in combination with the youthful talent of Dappled Cities. Tim Derricourt and Dave Rennick both split the songwriting on the album, with each contributing five or six songs apiece to the final result of eleven tracks. Grandance was released last November in Australia and saw a United States release on March 1st.
The album's opener, "Holy Chord", was written by Derricourt and it shows a certain factor of mature intensity that was not found in A Smile or any other previous Dappled Cities song, for that matter. Derricourt's vocals have often been compared to Peter Gabriel's and though this song isn't the best example for a Gabriel comparison, one can easily see how unique Derricourt's delivery is. In one instance, he goes from an underbelly of mumbles to a high-pitched squeal that is synchronized to the utilization of several bells and keys. Think along the lines of a mixture between the creativity of Danielson, the incoherent hooks of Carey Mercer, and the durability of Peter Gabriel. Somewhere in between that odd mess of enjoyment, you have Tim Derricourt's "Holy Chord". After an intense arrangement of guitars, lively percussion, and a mass diversity of backing vocals and effects, Derricourt concludes the song with a rather surprising question. "What does it mean to take off all our clothes and look into your eyes and say, 'I mean it'?" Like the majority of the songs, "Holy Chord" is filled with hooks, some that are discovered on first listen and others that are found on the tenth. For this reason, in addition to the exotic nature of the track, it reminds me somewhat of a more vocal Animal Collective, if they had more emphasis on pop music. "Work It Out" moves a bit more slowly and dramatically, in large part to the synth involvement. Throughout the song, a largely noticeable synth pad composes a very distinctive melody that is dependent on Derricourt's range and enthusiasm, resulting in a track full of enjoyment and artifical beauty. "Vision Bell" is not as diverse as the other tracks on Granddance and even recalls A Smile a bit, though when it's all said and done, the song is one of the most accessible and enjoyable on Granddance. The vocals show a smug admiration for Brian Wilson in some sections over the elegance of melodious keys, reverb effects, and incessant guitars. The hooks, for the most part, lie in the vocal execution, often sounding like a bizarre duet. "The Eve The Girl" is a particularly bleak song calling on a family where the deadbeat father ("a useless man") and disoriented mother ("a useless mess") give birth to a "useless son", setting the norm for a society of unrightful expectations, familial influence, and unavoidable loneliness. Such dramatic songs like "Beach" and "Watercourse" hold the same tone of effectiveness in overlaying a dramatic sense to a newly cultivated auditory presentation. Rennick's "Fire Fire Fire" has the potential to do well on college radio charts with a straightforward approach that pushes forward a radiant chorus accompanied by a charming set of backing "oohs" and reverb effects. "You're not a fire so I will not dance with you," may elude to a sense of emotional and sociological relinquishment, with the enjoyable harmonies making it all the more satisfying. With the majority songs being nothing short of entirely gratifying, Granddance is an extremely impressive sophomore album from Dappled Cities, one that should certainly find them a larger international following. Even though we are only three months into it, Dappled Cities are my favorite Australian band of the year.
——————————————————————————————
[audio:https://obscuresound.com/mp3/dappled-hol.mp3]
——————————————————————————————
[audio:https://obscuresound.com/mp3/dappled-wor.mp3]
——————————————————————————————
[audio:https://obscuresound.com/mp3/dappled-vis.mp3]
——————————————————————————————
Mike Mineo
I'm the founder/editor of Obscure Sound, which was formed in 2006. Previously, I wrote for PopMatters and Stylus Magazine. Send your music to
[email protected]
.