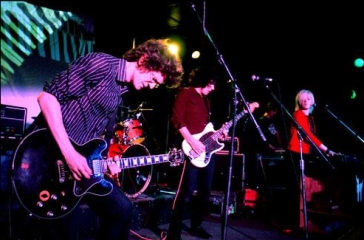 It appears that we have been navigating the globe over the past few posts. From the heart of North America to Japan and over to Finland it's been quite a diverse variation. This time, I'll bring to you a rising band from Brisbane, Australia. So, that covers four different continents in four days. All that remains is Antarctica, South America, and Africa. I'll try and eventually do my best with Antarctica. Anyways, back to Oceania. Brisbane is the home of Flamingo Crash, the latest band to join the ranks of fellow Australian natives The Grates, Wolfmother, You Am I, and Wolf & Cub in gaining a steady following overseas. However, unlike many of their native contemporaries, the five members of Flamingo Crash take pride in their admiration for dark English pop and post-punk, involving electronic and dance elements when possible. Their international influence is certainly visible, as one could easily mistaken them for an American band on first listen. Basically, these Aussies hold the same tendency that the most popular art-rock bands hold around the world in creating catchy, intense, and rhythmic songs with the aforementioned influences of post-punk and 80s pop. The thing that separates Flamingo Crash from most of the rest is their eye-catching diversity. Instead of sticking with a formulaic approach of sticking in a catchy chorus after every other verse, the five-piece mixes it up with appropriate measures, providing for a fresh and engaging sound. Forming in mid-2004, the band has built up a promising amount of Australian and foreign press, with quality comparisons echoing anywhere from Bloc Party to Maximo Park. Flamingo Crash has completed their debut album, It Takes An Army, which is scheduled for release later this spring. It was produced by Emerson Bavinton and the band promises that it will contain "pen pop gems alongside the darker noise rock territory that has fueled their powerful live performances".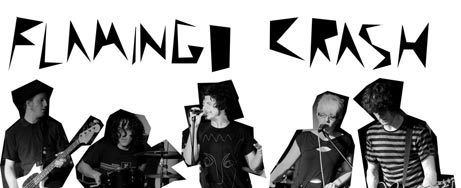 Relating to the Western influence, vocalist Isaac Emmanuel sounds strikingly similar to The Pixies' Frank Black on the explosive "Yes? Yes? Yes?". Perhaps it's the prominent bass line or maybe Emmanuel's aggressive swagger just compares naturally. Either way, the song is a prime example of songwriting proficiency for a band of Flamingo Crash's nature. As drummer Marcel Dorney provides the occasional energetic fills over a sturdy rhythm section, Emmanuel provides an exciting transition from the Pixies-esque vocals of Frank Black to his own original style, a format of his creation complemented by the synchronized keyboards of Cate Porter. The popularized guitar-synth combo is used effectively, which seems to be a vital trait among these rising acts. "Yes? Yes? Yes?" is off of Ready For Love, which is one of their two mini-EPs released in February from the band, not including a debut single. These three songs are actually all off of different releases, with "Shoot The Lights Out" being released as the single and "(Vamp at the) Wax Party" being included on the other mini-EP, Animal / Animal Economy. As far as singles go, "Shoot The Lights Out" was certainly a respectable choice. As I said before, the band's diversity is striking. Note how it sounds almost entirely different than "Shoot The Lights Out" and "(Vamp at the) Wax Party)". Emmanuel is more soft-spoken and Porter's synths are much more noticeable. While the song is nearly not as energetic as "Yes? Yes? Yes?" the majority of listeners will most likely to find it to be their catchiest. As it appears, sometimes creating a song with linear intentions can prove to be successful. The chants of vowels do the song great justice, as does the enjoyable chorus with Emmanuel's repeating of, "Shoot the lights out! Shoot the lights out!". I expect the single to do rather well in Australia. Now, "(Vamp at the) Wax Party) comes out of nowhere with it's odd style. Beginning with a hip-hop sample, Emmanuel relays with the introductory tone and hurriedly chants over a few quick guitar swipes before an abrupt silence indicates the bridge to a frantically executed chorus. Emmanuel's incoherent political musings are amusing and his punk approach is mostly accurate. When a swing bass line comes into the picture, I assumed that Flamingo Crash had to be one of the most unique art-rock bands I've heard in awhile, even if it just seemed to be stuck in there randomly. While some may call Flamingo Crash's style indecisive, I'd like to think of it as direct ingenuity attributed to their abilities as songwriters. Perhaps I'm a bit too optimistic but go ahead, listen to the songs. If you don't find at least one to be significantly catchy you might want to get your ears checked.
——————————————————————————————
Flamingo Crash – Yes? Yes? Yes?
[audio:https://obscuresound.com/mp3/flamingo-yes2.mp3]
——————————————————————————————
Flamingo Crash – Shoot The Lights Out

[audio:https://obscuresound.com/mp3/flamingo-sho2.mp3]
——————————————————————————————
Flamingo Crash – (Vamp at the) Wax Party
[audio:https://obscuresound.com/mp3/flamingo-vam2.mp3]
——————————————————————————————