Posted
March 17, 2007 by Mike Mineo
in
The 1900s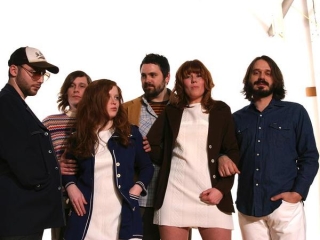 I know that some of you have probably been wondering why I haven't even mentioned SXSW in the past few days. How could a music blog do such a thing? Well, with unfortunate thanks to school, I was one of the few who couldn't make it out to Texas to attend arguably the biggest indie music event of the year. Also, the size of SXSW is massive, knowing that I wouldn't be able to cover it alone. Anyways, every other blog seems to be doing a fine job with their coverage, even if the official SXSW site is still the best place to go for MP3s and information. At the conclusion of the event, one of the bands who has received a significant amount of attention from their showing has been The 1900s. Indeed, they hold a risky numerical band name but that is just one of several demonstrations of the band's expressive confidence. They are one of the thousand blossoming bands originating from Chicago, a city which never seems to cease on producing fresh and original musical talent. The 1900s actually formed when three of the members were still in high school over a decade ago. Singer/guitarist Edward Anderson, lead guitarist Mike Jasinski, and drummer Tim Minnick were all friends in high school, playing in an untypical high school band. In a time where alternative rock and grunge were popular, the trio decided to craft experimental noise rock under the band name of Minotaurs of P. Like most bands in high school, Minotaurs of P dissolved when the three members were forced to attend separate colleges. Upon returning to Chicago a decade later in 2001, Anderson contacted Minnick and found him in the band Forty Piece Choir. The two had a happy reunion of sorts and Anderson collaborated with Minnick in Forty Piece Choir for a brief amount of time, though quickly moving to become a member of the alternative Plane. After sensing an urge to work again musically with his high school pals, he contacted bassist Charlie Ransford from Turner Joy in hopes to start a new band. Once Ransford was in band, he called both Minnick and Jasinski and all four members formed the beginnings of The 1900s, with all members playing their original instruments and Jasinski adding keyboard to his repertoire. After recording several demos, the foursome decided that adding some feminine vocals would be an interesting and wise decision. Jeannie O'Toole and Caroline Donovan joined the band in the summer of 2002 along with violinist Kristina Dutton of Smallwire, finally completing the lineup. After participating on several recordings, Dutton was replaced by Andra Kulans. Jasinski has called the redheaded female vocal section "The Murphs" ever since the two joined out of a casual dinner conversation. The 1900s opened for Bobby Conn shortly after their formation, igniting the beginnings of what would become a very promising band.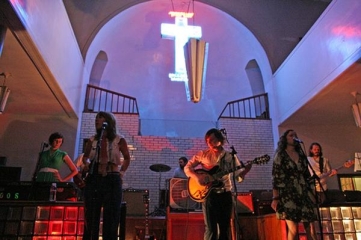 Their debut EP, Plume Delivery, was released last May to warm reviews. "Bring The Good Boys Home" and "A Coming Age" are the first two tracks off of that EP, but "When I Say Go" is a brand new track that Charlie Ransford told me will be used as promotional means in order to see who is interested in releasing the band's brand new album, scheduled for release later this year. The band was also interested in seeing the song's reception at SXSW, which came off very well at their last show on Thursday. "When I Say Go" is a continuous build of Mike Jasinski's keyboards, Andra Kulans' strings, and Tim Minnick's guitar. The vocals of Jeanine O'Toole and Caroline Donovan are both presented in this enjoyably warm song, both showcasing a very collectible effort for melodic harmonization over the studiously bounded instrumentation. With each new verse, a new instrument comes into play, eventually folding into a chaotically enjoyable conclusion.. Originally aided by sole percussion and keys, a slight guitar peeks through a few verses later before the involvement of strings into is incorporated shortly afterward, signaling the lyrical contrasting of, "I've been leaving all my clues like my footprints in the snow," followed by a quick violin swipe, "and you never thought you'd be so slow, first one to the gate when I say go". I actually find the track to be quite progressive from their album last year, displaying a richer sound in utilizing all the band's members to the full extent. That is not to say the tracks on Plume Delivery were bad though, as "Bring The Good Boys Home" is quite entertaining as well. The whole has that whole 60s acidic feel, promoting that feeling of trippiness that everyone loves when hearing retro organs. The song is another display of The Murphs' great vocals, with the verses being pleasantly bare until the chorus is lifted by a series of guitar-oriented additions and vocal exclamations. "A Coming Age" is more reminiscent of comparisons made of the band when they first appeared on the scene, with names like Belle & Sebastian and Camera Obscura being thrown around in order to distinguish a sound. "When I Say Go" and "Bring The Good Boys Home" do not reflect these relations to a full extent, but listening to "A Coming Age" makes it coherent to hear where such claims originated from. Edward Anderson sounds like a distant version of Stuart Murdoch, singing a sugary melody over Casio keys, guitars, and even the trademark brass that Belle & Sebastian are traditionally known for. Sure, we've all heard the style before, but the melodic arrangement makes "When I Say Go" another worthwhile gem from The 1900s. You can find similar chamber pop accomplishments on Plume Delivery, released on Parasol. They all seem like a likable bunch as well, being big fans of relaxing on their couches on Sunday afternoons and Andrew Bird. Also, Edward Anderson and Caroline Donovan are currently dating, which would explain the great duets. Look out for a new release from The 1900s later this year. If their new material is in a similar nature to "When I Say Go", we're all in for a treat.
——————————————————————————————
[audio:https://obscuresound.com/mp3/1900-whe.mp3]
——————————————————————————————
The 1900s – Bring The Good Boys Home

[audio:https://obscuresound.com/mp3/1900-bri.mp3]
——————————————————————————————
[audio:https://obscuresound.com/mp3/1900-aco.mp3]
——————————————————————————————
Mike Mineo
I'm the founder/editor of Obscure Sound, which was formed in 2006. Previously, I wrote for PopMatters and Stylus Magazine. Send your music to
[email protected]
.