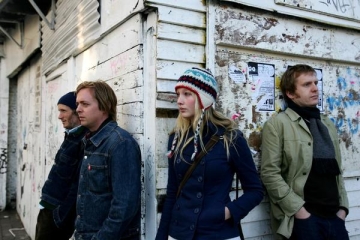 The Clientele are achieving an odd form of success for a British band. In most cases, bands from different countries find initial success in their native country prior to any other location overseas. However, in this case, the London-based foursome have somehow found a larger following in the United States than their native Britain. I cannot account for the feelings of every American music fan, though I do know that many tend to hold a special place in their hearts for nostalgia. While many other countries are rushing forward with a rapid succession of contemporary innovations, there has been an outburst of American artists whose sound represents a slight throwback. From the 70s-esque glam of Chicago-based David Vandervelde to the 60s-esque pop of Philadelphia-based Dr. Dog, the American indie scene appears to be quite fond of past influences taking over various songs, whether it sounds familiar or not. Personally, I find nothing wrong with throwback songs. Perhaps Britain's current scene does, and there is nothing wrong with that, but it might explain the reason for The Clientele's lack of success in their homeland. Though many baseless critics relish the opportunity to bash something in the form of "a discarded Beatles track" (*cough*), I find nothing wrong when artists allow their influences to flow freely. After all, today's quality music does not always have to come in the form of experimental falsettos, repetitive electronica, or in the made-up language of Vonlenska. Some people need to sit back, relax, and just enjoy some bands for what they are. The Clientele have been compared to a numerous amount of 60s pop bands, both traditional and psychedelic, and though I can see where the comparisons derive from, The Clientele contain enough contemporary influence to hold their own against this humorous rush of sloppy "art-rock" artists attempting to compete for the largest feat of innovation held since the British Invasion.
Though their first full-length album came in 2003, The Clientele have been around since 1991. Vocalist and guitarist Alasdair MacLean and bassist James Hornsey both met in a Hampshire classroom. Seeing the words "Felt" scribbled on Hornsey's pencil case, MacLean struck up a conversation with Hornsey about the influential British band. With their introductions out the way, they eventually both found the desire to form a band. Along with Innes Phillips, they formed their first band, entitled The Butterfly Collectors. Though they showed potential and recorded some material, The Butterfly Collectors never were signed to a label. Phillips eventually left the band to found The Relict, though MacLean and Hornsey continued on with their project, renaming it to The Clientele. After recruiting drummer Mark Keen in 1997, their first release came in 2000 with Suburban Light, a compilation of thirteen early songs. It was received well in the press, though did not account for much success. Even so, the band's tone for melancholic pop was established and found their first following of fans. Their debut full-length album, The Violet Hour, was released three years later. Like Suburban Light, it received fantastic reviews and continued to build a dedicated fan base but failed to achieve a substantial amount of commercial success. Their first two releases clearly established a tone of downbeat pop music soaked in reverb and vocal emotion, with the band taking very few steps forward in distinguishing their sound. This all changed in 2005 when they released their second album, Strange Geometry. By adding violinist/keyboardist Mel Draisey to the band, it introduced a string section to The Clientele's instrumental arsenal, proving to be an extremely effective addition with reputable French musician Louis Philippe writing the string arrangements. With these additions, in my opinion, Strange Geometry was one of the more enjoyable albums of that year. Fantastic songs like "Since K Got Over Me" and "(I Can't Seem) To Make You Mine" were paced slowly and failed to hit the UK charts, but they provided a heartbreaking rendition of emotion relayed through solid instrumentation and the emphatic affection of MacLean's delightful vocals.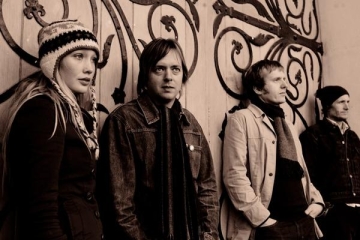 Following up on the musical success that was Strange Geometry, The Clientele's third and newest album, God Save The Clientele, continues to be consistent with the band's emphasis on the darker and more dramatic aspects of life. However, unlike Strange Geometry, the songs flow more freely and the band sounds less melodramatic. This time around, the string accompaniments sound similar to the vein of early Scott Walker, being pop songs that had a central theme of melancholy and loneliness but occasionally were wrapped in energetic and rapid melodies. Though songs like the brilliant "Isn't Life Strange?"and the lush string arrangements of "From Brighton Beach to Santa Monica" echo the sound of God Save The Clientele to a more complex extent, "Bookshop Casanova" is a step forward for the band. Working off a continuous set of repetitious electric guitar riffs, Draisey adds a supplementary backing accompaniment of strings to the mix. MacLean sounds upbeat for once, portraying a style that sounds both unfamiliar but pleasantly enjoyable at the same time. That being said, I'm still in love with their sappy love songs that are reminiscent of 60s gems, most notably the touching "Somebody Changed", the exquisite slide guitar on the luxurious "No Dreams Last Night", and the melodic capabilities of "These Days Nothing But Sunshine". MacLean sounds more confident in his exceeding melodies, giving off the impression that the band has finally captured their previously acclaimed potential and turned it into a remarkable achievement. I do not say this very often, but God Save The Clientele is an album that I can listen to entirely without feeling the desire to skip even one track. Each song is graceful, memorable, and touching in its own right, making this The Clientele's most successful effort yet. It will be released May 8th on Merge Records. God save The Clientele, indeed.
——————————————————————————————
The Clientele – Isn't Life Strange?
[audio:https://obscuresound.com/mp3/client-isn.mp3]
——————————————————————————————
The Clientele – Bookshop Casanova

[audio:https://obscuresound.com/mp3/client-boo.mp3]
——————————————————————————————
The Clientele – Somebody Changed
[audio:https://obscuresound.com/mp3/client-som.mp3]
——————————————————————————————