Thrushes Tackle Shoegaze and Post-Rock on Their Debut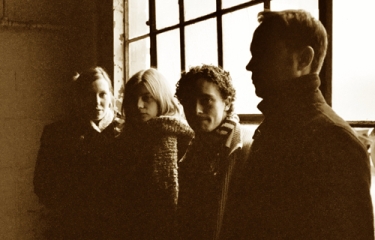 It amazes me how some bands can take a sweet and angelic voice and layer it over multiple rough aggressions of guitars, rapid percussion, and tireless bass lines; somehow presenting the effect of creating a musical atmosphere that is all memorable, serene, and vibrant. Such a description would fit Thrushes, a new four-piece from Baltimore that appears to be focused on the genres of shoegaze, post-punk, and alternative rock. All four members have been involved in the Baltimore music scene since the early 90s, lending their skills to several successful local bands. The idea to form Thrushes came when guitarist Casey Harvey found his building aspirations to form a steady band to be at an all-time high. With this in mind, he kept on continually asking his friend and bassist Rachel Tracy to start up a project with him. After a few years of pestering, in the summer of 2005, Tracy finally agreed to give it a go with Harvey. They later recruited the final two members of Thrushes at a friendly pickup baseball game, with vocalist Anna Conner and drummer Matt Davis entering the picture shortly thereafter. With years of experience holding an influence on each member, the band wasted no time in beginning to write and record their own material. Their influences are typical but respectable, with an admiration for Phil Spector's heralded production techniques representing itself as a factor of the band's general professionalism. Such a tendency to aim high has earned them slots with acts like Xiu Xiu and Man Man, both artists who appear to love repeating a three-letter word twice. Thrushes' variability of genre incorporation is another aspect that should grab the attention of many listeners, with their admiration for shoegaze and post-punk looming large throughout their active instrumentation and vaguely infused melodies. They are following a similar route to the one that contemporary bands such as Serena Maneesh and Asobi Seksu have taken, all three with large regard and veneration for past artists who generally defined their own genres in the late 80s and early 90s. Names like My Bloody Valentine and Ride will certainly come up often, though Jesus and Mary Chain certainly seem poised to fit Thrushes the most accurately. Vocalist Anna Conner is often used in a similar fashion to Asobi Seksu's Yuki Chikudate, incorporating her light and celestial vocals over an intrusively assiduous attack of deafening guitars and insatiable production. Thrushes' stylistic approach may appear to be another stepping stone to the demise of a trend, though this Baltimore-based band in particular has enough talent, ingenuity, and ability to surpass the most pessimistic of spectators. They released their full-length debut, Sun Come Undone, last month to glowing reviews and admirable comparisons.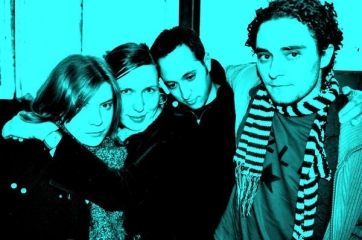 Sun Come Undone contains eleven songs that are quite proficient in the band's expertise. The melodies may often sound fuzzy or drained, though that is purely due to a variety of factors, whether it be the number of complementary distortion effects on Casey Harvey's guitar or the lively rhythmic patterns of Rachel Tracy and Matt Davis. Even though the production is certainly busy, some effort and time will prove to be worthwhile in consuming one's time with Thrushes' delightfully respondent musical presentation. As the opener "Aidan Quinn" clarifies quite boisterously, the band wastes little time getting straight to the point. The four members show a consistency in structure, often with an initial burst of guitar-oriented energy. The guitars eventually build up with gradual ease, eventually exploding into an even more focused and booming portrayal than their initial bearings. "Aidan Quinn" serves as more than just an ode to the Irish-American actor. It's a very nice opener that sets the standard for Thrushes' structural tendencies and consistent patterns. "Heartbeats" follows a very similar formula, starting with an initial consistent array of drums and eventually dwelling on intensified guitar layers complemented by Conner's innocent yet mysterious use of vocals, while "Into The Woods" (no relation to the My Morning Jacket song) jumps straight into a sample of the main chorus before stepping back into a lighter verse. I'm sure it will be customary to discover that Sun Come Undone presents little in the way of surprise of halts, with most of the songs bursting with energy and undeniable passion. Other highlights include the exotic percussive-enabled "Ghost Train" and "The Hardest Part", which just reeks of the Mary and Jesus Chain influence. For those who find enjoyment in direct alternative rock focused on shoegaze and vocal post-rock, Sun Come Undone is a very commendable debut from this tireless Baltimore four-piece.
——————————————————————————————
[audio:https://obscuresound.com/mp3/thrushes-aid.mp3]
——————————————————————————————
[audio:https://obscuresound.com/mp3/thrushes-hea.mp3]
——————————————————————————————
[audio:https://obscuresound.com/mp3/thrushes-int.mp3]
——————————————————————————————
Mike Mineo
I'm the founder/editor of Obscure Sound, which was formed in 2006. Previously, I wrote for PopMatters and Stylus Magazine. Send your music to
[email protected]
.