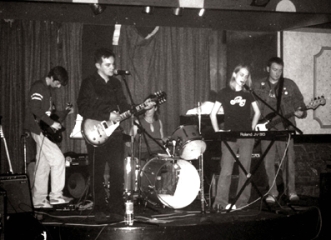 If his new project did not look so promising, David Skirving would most likely be kicking himself for leaving the acclaimed Camera Obscura when he did. Now a fixture in the contemporary indie-pop scene, Camera Obscura has now become a highly accomplished act, releasing three acclaimed albums that have garnered both critical praise and receptive sales with their amiable association of country and general pop influences. Skirving was an original fixture in the band's lineup when they formed in 1996, playing the part of guitarist before he left the band in 1999 and was replaced by Kenny McKeeve. Most of us know what has become of Camera Obscure by now, so what about Mr. Skirving? He mainly kept up with his musical ambitions in his native Glasgow, forming the oddly titled California Snow Story almost directly after his disbandment from Camera Obscure. The band's lineup revolved over the years, with Skirving being the consistent driving force with a friendly group of backing musicians. California Snow Story's first release, One Good Summer, came in 2002 on the Shelflife label with sales that were considered somewhat lackluster, though with musical results that appeared promising. As a result, Skirving went on a slight hitatus, though he abruptly returned in 2005. With his return to the musical world, his songwriting appeared sharper and more concise, leading to the arrival of vocalist Sandra Belda Martinez, best known as the vocalist for Superété. The duo was later joined by keyboardist Madoka Fukushima and drummer Alan Skirving, finally establishing a lineup with enough credentials to record their long-awaited debut full-length album, Close to the Ocean. It is set to be released on May 24th.
Though the name California Snow Story may sound a bit like an oxymoron, the music is fortunately more soothing on the mind. There are no perplexing styles or experimental techniques on Close to the Ocean. Instead, it is a rather straightforward release that would most likely sound best on a brisk Autumn day with its relaxing melodies, soft instrumentation, and lulling vocals. Ironically, I would have most likely compared California Snow Story to Camera Obscure even if I held no knowledge on Skirving's past with the band. This is mainly attributed to the vocal techniques utilized throughout most of Close to the Ocean. Both David Skirving and Sandra Belda Martinez relay sets of cozy vocal accompaniments, whether it be singing in the form of a duet or through separate verses. In most circumstances, like in the serenely compelling "My Life is Only a Daydream", the verses hold separate vocal cuts while the chorus is touched by an invigorating duet, sounding quite beautiful over the delicately crafted acoustics, guitars, and slight whirs of synths. The percussion is barely above an inaudible tap, often exchanging shuffles for the usual excitable fervor; a technique that proves to be most effective with consideration toward California Snow Story's expertly perfected tone. Close to the Ocean is one of those rare rainy-day albums that somehow manages to integrate both a tranquil setting with memorable melodies in order to avoid any tedious or unbearable sensations.
Even though it moves quite indolently like the majority of Close to the Ocean, "Suddenly Everything Happens" maintains to be the most blatantly energetic on the album. With the slight whisper of an organ underlying the constant rhythmic patterns of an electric guitar, Skirving and Martinez both take turns on the vocal front, alternating between each verse before sliding into an anticipated duet toward the conclusion of the song. It turns out to be an admirable effort, showing what California Snow Story is perfectly capable of. One of the only gripes that I have with Close to the Ocean is the lack of vocal variation. Both Skirving and Martinez fit perfectly into their intended objective of creating soothing pop songs, though a slight measure of uplifted emotion or increased melancholy could create potentially devastating hooks, an aspect that some shallow tracks like "A New Light to Guide You" and "Wishing Well" could benefit from. With its ten songs, the first half of Close to the Ocean should be the perfect soundtrack for a breezy day in October. Even while the level of enjoyment will rely on either weather or mood for most individuals, the debut full-length from California Snow Story is enjoyable for the most part. Perhaps Skirving's departure from Camera Obscura was not such a bad move after all, as California Snow Story seems to fit his restful ambitious quite well.
——————————————————————————————
California Snow Story – Suddenly Everything Happens
[audio:https://obscuresound.com/mp3/calisnow-sud.mp3]
——————————————————————————————
California Snow Story – Begin Again

[audio:https://obscuresound.com/mp3/calisnow-beg.mp3]
——————————————————————————————
California Snow Story – My Life is Only a Daydream
[audio:https://obscuresound.com/mp3/calisnow-myl.mp3]
——————————————————————————————