Posted
May 28, 2007 by Mike Mineo
in Features
The Assistants Revitalize the 80s Jangle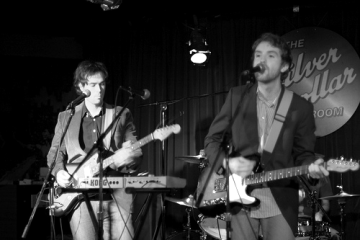 I suppose the commercialized nostalgia of the 80s unfortunately causes us to remember all those plastic synth acts who achieved success through one hit singles and predictable hooks, making the accomplishments of truly impacting bands like The Smiths, R.E.M., and The Go-Betweens go by unfairly overlooked. Sure, all three of those bands maintain an overwhelming fan base and are given numerous nods from contemporary bands who proclaim them as vital influences, but it remains that modern media remains largely focused on the 80s as a decade of has-beens and formulaic approaches, instead of the artists who actually achieved success to their own substantial degree even after their prominent peaks. With all of that rubbish, it is always a pleasure to see modern bands like The Assistants remember the artists that made the decade more memorable than most people take for first glace. Whether you consider the approach a form of optimism or realism, The Assistants blend together classic influence from the college-rock, power-pop, and jangle-pop that made the overlooked artists of the 80s so lasting and memorable.
I was a bit surprised when I found out they were from Ontario, Canada. The vocals of both Kiley Meehan and Ciaran Megahey sound more European than they do Canadian, resembling a somewhat fainter version of The Housemartins' Paul Heaton or the great Edwyn Collins. Both Meehan and Megahey also give off the impression of envisioned melancholy, giving off that same form of tortured insecurity that untouchable (and deceased) vocalists like Ian Curtis and Billy Mackenzie gave off through quivering bitterness and social angst. Not only do the vocals ring a distinctively British bell, but the shimmering guitars relay wholesome riffs that act as appropriate melodic counterparts to the captivating vocal melodies delivered by the vocal duo, reminding me of a now sadly impossible Robert Forster and Grant McLennan revival. In fact, if The Assistants were unable to write their own songs, they could probably make a living as a Go-Betweens cover band. Luckily, they have a skill in songwriting that is actually comparable to Forster-McLennan, displaying enough diversity to hold their own on their enjoyable self-titled debut album, The Assistants.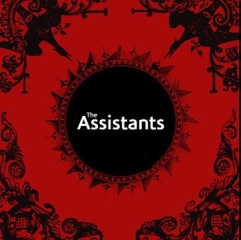 The Assistants can sift through a guitar-oriented track bursting with energy like "Planet News" and then transition toward a subtle acoustic track like "In My Dreams" in a style that makes it look easy. The lyrical content is predictably and romantically downtrodden, as lines in "Planet News" like "with every bridge we burn, it's a longer way down" echo the sentiments expressed in their brooding musical presentation. It is easy to recognize in tracks like "Planet News" and "Taste It" that the five-piece is particularly fond of glistening guitars and concise rhythm sections, with both Meehan and Megahey acting as the guitarists behind the bass-percussion section of Tim Munro and Adam Boyle. They are nicely rounded out by keyboardist Ildiko Kaszas, who makes her most noticeable appearance in the infectious key-laden chorus of "White" and "Consent", a throwback closer to the album that incorporates catchy synths and glorified guitar riffs. "And Then Again" and "The Fall" both sound like they could have come off of an unreleased Lawrence Hayward compilation, with slurring vocals over distorted visions of obsolete paradise being so blatantly prominent that a chill is viable to run up your spine. Though the ten tracks on The Assistants breeze by rather quickly, each song leaves a lasting impression through eerie vocal resemblances, impressive guitar production, and tight rhythm sections.
The more I listen to The Assistants' debut, the more I seemingly fall in love with it. Though it may be because I am a huge fan of both The Smiths and The Go-Betweens, I believe that my feelings are justifiable enough to influence a personal belief that The Assistants have the appropriate amount of ability to truly make something of themselves this year. The Assistants was released in early February and for some reason I have yet to hear anything about it in the blogosphere, on the radio, or by word of mouth. Honestly, it perplexes me. I could sit here and make comparisons to great bands like Orange Juice and The Go-Betweens who made their mark several decades ago, but The Assistants still spout off enough ingenuity to separate themselves from the legions of followers that flood the music scene today. Fans of The Go-Betweens, The Smiths, Orange Juice, Felt, and R.E.M. are surely to find The Assistants' first release to be one of the most remarkable debuts of the year, just as how I feel. Though critics suffering from two hours of sleep and general bitterness will likely call The Assistants about twenty years too late, I could personally care less. This is enjoyable material, no matter the circumstance.
——————————————————————————————
[audio:https://obscuresound.com/mp3/assistants-pla.mp3]
——————————————————————————————
[audio:https://obscuresound.com/mp3/assistants-tas.mp3]
——————————————————————————————
[audio:https://obscuresound.com/mp3/assistants-the.mp3]
——————————————————————————————
Mike Mineo
I'm the founder/editor of Obscure Sound, which was formed in 2006. Previously, I wrote for PopMatters and Stylus Magazine. Send your music to
[email protected]
.