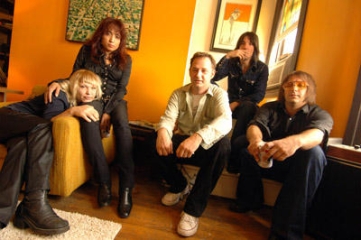 Motown, Motorcity, D-Town, and most relevantly Rock City. Such are a few of the many nicknames of Detroit; the bustling city in Michigan that has the infamous reputation of being one of the foremost initiators of classic rock 'n' roll, not to mention other genres like R&B and jazz. Whether you were a fan of Marvin Gaye's soulful swagger or The Stooges' bodacious composure, Detroit has served as the basis for a countless number of classic musical inspirations. While certain cities and locations previously expressed a specific definition of one's musical style in the 60s and 70s, our contemporary era appears to be much more widespread with common ground. Simply put, it is hard to distinguish today the difference between a rock band from New York and California. Style has been beaten to death by this point, serving up a lack of innovation and genuine emotion, seeing as most bands just stray toward whatever is "hot" at the moment. The Detroit Cobras are one of the those bands who could care less about what America's current youth defines as "hot" (pointless emotional noise). They love pure rock 'n' roll, the type known to derive from their originating city from which they pay tribute to proudly in their band name. In fact, vocalist Rachel Nagy and guitarist Amy Ramirez could also care less what you think about them personally. They wear their outdated leather jackets with pride, playing music that most of today's ignorant teenagers would deem "boring". Regardless, the enigmatic front-women both are the leaders of one of the greatest cover bands specializing in natural rock 'n' roll and R&B.
A cover band? Yeah, you heard me right. They are the types of bands criticized for lack of originality and an abundance in laziness. While I agree that most cover bands are indeed quite monotonous, The Detroit Cobras are one of those rare exceptions. Whereas most cover bands play songs by The Beatles or Radiohead in which we have heard millions of times before, The Detroit Cobras play relatively unknown rock 'n' roll gems from the nostalgic past. In doing so on their four studio albums, The Detroit Cobras have unveiled a slew of drastically underrated artists and songs through their own gritty approach. With an experienced backing band, both Nagy and Ramirez extend their love for garage rock and R&B with their own memorable interpretations. In defying the odds of what a cover band should stand for, The Detroit Cobras have been widely hailed since their debut in 1998 as arguably the most impeccable cover band of the Midwest.
Their fourth studio album, Tied & True, was released last month on Bloodshot Records. Along with contributions from guitarist Chris Cartwright (Reigning Sound) and drummer Kenny Tudrick (The Go), The Detroit Cobras have crafted their finest studio effort yet. Sounding more concise and refined than their previous release, 2005's Baby, Tied & True is the finest collection of songs that the group has chosen to cover. Clearly, both Nagy and Ramirez have a mindful ear for forgotten classics, giving those abandoned artists some much deserved publicity. Rachel Nagy's vocals are both sensual and mysterious, throwing in their own gritty stylistic approach in the midst of the masterfully executed guitar work of Amy Ramirez and Chris Cartwright. In the thirteen songs on Tied & True, not one exceeds three minutes. Indeed, the songs are short and sweet, getting to the point rather quickly. The hooks are extremely apparent and the style is very recognizable from the get-go. Despite their rough and nonchalant appearance, Nagy and Ramirez cover these romantically ingenious songs with ease and grace, with Nagy sounding occasionally as if she could have slid in with those sugary girl-pop groups of the 60s.
One of the blatant gems on Tied & True is the cover of "Puppet On A String", originally written by Ronald Davis. It moves like a song out of a Tarantino film; Nagy's vocals slide in perfectly with the flowing guitar riffs presented gradually by the devastating Ramirez-Cartwright combo. "Try Love" sounds like it could have been placed perfectly in Tom Hanks' "That Thing You Do!", that guilty pleasure of a film that fictionally chronicled a rising pop band in the 60s. Led by keys and matching guitar riffs, it is catchy and wholesome, giving off that doo-wop vibe that made Motown Records so prominent in its heyday. "(I Wanna Know) What's Going On?" is more in the mold of their garage revival originations, though it blends in a variety of rough-edged blues and R&B to compensate for any lack of character. While these three songs are just a small showing of the enjoyable composition of Tied & True, The Detroit Cobras' have crafted one of the most enjoyable cover albums I have heard in quite awhile.
——————————————————————————————
The Detroit Cobras – Puppet On A String
[audio:https://obscuresound.com/mp3/dcobras-pup.mp3]
——————————————————————————————
——————————————————————————————
The Detroit Cobras – (I Wanna Know) What's Going On?
[audio:https://obscuresound.com/mp3/dcobras-iwa.mp3]
——————————————————————————————