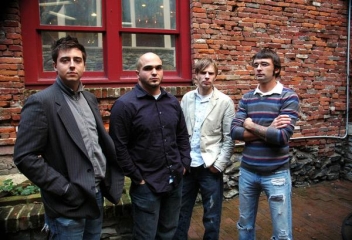 Living up to their namesake by compiling a fresh and satisfying assortment of guitar-led alternative rock, The Mint provides for a typical standard of catchy indie-rock with their four-core attack of guitars, bass, keyboard, and drums. Vocalist/guitarist Jon Decker, bassist Charlie Maxwell, keyboardist Nate Van Name, and drummer Chris Narcisi all met with an intertwined musical interest focused on the great power-pop artists of the past. With most of the members growing up in the Amish-integrated city of Lancaster, Pennsylvania, their approach appears enjoyably austere and elementary, with influences leaning toward the traditional alternative rock of the 90s with bands like The Lemonheads and Nirvana playing an influential part in The Mint's melodic composition. That being said, lead vocalist Jon Decker inherits a set of crisp vocals that establishes the band as a much more fluent and disciplined act, preparing a variety of songs that are both instrumentally concise and melodically sound. The band has been compared to the likes of Coldplay and Doves on more than one occassion and while Decker's vocals are certainly as musically impelling as Chris Martin or Jez Williams, The Mint's less ambitious and more straightforward approach offers an abridged entry into an assortment of catchy alternative rock filled with profuse hooks and memorable instrumentation.
The Pennsylvanian four-piece made their first ripples with their debut four-song EP, The Mint, in late 2003. Though the EP saw some considerable local radio airplay, it did not reach far beyond the band's local Lancaster. With a few critiques in mind, the band headed into the studio to complete their debut full-length album. Finally, after four years, The Mint will release their debut album, Love is Vapor, on June 19th. While the band is still gradually gaining a fan base on the East Coast, my judgment from listening to the album is that The Mint should have a substantial amount of national fans by the end of the year. Consisting of eleven songs that they wrote over the past four years, Love is Vapor is a very warm and agreeable debut with a respectable amount of depth filled with boisterous arena-like production and efficacious results. The album is headed by the first song and debut single, "Blurred Vision". Already in the rotation on several East Coast radio stations, including WXPN 88.5, "Blurred Vision" and "Finding New Ways" are both the epitome of why The Mint is a band to certainly look out for. This is indie-rock that contains the type of hooks that makes other bands clearly envious. Decker ceaselessly flows through the song as his lasting guitars makes a resounding effect over a well-composed and synchronous rhythm section. Name's keyboards also play a vital role, often reflecting the melody in a fashion that recalls prominent acts like The Shins or Wilco.
On the lyrical aspect, Decker's words are often filled with romanticized views of caution, wisdom, and witty one-liners. "And I don't care, it's better to sleep than live life unaware," he sings on the atypically catchy "Where Love Won't Go". "What do we need to see when you're next to me?" The question is one of the many rhetorical strategies implemented on Love is Vapor, often questioning love's value or worth, asking whether love as an emotion is as transparent as scientific "vapor". Another impressive aspect about Love is Vapor is the band's capability to turn songs that last over five minutes into radio-friendly. In addition to "Blurred Vision", the enjoyable "Stay Here" encompasses this entirely. Being a perfect example of Name's vital use of the keyboards into the band's overall composition, "Stay Here" is Decker's understanding of age-based wisdom. "When we're old and gray I guess we'll know," he sings with resounding diction."When we're old and gray I guess you'll stay here with me." Despite a few songs that lend themselves too much to a similar method of alternative-rock production, Love is Vapor is filled with memorable songs that truly embody a method in how bands aiming toward a fan-friendly sound should follow. As they slowly progress with live shows in Pennsylvania, New Jersey, and New York, I would not be surprised if the four-piece is touring nationally once their album receives some deserved recognition.
——————————————————————————————
——————————————————————————————
The Mint – Where Love Won't Go

[audio:https://obscuresound.com/mp3/mint-whe.mp3]
——————————————————————————————
——————————————————————————————