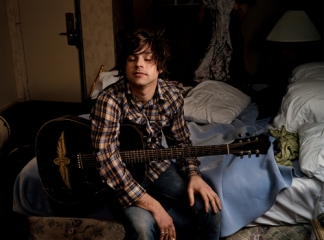 It is understandable if fans of Ryan Adams are expecting a new album every month at this point. Not only has Mr. Whiskeytown released eight albums in the past seven years, but three of those releases came in 2005. Usually when an artist shows such a work ethic, there tends to be at least one album that is somewhat of a failure, either critically or creatively. Adams has defied the odds in producing eight highly enjoyable albums that all encompass certain characteristics of style and artistic flavor. Consistency has always been key for the busy Adams, from the catchy folk-rock of Heartbreaker to the lush story-driven melancholy of 29, Adams has truly been a symbol of integrity and consistency. Many fans were shocked to hear that his ninth solo album, Easy Tiger, holds a release date that is nearly two years following his previous album, 29. Two years!? Wow. That is a hell of a wait. Well, for fans of Ryan Adams, it sure is. It is the longest hiatus for Adams during his solo career, with Easy Tiger's June 26th release date marking over eighteen months since his last solo-related release.
The wait has caused admirers of Adams to ponder whether or not a shift of style is in place. Fortunately, I have two tracks available off of Easy Tiger: "Two" and "Everybody Knows". While they are merely two-minute teasers and not nearly the entire songs, it should give most an idea where Mr. Adams is heading next. If these two songs are any indication, his continuation of a country influence intertwined with acoustic melodies, slide guitars, and the same effusive vocals that we all know and love should prove to produce an excellent album. While it is not as rough as Heartbreaker or Rock N Roll and not as sullen or story-driven as 29, it appears as if Adams may be intertwining his past experience, implementing the stylistic progression he has acquired throughout his young but prolific career.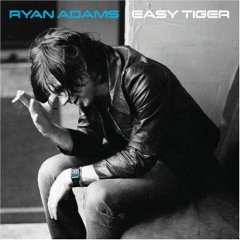 There were some radio rips of "Two" floating around but it is refreshing to have an original copy at hand. It is quite an enjoyable tune that reminds me a bit of James Taylor, Buffalo Springfield, or even a country-tinged Matthew Sweet. The song reeks of desperation and plea for mutual love. "It takes two when it used to take one," Adams endearingly sings, highlighting the natural human need for a loving shoulder to rest their head on in a time of need. Keys and acoustics are definable instances of "Two", though a faint female backing vocal in the background adds a very nice touch during the chorus, highlighting an unidentifiable duet which is appropriate considering the aided theme. It seems as if we can expect a bit more of a country influence on Easy Tiger than expected. Adams can seemingly pull it off though, along with several other genres he has attempted before, whether it was Latin-fused rock 'n' roll or piano-laden ballads.
"Everybody Knows" is another Adams song focusing on unmutual love and collective loneliness. "You and I together, but only one of us in love," sounds like a line off of 24, though the backing instrumentation hints at something more expansive and fulfilling. Acoustics play a large role in both songs and Adams appears to be at his strongest lyrically, both calling on touches of romanticism and synthetic emotion to reveal an intended vision of personal anguish. His similes and metaphors also appear to be quite consistent, whether it is comparing foolish words to the outburst of a cannon or loneliness to the barren emptiness of a canyon. He appears to be quite dedicated as usual, as Ryan Adams' message to his fans concerning his recent release was simple: "Right now it's all about the tiger." Pick up Easy Tiger when it releases on June 26th. If these two samples are any indication, we should be in for a treat.
——————————————————————————————
——————————————————————————————
Ryan Adams – Everybody Knows (teaser)
[audio:https://obscuresound.com/mp3/radams-eve.mp3]
——————————————————————————————