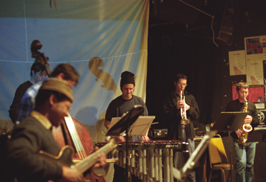 Experimental music can often prove difficult to pinpoint. After all, what specifically is considered to be the characteristic that distinguishes a style as "experimental"? Would it account for anything out of the ordinary? Exotic combinations of instrumentation? Personally, I often find myself hesitant to label any form of art with an "experimental" tag. Artists clearly have their own inherent intentions and the equatable result is usually deliberate, even if it appears to be skewed or lopsided to the majority of audiences. However, there are always those few indifferent artists who possess the courage to defy the odds and reach for a supreme plateau in innovation, knowing that while critical dismay is the most likely option, a successful result would prove to have a dramatically moving artistic impact. Who Cares How Long You Sink is a collection of musicians from Chicago who have this impressive goal in sight. Led by songwriter and bassist Jason Ajemian, Who Cares How Long You Sink began in 2001 after Ajemian rounded up a few of Chicago's most proficient musicians in hopes to create something truly memorable. They released their debut a few months later and drew some slight attention with their uniquely aspiring approach. Though the name Who Cares How Long You Sink like some offbeat post-punk project, the descriptive genre for the group is as unclassifiable as they come. Odd? Of course. Experimental? You bet. Ajemian's project sounds like nothing you have ever heard before, incorporating a plethora of different musical styles and creative traits. In fact, there are so many involved styles that, apart from a jazz influence, the origins are often indistinguishable. This may be in credit to Ajemian's diverse range, as he is also a member of Chicago-based bands Exploding Star Orchestra, Chicago Underground Trio, Dragons 1976, From Beyond, Loversrock, Lay All Over It, A Cushicle, and various others.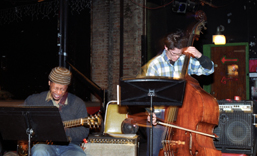 Who Cares How Long You Sink's second album, Folk Forms Evaporate Big Sky, is one of those releases that is often considered to be absolute rubbish or heralded brilliance by the masses of critics searching for next big thing in innovation. Recorded in The First Trinity Lutheran Church in Chicago, the albums consists of collaborations by thirty-one musicians. Jason Ajemian leads an orchestra full of saxophones, trumpets, harmoniums, cellos, lap steels, timpani, and dozens of others through a prolific musical journey where the group's primary motive is supposedly "an attempt at making music move at a pace that closer represents the movement and growth of nature." Nature, as it appears, is one of the slowest growing phenomenas on this planet. However, keep in mind the result is occasionally one of the most breathtaking things in human reality. The same can be said for the music of Who Cares How Long You Sink. While the approach may appear initially overambitious and at times unbearable, the constraint to pay attention to the details will result in an extremely enjoyable experience for those who choose to push aside all forms of elitism and ignorance.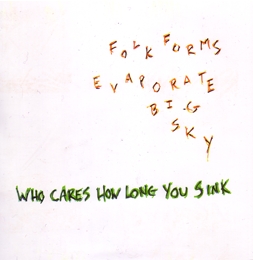 While Folk Forms Evaporate Big Sky contains a mere five songs, each one inherits enough depth and intuitiveness to express more ideas than most contemporary bands have expressed in their entire careers. While it is easy to classify several songs on the album as free-form acid-jazz, that hardly does the innovative style any justice. While traditional jazz-oriented brass instruments and scattered keys do play a large part in the general equation, Ajemian's double bass and vocal technique are also vital components. His vocals, which often resemble incoherent lyrical content through a series of falsettos, mumbles, and yelps, sets a remarkable tone for creative songcraft, showing a rare form of musical intellect that also breeds a signification of confidence. The album's most impressive track, "A Glance Shifts", begins with the sound of an orchestra building up momentum as Ajemian's frail yet forceful voice incongruously relays several mumbled words. "Just a dream," Ajemian stammers through the orchestral upheaval, "she's just a dream with eyes I can hold." Being one of the only lyrics that actually makes sense throughout the entire album, it comes at a very suitable time. Shortly after Ajemian speaks, a series of down-tempo brass instruments invades the vaguely incorporated melody, sounding like a stampede of angry elephants in such a fashion that would be reminiscent of an early psychedelic Pink Floyd song gone horribly wrong. But this is not a failed experiment at all, instead these styles of innovation are the pure intentions of Who Cares How Long You Sink. The brass instruments during this moment in "A Glance Shift" rushes in like a series of invaders against a familiar territory, deliberately sending a chill up one's spine as a sensational result of bewilderment and awe.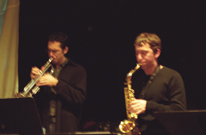 While no other track on the five-song album reaches the thrill of "A Glance Shifts", the musicianship in the serene "Like Organic Life" proves to be more suitable for those in need of a less strenuous path, sounding predominately gentler compared to the other chaotic tracks on the album in the form of "A Glance Shifts" or the colorful opener, "Leaves Rainbow". If you have not noticed by now, the names of the songs are intentionally in the theme of the band's predetermined focus on nature and its general growth and inheritance on the synthetic thought process. The closer, "Sink In The Water", is an embodiment of Ajemian's admiration for jazz. While far from your typical free-form jazz track with the latter involvement of Ajemian's unconventionally radical vocals, "Sink In The Water" incorporates a nice twist with slight touches of keys overshadowed by a large emphasis on brass and strings. Honestly, I cannot blame you if you find Who Cares How Long You Sink to be overly elaborate, as I expect listeners to be divided on these tracks by either wholeheartedly giving off a sense of binding admiration or irrefutable dislike. I just happen to be one of those few who finds the group to be extremely impressive, possessing a state of boldness to the point where they have no fear of taking risks. That is an aspect that has began to rapidly fade throughout contemporary music, making Who Cares How Long You Sink so much more than thirty or so musicians searching for the next big thing. You can stream the album for free here.
——————————————————————————————
Who Cares How Long You Sink – A Glance Shifts
[audio:https://obscuresound.com/mp3/whocares-agl.mp3]
——————————————————————————————
Who Cares How Long You Sink – Like Organic Life

[audio:https://obscuresound.com/mp3/whocares-lik.mp3]
——————————————————————————————
Who Cares How Long You Sink – Sink In The Water

[audio:https://obscuresound.com/mp3/whocares-sin.mp3]
——————————————————————————————