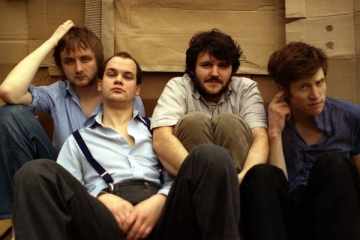 I am sure many of us over twenty can remember the leather jacket craze. The Fonz was one of the few to kick-start the fad in the late 50s and Springsteen brought it back in the 80s, along with many others. One of the few to seize the leather opportunity was the uncle of the frontman for The Rumble Strips, Charlie Waller. Seeing his musician uncle look so damn stylistic in the jacket gave Waller his first aspirations to become a rock star. "I thought I could look good in a leather jacket one day too," Waller says without a shrug. Even though the beginning to Waller's career as songwriter was fueled by superficial tendencies, he eventually moved on to the more realistic aspects when he literally fell in love with the most important aspect: the music. As a child, Waller was in awe of Lou Reed's capabilities and eventually made it his goal to become a student of good music. Going to record stores daily and often buying albums simply based on the cover alone, Waller found many respectable bands of the era like Adam & the Ants on whim. Growing up in Tavistock, a small market town in Devon, England, all his life, Waller came to the realization that his musical dreams would best be accomplished in a bustling city like London.
After his relocation to London, Waller used his degree in art school to get by as a painter and decorator. Getting a bit wearisome on the idea of having a somewhat typical job, his musical ambitions gave birth yet again when he contacted four friends from his native Tavistock; saxophonist/bassist Tom Gorbutt, keyboardist/trumpeter Henry Clark, and drummer Matthew Wheeler. I imagine having three musically inclined friends, two of which are capable brass players, has its benefits. Over the next year or so, Waller played with two bands. One was with his three friends from Tavistock, a project that they called The Rumble Strips. The other was with his roomate's band, the up and coming London-based quartet Vincent Vincent and the Villains. Alternating between each band, Waller found difficulty maintaining friendly relations with each of the somewhat rival bands. "Both bands are my best friends and it felt like I was fucking everyone over," Waller said reflectively. Being pulled to both sides like a rag doll with arms about to be torn off, Waller responded to the pressure by retreating back to his old day job of being a painter/decorator. In an act that nearly came out of fate, the Transgressive label offered The Rumble Strips a record deal and things finally began to look up. The band, who had been begging Waller to come back since his short departure, were pleased when Waller, their chief songwriter, returned with a refreshed attitude.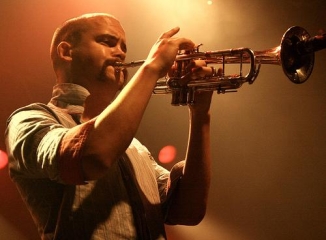 Things ignited for the band from there. They released their debut single, the wholesome "Motorcycle", and gained critical acclaim, eventually leading to a support tour with The Young Knives. Following a debut EP on a Island Records, The Rumble Strips have now completed their debut album. Produced by the prominent Tony Hoffer (Beck, Air, The Kooks) when the band recorded in Los Angeles, the title is quite ironic. Girls and Weather is the name; the two things in life that men will never be able to predict. Charlie Waller mans the guitars and vocals, demanding a presence of hollering and distinctive emotion which establishes itself as truly effective through an extremely impressive brass section. While Tom Gorbutt's saxophone and Henry Clark's trumpet play a vital role in the hooks and turns that each song takes, each of the four musicians plays a respectable part in the overall summation of a successful song. The opener to the album, "No Soul", is a collective expression under the two minutes that sums up the band's greatest capabilities. Opened up by a slithering trumpet and a few strums of an acoustic guitar, Matthew Wheeler's drums eventually signal the transition to an explosive song complemented by catchy guitar riffs and further brass arrangements, made most noticeable in mid-way through the song in the bridge that differentiates each verse.
"Girls and Boys in Love" is an excellent display of diversity. Abandoning their typical formula of brass and guitar incorporation, Henry Clark's keyboards now play a vital role with a piano riff catchy enough to bring a grin to the face of those even difficult to please. "Motorcycle" manages to be both melancholic and energetic simultaneously. "The air is nice and clean but my bicycle seat is so lonely," Waller professes over a short acoustic section of the song, shortly prior to a energetic burst of percussion and brass. "If only this bike was a motorcycle, I wouldn't be sad any more." Waller demonstrates his melodic ability at its finest level in songs like "No Soul", the breakthrough single "Motorcycle", and the irresistible "Girls and Boys in Love". Love trumpets? Check out "No Soul". A fan of sax? "Motorcycle" should be a treat for you. What about keyboards? "Girls and Boys in Love" is a fun one. It is a nice showing, being that there is something for everyone. If The Rumble Strips can express the passion and musicianship demonstrated in these three tracks to the fullest extent on the album, we could be in for another very memorable debut this year.
——————————————————————————————
——————————————————————————————
The Rumble Strips – Motorcycle
[audio:https://obscuresound.com/mp3/rumble_mot.mp3]
——————————————————————————————
The Rumble Strips – Girls and Boys in Love

[audio:https://obscuresound.com/mp3/rumble_gir.mp3]
——————————————————————————————