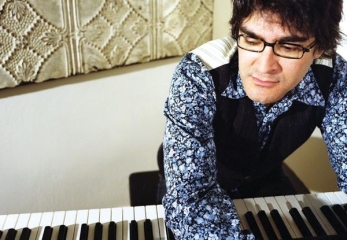 Steven Mark has always found writing any form of art to be personally natural. Whether it was the writing of a play, a story, or even a song, the esteemed graduate of Columbia Journalism School has long balanced his stellar introspective on art with his own personal artistic creations. Balancing a career between a journalist and a playwright, Mark eventually found solace in the risky but rewarding career choice of a musician. Growing up an avid music fan, Mark had a present and concise ear for melodic enjoyment, making the incorporation of instrumental and journalistic lyrical content come off as if it were a natural quality, nearly finding success in his first attempts in the music industry. His first album, Distraction, was released in 2004 to warm reviews. It made the list on several publications' end-of-year lists, bringing him a nicely attached fan base. Not wasting any time, he released his second album, Aloneaphobe, in 2005, with the lyrical content based loosely off an inspiration gathered by the cult film, "Eternal Sunshine of the Spotless Mind." Mark released his third album, Racing Grey, in May and it is beginning to gather some well-deserved recognition.
Mark has appeared to improve with each successive release and Racing Grey is no exception. This is his most mature and diverse effort, featuring songs that are both infectiously engrossing and lyrically in-depth. As far as influences go, Mark's personal nods span over several decades. Mark's love of 70s folk-rock is fully displayed through Crosby, Stills and Nash influence, whereas an admiration for the new wave/punk atmosphere of the 80s is displayed through his blatant admiration for R.E.M.. Incorporating those styles with an alternative edge more reminiscent of the 90s (Mark also lists Elliott Smith and Radiohead as big impacts), his influences shine brightly with variation depending on the song. The three songs featured off of Racing Grey that I selected all encompass a different characteristic. "Abingdon Square" immediately reminded me of a likeness to Michael Stipe, not only with Mark's brooding, nasal approach, but also the vocally melodic key change utilized in the chorus; a traditional R.E.M. trademark. Mark, like Stipe, sings of romanticized hope and melancholy, trading optimism on and off for realistic truth and informative viewpoints. "I'm dreaming of a world in which all love's forsaken," sings before the devastatingly haunting chorus. "This time I know by now to let it go."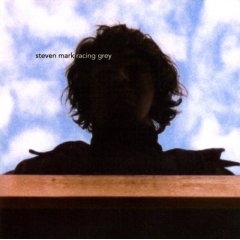 Despite his glaring admiration for artists of the pace, Mark's classification as a contemporary songwriter could not be more suitable. Even the title of "Paris Hilton Generation" is alone a cause for a chuckle, as it is true that many ignorant individuals of this supposed generation base their ideologies off of plastic celebrities who would not last a day without a limo and chauffeur. Ironically enough, in "Paris Hilton Generation", Mark sounds nearly reflective of the occasional fourth member of Crosby, Stills, and Nash. Perhaps it is Mark's spouting of contemporary issues contrasted to Neil Young's output on war that causes the resemblance, though the similar snarl and coherent honesty appears to be the most recognizable. In fact, "Paris Hilton Generation" seems like it could have fit on Young's most recent album, Living With War, if the song's lyrical outlook transitioned from sociological musings to political warfare. The only difference is the lyrical output because, simply, I could never imagine Neil Young saying something like, "you're living your Xbox American dream," or, "you log onto MySpace and you don't know who you're gonna be today." Still, Mark's "Paris Hilton Generation" is a fun little song that holds enough aggressive guitar riffs to account for boastful energy and genuine passion.
"Forever Tonight" is more in the mold of Mark's natural comprehension of the 90s alternative scene. Its presentation is more lighthearted and elegant compared to the more energetic "Paris Hilton Generation" or "Abingdon Square", but Mark manages to pull it off just as well. Electric elements are certainly noted, though "Forever Lonely" contains a large introductory emphasis on acoustics and strong vocal melodies. Racing Grey should continue to rack some good reviews and reception around Mark's current location in New York City. With some deserved luck and publicity, Mark should eventually find a broader audience as well. He certainly has the talent to do so.
——————————————————————————————
——————————————————————————————
Steven Mark – Paris Hilton Generation
[audio:https://obscuresound.com/mp3/smark-par.mp3]
——————————————————————————————
——————————————————————————————