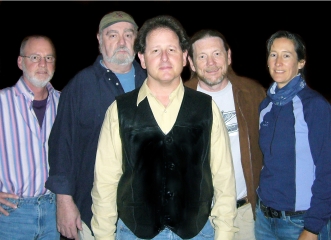 His own description of "American mutt music" fits the genre of Stuart Rosh quite well. Rarely do I find an artist that admits he is "stealing" a style from someone in particular. Well, Rosh does not name any specific artists. No, not at all. Instead, he states simply: "The idea is to steal from sounds from the 30s, 40s, 50s, 60s, and 70s of the previous century and add contemporary lyrics." This is what Stuart Rojstaczer, known by his stage name of Stuart Rosh, defines as "plain old American mutt music." A native of Milwaukee, Rosh grew up listening to a variety of styles, gaining an admiration for rock, swing, jazz, country, and virtually every existent genre in between. In fact, Rosh appears to be one of those rare individuals who appreciates literally aspect of music. From Yiddish and religious music to classical music and opera, Rosh understands that quality music can be originated from any genre. Blatantly, Rosh is the direct opposite of someone who discriminates against specific genres.
Like his childhood musical interests, the style of his musical career has shifted throughout the years with his capable backing band, The Geniuses. Rosh originally began as an alternative-country artist with his first two albums, 2004's Accept No Imitations and 2005's Hummingbirds in Flight. Over two years later while looking back on his first two albums, Rosh offers some constructive criticism of his own previous work, calling the majority of the work "three chords" with a "faux Southern accent". For him, it appeared his first two entries into the music industry were purely stemmed from his impulsive childhood love for music. Despite his apparently linear instrumental grasp at the time, Rosh displayed an impressive tendency to produce witty, thoughtful, and in-depth lyrics that were both captivating and entirely suitable in contrast to its instrumental backdrop. Several publications even went as far to compare him to Leonard Cohen or Warren Zevon, two lyricists which I personally believe are simply too untouchable for contemporary comparisons. Despite those two comparisons being quite overblown, I have to agree that Rosh is one of the best lyricists I have heard recently. In addition, his newest release, American Vernacular, offers a stunning improvement on the instrumental front.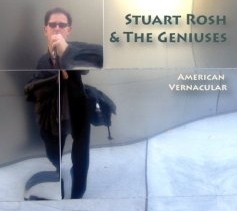 While Rosh considers his first two albums, led by alternative-country, to be a reflective image of his childhood love for music, I believe that American Vernacular is a more accurate display of his diversity. Containing a plethora of genre-related influences, Rosh's third album really jumped out at me compared to his previous releases. His vocal stylization has also improved alongside the instrumentation, offering previously unheard range and emotion. It is not difficult to compare the vocal stylizations on several songs to prominent artists, whether it be Sinatra on the soft key-laden "Schadenfreude" or the slight resemblance to Randy Newman in tracks like "Extra Read All About It" or the Southern flavor of "Loneliness & Gin", featuring the spicy fervor of accompanying strings. Each song is supplemented by a fascinating story and often hilarious lyrical lines. The humorous opener, "Eat At Home", muses about the temptation of adultery, bringing up some popular idolizers like Johnny Depp and Denzel Washington. "Don't matter where you get your appetite, just as long as you eat at home," Rosh sings half-grinning, deeply crooning clever line after clever line. "Even a dog knows where to bury his bone, you can save a lot of trouble if you eat at home."
The saxophone contained in the introduction of the standout "Black Cherries" reminds me quite a bit of Springsteen and Southside Johnny, two artists who, being a New Jersey native, I have had the fortune of seeing several times. This is another example of Rosh's musical expansion, showcasing a form of progression that is both enjoyably respectable and admirably progressive. "Extra Read All About It" is another notable track off of American Vernacular, being a traditional love-at-first-sight tale, reliving the first time a married couple of fifty years met. With its guitar twangs and infectious chorus, it is a heart-tugging song to remember. Still, Rosh's good humor and impressive wit is not forgotten. "When you fall in love the world moves faster, it's like Jimi Hendrix on a Stratocaster," Rosh fits in the midst of a romanticized story-tale, somehow making it suitable enough for proper emotional impact. If the witty Jarvis Cocker was a bit less perverse and of American descent, Rosh's comparison to Cocker would be highly evident. It is a bit ironic that Rosh sings on the ballad, "Little Egypt", the specific line: "I'm not one for nostalgia." For a man who borrows so many influences and rants about Amazon's recent switch to MP3 sales, Rosh seems too enjoyably old-fashioned to abandon fine nostalgia.
Simply put, Rosh's American Vernacular is an unpredictable gem. Lyrically, he relives accounts of childhood on songs like "Beats the Hell Out of Me" ("When I gave him reports cards I knew was damned, he handed them back with the back of his hand"), true love in the fantastic "Extra Read All About It", heartbreak on the dramatic power-pop of "My Beautiful Ideal", and even the origination of the word "Schadenfreude" (German word meaning "the pleasure taken from someone else's misfortune"). Instrumentally, outstanding brass sections are complemented on the album in "Black Cherries" and "You Take Me" with the the impeccable guitar progressions contained in "My Beautiful Ideal" and the bluesy "Something Upstairs"; not to mention several enjoyable bar-room ballads featuring impressive piano arrangements. Rosh can seemingly transition his vocal style with comparisons to Frank Sinatra, Randy Newman, and even Craig Finn in an instant depending on the song, establishing a formula that will find difficulty getting tiresome. While I doubt that American Vernacular will receive much radio play or recognition due to its throwback sound, it is an extremely enjoyable album. You will not find many others this year that mixes lyrical ingenuity with instrumental brilliance in such a passionate display.
——————————————————————————————
Stuart Rosh & The Geniuses – Black Cherries
[audio:https://obscuresound.com/mp3/srosh-bla.mp3]
——————————————————————————————
Stuart Rosh & The Geniuses – Extra Read All About It

[audio:https://obscuresound.com/mp3/srosh-ext.mp3]
——————————————————————————————
Stuart Rosh & The Geniuses – Eat At Home

[audio:https://obscuresound.com/mp3/srosh-eat.mp3]
——————————————————————————————