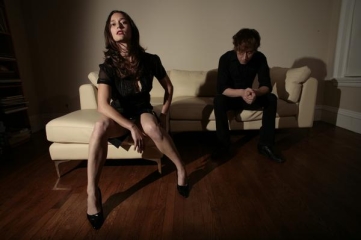 There were never too many bands who took their names literally. The Smashing Pumpkins never smashed pumpkins, Super Furry Animals were merely men, and Little Richard is taller than the average American. However, there tends to be an exception for The Lovemakers. Yeah, you guessed it. They make love. Well, the two founding members – Lisa Light and Scott Blonde – did anyways. When the two met in California in 2002, they were immediately inseparable. After their fateful first meeting, Light left her previous boyfriend (Blonde's manager) for Blonde. Something tells me that Blonde hired a new manager since then. Either way, Blonde recruited Light to sing in his previous band and the two were shortly kicked out for disturbing the artistic process (making out) too much during practice. I personally thought that sort of stuff ended in high school but I could be wrong. So, after the whole band thing didn't work out they started watching Japanese porn together and ended up viewing a flick called "The Weird Lovemakers". I suppose you can figure out now where they got their name from. In a nutshell, that is how The Lovemakers were formed. From their practice/make-out sessions to Japanese porn, their originative tale is a breath of fresh air when compared to the masses of bands who give the usual chit-chat about how they met in high school over a love affair for Led Zeppelin. Even better, The Lovemakers' unique story is nearly as entertaining as their music.
When they released their self-titled debut EP in 2003, their local Oakland fan base took quite well to it. Displaying a collection of fun, catchy songs, The Lovemakers were immediately propelled into being one of the most likable bands out of the Bay Area. The factor of likability scored them a deal with Interscope as they began preparations for their sophomore follow-up. During that time, pressure caved in and damaged the duo's personal relationship as Light and Blonde broke up shortly thereafter. I am not sure of their current personal status but, honestly, it really does not matter all. The band still has more chemistry than the majority of other acts giving it a go these days. Platonic or not, everything will still sound perfectly enjoyable to the listener. After the break-up, the duo pushed on professionally in the production of Times of Romance and tentatively added keyboardist Jason Proctor and drummer Josh Freese to the lineup. Times of Romance was even more successful than their debut, this time finding a newly energized fan base outside of California. With an emphasis on naturally executed pop hooks, disco revival, and a fondness for 80s music, the sophomore album scored with hits like "Shake That Ass", a nearly satirical dance track poking fun at 50 Cent's song of the similar name. Regardless, it was a properly formulated display of The Lovemakers' diversity, charm, and sheer wit. They remain arguably one of the only acts around who can pull off 80s power-pop just as flawlessly as a contemporary fusion of dance and hip-hop.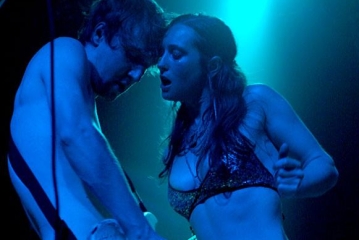 With both of their albums getting progressively better with each release, there remains much guarded anticipation for The Lovemakers' third album, Misery Loves Company. Just as the title describes, there is a lyrical focus on downbeat romantic situations and, as we know, both Light and Blonde have plenty of experience in that department (even though they remain good friends). Even with the pessimistic lyrical outlook, the actual instrumentation in Misery Loves Company remains energetic and lively, much like their previous two releases. Following the departure of Proctor and Freese, keyboardist Brandon Arnovick and drummer Kenneth Hard have vacated the empty positions. Light and Blonde continue to profess their own love for the 80s, scattering glimpses of synth within several key tracks, though the songs on Misery Loves Company sound crisper and more well-balanced than their predecessors. The opening title track is the best thing that The Lovemakers have done in their six years of existence. Light controls the track vocally, enhancing an admirably eminent melody as a sparkle of synths and upheaval of vocal emotion signifies a chorus that appears prime for excessive airplay. Like their previous releases, Light and Blonde both sing on a variety of tracks. With duets being rare, their vocal appearances are often singular and unaided. The first single off of Misery Loves Company, "Whine & Dine", is from Blonde's department. Because both of their vocal styles are fairly similar in terms of range and pitch, the glamorously satisfying pop feel of the album is not hesitant and generally consistent despite the occasional vocal hand-offs. The only unfortunate thing about Misery Loves Company is that it only features five new songs.
"Whine & Dine" is yet another song on Misery Loves Company poised for commercial success. "You'll spend my money Monday through Sunday," Blonde appears desperate for sexual compensation over a slew of slick guitar riffs, "If I don't get some now we're through." Light echoes a more romantic, though similar sentiment on the sensuous ballad, "Naturally Lonely". "Make time rewind. Fuck all the damn time. I loved you only," she sings just as convincingly. "Now my head keeps its own company." From the introductory blaring synth pad to the soaring guitar solo in the fading conclusion, "Naturally Lonely" has all the structural similarities to the power ballads of the 80s that we all knew and loved, whether we considered it a guilty pleasure or not. Even with all these 80s comparisons, The Lovemakers remain a successfully contemporary band whose fervor for the decade remains to be seen exclusively as a beneficial factor. In fact, if you placed The Lovemakers in any decade, it would nearly be a sure thing that listeners would fall in love them. Headed by "Misery Loves Company" and "Whine & Dine", The Lovemakers have a couple of fantastic singles that should serve as definite boosters to their national recognition. With all this talk concerning The Lovemakers' sex appeal and new-wave revivalism, I remain hopeful that the general audience will continue to admire their delectable style of songwriting.
——————————————————————————————-
The Lovemakers – Misery Loves Company
[audio:https://obscuresound.com/mp3/lovemake-mis.mp3]
——————————————————————————————-
——————————————————————————————-
The Lovemakers – Naturally Lonely

[audio:https://obscuresound.com/mp3/lovemake-nat.mp3]
——————————————————————————————-