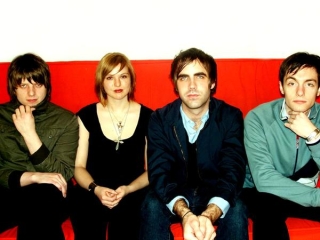 Ah, Phil Spector. You just have to love the guy. Whether it is his influential production technique found within the "Wall of Sound", his indisputable influence on contemporary music, or his infamous hairstyle in the courtroom, Spector is a figure whose impact will live on long after his eventual death (or murder conviction). While Spector's efficacious "Wall of Sound" method of production has been subdued over the years due to the preference of stereo channels, his utilization of echoed strings, orchestral power, and integrable guitars still resonates prominently as a large influence for several new artists. Even so, I rarely hear a band that uses it as successfully as Mono in VCF. Hell, it sounds like only Spector himself could do a better job producing the gripping style found within their tracks. The five-piece knows this just as well and proudly promotes it in the "Mono" aspect of their name, deriving from Spector's ability to make the most out of mono recording. Since stereo channels were first distributed in 1958, they did not become overwhelmingly popular until the the 70s. In the 50s and 60s, Spector managed to revolutionize music production using only mono. Whereas orchestral accompaniments in previous songs by other producers sounded flat, Spector managed to invigorate the concept with a whole new life through a variety of techniques involving reverb and echo chambers. While Mono in VCF do not go as far to involve mono channels, the influence that Spector has had them makes their sound richly enjoyable. However, do not let that mistake you. Mono in VCF are one of the most original bands I have come across in quite some time.
If you were wondering about the "VCF" aspect of their name, it stands for "voltage-controlled-filter". For those who are a bit perplexed on the technical terms, it is merely a feature on the majority of Moog synthesizers, another instrumental aspect that is implemented into their style. So, does Mono in VCF manage to incorporate both the "Wall of Sound" and synthesizers into their sound successfully? You bet. While it is entirely possible to compare lead vocalist Kim Miller's fervently brooding vocals to the those of Goldfrapp and Sarah Nixey or to liken Mono in VCF's dark and mysterious use of strings to Björk's more illustrious material, their conclusive stylistic result remains entirely innovative. While they do borrow several components from respectable artists of the past, Mono in VCF's mixture of these components is what separates them from the masses of indifferent pop bands polluting the music industry. In fact, Miller's vocals allow the suitability of the band to range dramatically. Songs like "Escape City Scrapers" could fit in a 60s spy film just as effectively as it would in some Ferrari commercial, giving off a vibe of seductive luxuriousness with Miller's formidable vocals clashing with chilling strings in being the two most conspicuous factors of irresistibility. In fact, it sounds like it would fit perfectly in a Tarantino film with its throwback vibe and vividly depicted emotional baggage. "In an age of decay in the city, I waste my hours away," Miller soulfully yearns, depicting urbanization as a melancholic symbol of conformity and greed. "The friends I don't need won't see me but the rainclouds seem to stay."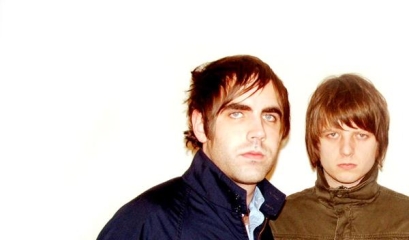 The lead songwriter for Mono in VCF is multi-instrumentalist Hunter Lea, a skilled musician who grew up admiring the lavish string-induced styles of Scott Walker and The Delfonics, the latter being the prime influence for the breathtaking "Spider Rotation". Based out of Tacoma, Washington, Lea began performing with eventual bassist and co-songwriter Jordan Luckman when they were 17 after discovering a mutual admiration for The Beatles. When Mono in VCF began to establish themselves in 2005 with the release of their debut EP, The Voltage Control EP, their vocalist at the time was Charles Perales. Luckman described Perales to me as being a tremendously skilled singer with a vibrato reminiscent of Scott Walker or Tom Jones. After Perales made the unfortunate decision in 2006 to leave the band due to creative differences, the vocal duties were handed over to Kim Miller as the remaining members began to head into a direction that was more distinctive of psychedelic pop. Despite Perales' notable contributions to the band's sound, Miller seems like the perfect fit for this type of production. Her deeply resonating vocals are in a mold that is nearly extinct, flawlessly expelling tales of story-like lyrical narrative as they integrate seamlessly into the ornate backing instrumentation orchestrated by Lea, Luckman, guitarist/keyboardist Dylan Taggart, and drummer Jason Falk.
Considering that Mono in VCF are one of the most enjoyable bands I have listened to this year, it eludes me why they remain unsigned. It should only be a matter of time though. After all, the great Jarvis Cocker is a personal fan. Last April, he hand-picked Mono in VCF to open for him when he played in Seattle. Considering Jarvis' recent flair for orchestral accompaniments and darkly dramatic attachments on his solo album, I could not have picked a more suitable opener myself. Not often do you hear artists who appreciate and incorporate the stylistic vein of more under-appreciated artists like Scott Walker, The Delfonics, or other hidden gems from the late 60s as well as Mono in VCF do. With their debut album nearly completed, Mono in VCF continues their search for an appropriate label. Whichever lucky label scoops them up first will likely find immediate satisfaction because, quite bluntly, Mono in VCF are in a league of their own.
——————————————————————————————-
Mono in VCF – Escape City Scrapers
[audio:https://obscuresound.com/mp3/monoin-esc.mp3]
——————————————————————————————-
——————————————————————————————-
——————————————————————————————-