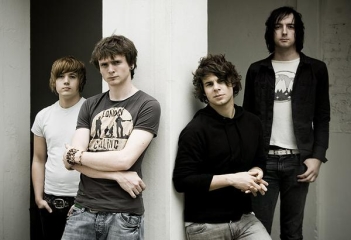 Can this acclaimed four-piece from the UK live up to hefty expectations on their debut? Through powerful, piano-led melodies, the result is satisfying enough.
Air Traffic
Fractured Life
(EMI)
US release date: 14 July 2007
UK release date: 2 July 2007
My PopMatters Review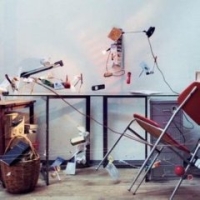 by Mike Mineo
Hype has a fascinating way of integrating itself into music. It can carry an artist to the heights of success on expectations alone while simultaneously possessing the power to cause a widespread consensus of disappointment, leaving little room for error or artistic experimentation. While the United States and the UK have both recently generated plenty of reputable indie-rock artists who have risen through such commercialized ranks, it is the indie artists from the UK who have seen the most significant form of national publicity. Since the dawning of this decade, arguably every year has witnessed a new act emerging from the UK with a swarm of persistent press by their sides, despite the fact that the majority of these artists had only released one or two songs prior to their global exposure. Such sentiments display the modern importance of a stellar single, often so irresistible that the band hopes that the audience will buy the album just for it in particular. From Bloc Party to the Arctic Monkeys, the recently dubbed "art-rock" explosion has seen artists latch on to the revolving door of what appears to be the most profitable stylistic trend of the moment, often spurring successes based on their rampantly widespread approach alone.
Air Traffic, a quartet from Bournemouth, are the latest in a string of British artists to revel in this form of marketed glory. Their formulaic symptoms for success are highly evident. Apart from the fact that they have drawn critical comparisons to two of Britain's favorite sons in Radiohead and Muse, Air Traffic already have two acclaimed singles on top of the UK charts, a record deal with a major label, and a slew of enthusiastic acclamations from the likes of Steve Lamacq and Jools Holland. What else could an up-and-coming British band ask for? For Air Traffic, several claims of diversity would be helpful. In an effort to distance themselves from the guitar-happy approaches of fellow contemporaries in the vein of the the Rakes or Kaiser Chiefs, Air Traffic takes pride in a technique that relies significantly on the use of piano. As their anticipated debut, Fractured Life, displays, the approach provides for a sense of fresh excitement in the midst of a scene where other repetitive artists rely on agitated guitar chords and habitual rhythm sections for a passionless effect.
From the initial listen, frontman Chris Wall appears to be the driving force behind the band's excitably stimulating sound. Apart from his imperative piano work and guitar contributions, Wall possesses some of the most powerfully diversifying vocals I have heard all year. Suitable for both invigorating arena rock and sweeping emotional ballads, the vocals transition themselves amicably between each track. Though the comparisons to Coldplay's Chris Martin on piano-oriented tracks like "No More Running Away" or the exceptional single, "Shooting Star", will likely be the most illustrated among critics, likenesses to Sigur Rós' Jónsi Birgisson or Muse's Matthew Bellamy remain more subtly effective in nature. "Empty Space", one of the most touching tracks on the album, is accompanied solely by Wall's vocals and his distinctive piano-laden melody. Though the track is minimal in production and instrumentation, the sheer power of the melody and lyrical delivery provides for more than enough satisfaction. Wall's falsetto demonstrated in the hearty chorus reaches a pitch that only falls short to the likes of Birgisson or Bellamy, aided even more dramatically by Wall's compelling piano usage. If Air Traffic ever deteriorates for some reason, Wall would most likely be more than content as a solo artist who incorporates nothing but his efficacious vocals and his piano skills into his repertoire.
Despite the heavy involvement of piano throughout the album, Air Traffic also demonstrates on Fractured Life that they can express quality in a more conventional manner. In fact, their breakthrough single, "Charlotte", relies more vitally on guitars than any other instrument available. Showing a keen ear for infectious riffs, Wall confidently and fervently bursts through a series of consecutive hooks, primarily drawn out by an ecstatic chorus in which Wall exclaims, "I'm wasted, face down on the floor, can't take any more". As elementary as the lyrics are, the song remains a foot-tapping thrill ride, drawing likable comparisons to the Futureheads and Hot Hot Heat both vocally and instrumentally. Apart from the irritably uneven "Get in Line", it is the only track on the album that lacks prominent piano use. The other single, "Shooting Star", implements both the use of guitar and piano seamlessly, being an indication of how Air Traffic performs when they are rolling on all cylinders. Though Fractured Life takes the predictable route by showing its weakness on the last several tracks on the album, it remains an impressive debut largely in part to Chris Wall's eclectic vocal and piano use. While Air Traffic may initially be looked on only as a quality singles band with exceptionally infectious gems like "Shooting Star", several tracks like the emotionally drawing "Empty Space" provide for a sense of genuine songwriting that very few artists in Air Traffic's niche can accomplish with as much resonance.
——————————————————————————————-
——————————————————————————————-
——————————————————————————————-
——————————————————————————————-