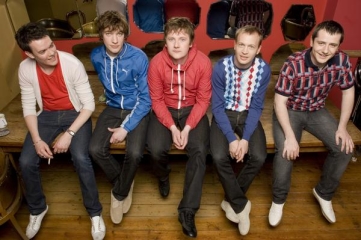 Sub-genres are a tricky thing to analyze. It seems that any individual can coin one, from a music theory professor to a 15-year-old ranting on some message board. It's funny – I personally know a few people who utterly ignore sub-genres out of pure scorn for the strain of its initial comprehension. Is it a tool for overly creative music critics? A way to concisely classify a new band? Or maybe it's just a ridiculous attempt to sound knowledgeable? Whatever way you look at it, it is difficult avoiding the likes of "art-rock", "psy-trance", or "hypno-pop" if you regularly engage in conversation regarding contemporary music. Though it may seem like cutting larger genres (rock, pop, jazz, funk, etc.) into absurdly smaller slices to those who hold a fair amount of contempt, I don't mind it that much unless it transforms into something like "breakbeat-electro-freeform-clown-falsetto-pop"; an example that, rather gruesomely, sounds familiar to the lot of us who have witnessed a write-up where a newly created sub-genre seems just as excruciatingly drawn out. I try to avoid such exaggerated tags in my own writing, but it appears that some bands won't have it any other way.
Baggy? I must have missed that one when it rolled around the UK in the early '90s. Though I had always listened to the likes of The Charlatans, Ocean Colour Scene, and The Farm with pure delight, I never had any idea that "Baggy" was the apparent sub-genre that onlookers preferred to use. "Brit-pop" was always good enough for me. Now seeing that it derives from the more frequently used "Madchester" classification, I suppose it makes more sense. A lovable mix of aforementioned Brit-pop, psychedelia, funk, and '60s pop… yeah, I guess "Baggy" works in its own entitlement of the word "loose" where several genres are integrated fluidly and freely; loosely defined, indeed. And what led me to all this rambling? The Twang, of course. When I read any article about them, the words "Baggy" and "Madchester" went hand-in-hand, nearly proclaiming the five-piece out of Birmingham, England as savior revivalists of such a lost sub-genre. While initial listens may prove hard in the task of separating The Twang from the masses of British art-rock hopefuls, there are those occasional shades of jangle-pop, psychedelia, and Brit-pop that makes the "Baggy revivalist" tag at least a bit justified.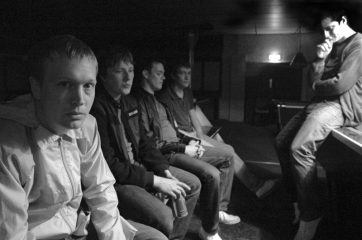 Formed in 2004 by a couple of lads who were tired of over-financed pop sensations, The Twang are composed of gritty talent, prime innovation, and not much else. With most of the band's members growing up on the less glamorous side of Birmingham, there are no false identities hiding behind the band's sound. "We're normal lads instead of some little posh div," lead singer Phil Etheridge told the BBC, "I ain't going to sing about rivers, man. I don't live by a river. I live by a canal and there's bikes in it." The "everyman" mentality that Etheridge employs in his lyrical delivery has already won over a cult following of fans who discovered The Twang very shortly after their formation, back when they were called "Neon Twang". Like most successful British bands these days, The Twang were hyped by the press before they had even signed to a label. Now housed on B-Unique Recordings alongside the likes of Kaiser Chiefs, Hot Hot Heat, and Alkaline Trio, the future is looking bright for The Twang. Oh, did I forget to mention that they were on the cover of NME in April and won the "Phillip Hall Radar Award" at the 2007 NME Awards? Despite how easygoing NME has been in the past several years, the hype this time seems to be warranted.
Whether their astronomical sales can be accredited to a magazine's acclaim, nonstop airplay, a memorable stage presence, or a bit of everything, The Twang's debut, Love It When I Feel Like This, now sits atop the UK charts at comfortable #3. Released in early June, it continues to hold its own in being led by the enormous singles "Wide Awake", "Either Way", and the recent "Two Lovers". The single for "Two Lovers" was released today, featuring the sparkling b-side "I'll Upset You" and a Mint Royale remix of "Two Lovers" in addition to the title track. You know a young band has potential for greatness when their early b-sides are album-quality material. "I'll Upset You" epitomizes this wholeheartedly. Etheridge delivers his usual snarl during a reverb-filled verse, later to be uplifted by a more sympathetically reposeful chorus that serves as a highly gratifying hook with its guitar-led orchestral denouement. Mint Royale's remix of "Two Lovers" is also a pleasant surprise, granting a newly acquired emphasis on electronica with the utilization of rapidly shifting percussion, glimmering keys, and fresh guitar lines. The Manchester-based producer Neil Claxton churns out a remix that I find even more enjoyable than the catchy original. The Twang's next single will be the opening track from Love It When I Feel Like This, "Ice Cream Sundae"; set to be released this October.
I fully recommend Love It When I Feel Like This to all those who basked in the glory of the '80s "Madchester" scene. Unforgettable tracks like "Either Way", "Reap What You Sow", and "Push the Ghosts" hearken back to a time where acts like Squeeze, Happy Mondays, and the Stone Roses reigned doubtlessly. Etheridge's snarling delivery does additional justice in separating The Twang from other mindlessly repetitive British acts, as The Twang flawlessly incorporates elements of contemporary art-rock while simultaneously keeping the jangle aspects of the "Madchester" and "Baggy" eras in tact. Even if you find Etheridge's vocals too conventionally overbearing, there is no denying the excellent guitar-oriented production in stunners like "Push the Ghosts". Moments like those make it no surprise that The Twang finished second (behind Mika) in BBC's "Best New Talent of 2007" poll, where 130 respected UK-based critics and broadcasters were involved. Mindless sub-genres aside, their stylistic momentum and ability to create powerful hooks are what makes The Twang a band to look out for in 2007 and beyond.
——————————————————————————————-
——————————————————————————————-
The Twang – Two Lovers (Mint Royale Remix)
[audio:https://obscuresound.com/info/twang-twor.mp3]
——————————————————————————————-
——————————————————————————————-