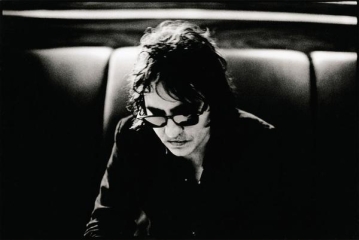 Collecting every morsel of musical output from a band can be a particularly grueling, though often rewarding, task. While I am not referencing a fandom quite as severe as the "Deadheads" or any other group of aged souls lost in a certain time period, there comes an artist every so often in where I find myself in a state of complete infatuation. Since I was too young in the '80s to even know what music was, my first traces of obsessive fanfare came in the mid '90s when Jarvis Cocker's Pulp broke out. Even as they continued to release albums, I was so enthused with the group's ability that I felt the need to tame my hunger for material of any kind. Considering that I desperately collected every a-side, b-side, live set, or unreleased material in reachable existence from the Pulp's expanding catalog, it was predictable that I became interested in the solo output of Pulp's former guitarist, Richard Hawley. Always an enigmatic presence both in studio and on stage, I knew it would not be unrealistic to expect quality from the Sheffield native. Hawley's first solo album, a self-titled release on Setanta Records, was released in 2000 after Pulp had already achieved the status in England as one of the greatest acts of the '90s. Though Cocker's form of songwriting and delivery was too distinctively British to ever chart highly in the USA, both Different Class and This is Hardcore reached the #1 spot in the UK on separate occasions.
As Pulp began to prepare their seventh (and perhaps final) album, We Love Live, for release the following year, Hawley had a substantive fan base of sorts anticipating his solo material even before his first release. With Jarvis urging him to release the debut, Hawley's self-titled debut was released in 2000 with minimal sales but warm applause. His next two albums, Late Night Final and Lowedges, saw the same sort of odd behavior. Though his material had been praised by the likes of Thom Yorke and R.E.M., it had yet to find a larger audience apart from the masses of Pulp fans who had maintained an interest. When Setanta dissolved in 2004, Hawley signed to the larger Mute Records, a subdivision of EMI. His first release on Mute was Coles Corner in 2005, an album that finally saw Hawley's exposure gaining more momentum. In addition to being nominated for the 2006 Mercury Music Prize, it sold fairly well compared to his past releases and garnered six successful singles, including the exceptional "The Ocean" and "Hotel Room". Produced in a joint effort by Hawley and Colin Elliot, the impressive Coles Corner remains my favorite release from Hawley. With such a high standard in place, it set up great anticipation for Hawley's next release.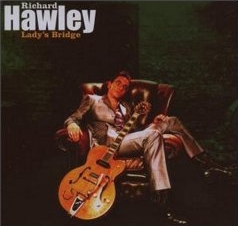 When Hawley's fifth album, Lady's Bridge, drops on August 20th in the UK, fans are expecting to be embraced with the same sort of quality that Hawley has demonstrated in the past several years. After all, he has yet to release one dud in his seven-year solo career, with even his earlier albums containing the mark of a distinguished songwriter. Already scoring great reviews from the likes of NME and BBC, hopefully some American outlets can pick him up soon enough. However, though Lady's Bridge is arguably the embodiment of Hawley's finest material to date, I doubt that his reputation in the States will be more prominent when it releases overseas on October 9th. Like his close friend and collaborator Jarvis Cocker, Hawley's work remains most appealing to an English audience. His lyrics reflect the English lifestyle to a sympathetically engaging effect, often using native landmarks of Sheffield in naming his album and song titles. Like Coles Corner borrowed from the the corner of Fargate and Church Street in Sheffield, the title of Lady's Bridge is similarly in form of a tribute to Hawley's native city; Lady's Bridge is one of the oldest bridges in Sheffield. While calling him the British version of Springsteen would be too desperately linear, Hawley reflects the same working class atmosphere while simultaneously retaining a sense of pride. Despite how famous or profitable he may eventually become, it is inherently respectable that Hawley will always maintain a sense of acknowledgment to his originative roots.
Though I have yet to listen to Lady's Bridge in complete detail, it is rather blatant that it is one of Hawley's best. The first single, "Tonight the Streets Are Ours", is one of the most enchanting tracks Hawley has written, sparkling in elegance under layers of keys, strings, and Hawley's deeply luxurious vocals. While most of the album is majestically restful in pace, "Tonight the Streets Are Ours" is more characteristic of Hawley's catchier, faster-paced side. Though such songs are impressive in their own right, I have always been a sucker for Hawley's classier ballads. The self-titled track, "Lady's Bridge", nears absolute perfection. Both epitomizing Hawley's genuine lyrics and somberly heartbreaking instrumental prowess, it my favorite track on the album. "Take me with you when you go, it's the only place I know," Hawley speaks of the infamous bridge, symbolizing the crossing between childish dreams and realistic opportunities. "We lost the dreams that we once had, how did our lives turn out so bad?" he questions emphatically, crafting a devastatingly emotional hook over the drowsy groundwork of keys and reverbed guitars. In the similarly adjusted "Roll River Roll", Hawley establishes an impeccable relationship between strings and keys, a compatible collaboration that is repeated with joy throughout the album. Such moments serve as justification in Hawley's standing as one of the most consistent musicians of the decade. Though he often goes overlooked as a proficient solo artist in favor of "that guitarist in Pulp", Hawley's Lady Bridge is an elegantly crafted effort that proves to be his finest yet.
——————————————————————————————-
Richard Hawley – Lady's Bridge

[audio:https://obscuresound.com/mp3/hawley-lad.mp3]
——————————————————————————————-
Richard Hawley – Tonight the Streets Are Ours

[audio:https://obscuresound.com/mp3/hawley-ton.mp3]
——————————————————————————————-
Richard Hawley – Roll River Roll

[audio:https://obscuresound.com/mp3/hawley-rol.mp3]
——————————————————————————————-