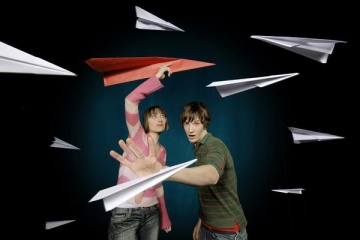 If it were not for the references to ICQ, Facebook, and other forms of technological social networking in the geekily titled "The Only One I C++ is U++", it would be rather difficult for first-time listeners of The Superfantastics to classify them in accordance to a specific time period. At some moments sounding like a group of pop phenoms from the '60s and at other times rubbing off an angsty fling of contemporary indie-rock, the excitably concise duo from Nova Scotia relays a style that borrows an equally favorable share of warmly blended '60s sunshine-pop, '80s new wave, and '90s power-pop. Whichever form of pop music shines through the most prominently varies from song to song, with names like The Beach Boys, The Feelies, and The Rentals being the most blatant in regard to their singularly comparative influences. The Superfantastics are quite impressive in their integration of throwback and modern stylistic tendencies alike, gathering various musical forms over the duration three different decades into one, wholesome sound. It is also impressive that only two individuals are involved in the efficacious songwriting process of The Superfantastics. I suppose you could liken their lineup form to the White Stripes (without the blues influence and jaw-dropping guitar solos), as Matt MacDonald is the lead vocalist and guitarist while Stephanie d'Entremont plays drums and chirps in with occasional backing vocals. While their lack of exposure to bass certainly delays the vibrancy of the rhythm section, instrumental diversity is hardly an issue when The Superfantastics create pop hooks so gripping. Additionally, drums and guitars are far from the only instruments in their arsenal. Keys are the most vital instrument in the aforementioned "The Only One I C++ Is U++", frequently appearing in synth-like tones throughout the majority of The Superfantastics' full-length debut, Pop-Up Book. That is hardly an issue though; even if MacDonald and d'Entremont had nothing but a beaten-up acoustic guitar in their hands, their irresistible melodies are the main reason why they are considered to be one of the most anticipated Canadian acts of 2007.
Audiences first began to take notice to The Superfantastics in early 2006 when they released an introductory EP, Like Letters. Only a few months later, they had earned a considerable fan base around Halifax with Like Letters receiving bountiful praise and substantial airplay. Even MuchMusic, arguably Canada's largest music-related television channel, was impressed by the EP when they aired "What Will You Do Know?" on "The Wedge", a show on MuchMusic that airs midnight on Fridays and features a revolving array of music videos, both old and new. Looking at MuchMusic's web site, I can't help but feel a bit jealous. As a casual viewer of American television, I am usually forced to succumb to either MTV or VH1; two stations too wounded up in trashy reality shows and commercialized emo-rock to recognize quality music. Looking at the most recent playlist from "The Wedge", they feature the likes of Suede, Chromeo, and Shout Out Louds without a hitch. The chances that even one of those skillful bands would appear on either MTV or VH1? Not in this dimension. Such is the reason why The Superfantastics actually benefited from MuchMusic's exposure, leading to the anticipatory release of their solo album, Pop-Up Book. With an upbeat, summery sound complemented by modernly sympathetic lyrics, Pop-Up Book should eventually push The Superfantastics into a more nationally responsive spotlight.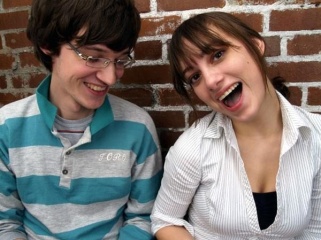 The first thing I noticed about Pop-Up Book, even before its captivating melodic purpose, was its overall duration. Consisting of 10 songs stretching across 26 minutes, the short length of each song made eve abruptly satisfying, leaving a yearning hunger for more of the same quality. However, if any of the songs on Pop-Up Book strayed even one minute longer, they would likely overstay their welcome. While The Superfantastics' harmonies are far from being tedious or formulaic, they are presented in a very straightforward form. Barring the lyrical transitions, repetition has proven to be key for the snappy duo in their traditional structural delivery. Conventionally throughout the ten songs on Pop-Up Book, a verse and chorus are repeated twice with dashes of instrumental additions (often in the form of guitars) or shifts in vocal range and emotion. Demonstrating range and ardor in both his lead and reflective backing vocal spots, MacDonald's nonchalant, breezily transcribed vocals are perfectly befitting for the duo's buoyant display of throwback pop. d'Entremont certainly plays her role with charm as well, not missing a rhythmic beat while adding a slew of vital backing "la-la-la-la"s in the album's premiere single, "Countdown". She lands in a similar in the finale, "Late Night Phone Calls", as she lusciously coos behind MacDonald's leisurely vocals and soothingly whirring keys. She is also quite skilled at Guitar Hero, defeating Paul Murphy of Wintersleep in a two-on-two competition. Though both MacDonald and d'Entremont were presentable, neither of them were a match for Tim D'Eon's swift fingers. Dammit, getting off-topic like this makes me sound like an announcer for a Guitar Hero competition. What a low, albeit fun, job that would be. Anyways, back to the album…
Oddly enough, the most enjoyable song on Pop-Up Book is the most bizarrely titled. With a name that only computer programmers would chuckle at, "The Only One I C++ is U++" is the setting of a love story set in our technologically enabled world. "We speak in programming languages, it's been so long since I've been outside," MacDonald sings over a beautifully simplistic piano-based melody. "You look me up on ICQ, I haven't logged into that since 2002. You added me into your top eight friends, and now I stalk you on Facebook." As weird as the lyrics may be, they are certainly original enough for the listener to allow at least a morsel of sympathy for the pale, socially dejected narrator in search of that "perfect" someone. But as MacDonald displays with his red "Internet" shirt in the video for "Countdown", is this perhaps a subtle autobiography? Just as comically, the two members of The Superfantastics also seem to have quite an admiration for anything Michael J. Fox put out in the 80s. After they proclaimed that "The Superfantastics are the Alex P. Keaton of the indie-pop scene. Small in size, big in heart and adorable in a sweater-vest" on their MySpace page, I noticed that one of their songs was named after one of Fox's most memorable roles. Though "Back to the Future III" represents the most lacking of the three movies, The Superfantastics do it great justice. In keeping with the third movie's wild-west theme, the introductory guitar echoes that of a spaghetti western, even if MacDonald's lyrics are obviously more keen on 80s pop culture. "Wanna go, wanna go but the engine won't turn, forgot the flux capacitor," he opens the song up, later admitting that he "is so sick of modern times". As if it wasn't obvious by now. Both chameleons of several different musical decades, both musically and lyrically, Matt MacDonald and Stephanie d'Entremont have released a very catchy, originally captivating debut in Pop-Up Book. Though its length leaves me wanting more, . After all, not many bands can portray decade-related cultural obsessions. Whether it is their portrayal of a delusional '80s optimist and their obsession with "Back to the Future" or the kids of '00s' irregular infatuation with the internet, there are few new bands around who can relay humor as infectiously as The Superfantastics.
——————————————————————————————-
The Superfantastics – The Only One I C++ is U++
[audio:https://obscuresound.com/mp3/superfant-onl.mp3]
——————————————————————————————-
The Superfantastics – Countdown
[audio:https://obscuresound.com/mp3/superfant-cou.mp3]
——————————————————————————————-
The Superfantastics – Back to the Future III

[audio:https://obscuresound.com/mp3/superfant-bac.mp3]
——————————————————————————————-